GM Adds More Cash Back to Red Tag Sale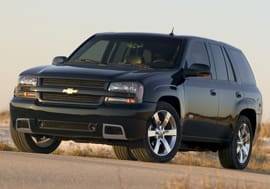 As car sales keep on plummeting, carmakers continue their year-end sales. GM's Red Tag Sale has been going for almost a month now, and today the company upped the amount of cash back offered on a number of 2008 models still on dealer lots. 
All the deals focus on trucks and SUVs, and we found many 2008s in our local Chicago inventory for most models. Rebates range from $5,000 to $10,000 cash back. 
For the speed demons out there, you can get a 390-hp Chevy TrailBlazer SS, originally priced at $32,900, for $23,338 after the cash back and Red Tag discount. If you can find that much horsepower in a new car for that kind of cash anywhere else, let us know.
A full list of new cash-back incentives is below. Red Tag Sale prices are not included; go here to check exact prices in your area.
2008 Chevy Equinox: $5,000 cash back
2008 GMC Canyon: $5,000 cash back
2008 Pontiac Torrent: $5,000 cash back
2008 Cadillac SRX: $6,000 cash back
2008 Chevy Silverado regular cab, extended cab or crew cab: $6,000-$8,000 cash back
2008 GMC Sierra regular cab, extended cab or crew cab: $6,000-$8,000 cash back
2008 Chevy Silverado/GMC Sierra heavy duty: $9,000 cash back
2008 Chevy Silverado/GMC Sierra heavy duty diesel: $10,000
2008 Chevy Tahoe/Avalanche: $8,000 cash back
2008 GMC Yukon: $8,000 cash back
2008 Chevy TrailBlazer: $8,000 cash back
2008 GMC Envoy: $8,000 cash back
2008 Chevy Suburban/GMC Yukon XL: $9,000 cash back
2008 Cadillac Escalade, Escalade ESV, Escalade EXT: $10,000 cash back
2008 Saab 9-7X: $10,000 cash back
2008 Hummer H2: $10,000 cash back