GM Exec: Chevy Volt Battery's Performance 'Flawless'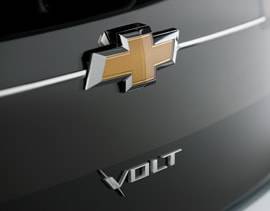 At a media introduction to GM's 2009 model line last week, GM vice chairman Bob Lutz said the company's lithium-ion battery development "is progressing nicely" and that the company has chosen but not announced a supplier. The lightweight battery technology is the linchpin of the Chevrolet Volt electric car that GM has promised for 2010. The Volt will drive up to 40 miles on a charge before its gasoline-powered onboard generator is needed to extend its range.
While lithium-ion batteries are already common in cellular phones and laptop computers, GM has undertaken an aggressive program to adapt and test the technology in the harsh automotive environment. "We haven't hit any obstacles so far for the batteries," Lutz said. "They are all performing flawlessly. It's almost scary we are not seeing any problems with the batteries."
The experimental batteries are being subjected to the kind of durability and temperature extremes that portable electronics never experience. They are under heavy scrutiny for thermal performance due to the technology's history of overheating in some consumer-electronics applications. Of the many characteristics under review, battery life is the most difficult to judge in a short timeframe.
"Longevity is the unanswered question," Lutz allowed, but he added that simulations have left him optimistic that a lithium-ion battery's life expectancy will be competitive with nickel-metal hydride, the current standard in hybrids. As a backup, he said, "We're being conservative on battery life. For our cost calculations we're assuming each car will need a replacement during the warranty period." The Volt will have a 10-year powertrain warranty.
Though lithium-ion batteries are currently more expensive than nickel-metal hydride, Lutz predicted that they will become more affordable thanks to changes in lithium-ion chemistry and economies of scale in the face of rising nickel costs. Between this assumption and the fact that current parallel hybrids effectively have both electric and gas powertrains, he sees more potential for profitability in a car like the Volt, which has only one true powertrain and a simple gas-powered generator. Lutz declined to predict a timeframe for Volt profitability, but said the first generation is out of the question. He said the program is on schedule for an on-sale date of November 2010 for consumers, but that a substantial fleet of Volts will be on the road in 2009 for further development and validation.