GM Halts Rear-Wheel-Drive Development Over Bush Mileage Proposals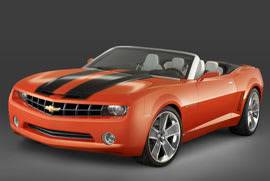 We just got some major news from General Motors by way of Jim Mateja of the Chicago Tribune. Vice Chairman Bob Lutz told Mateja that GM is stopping rear-wheel-drive vehicle planning because of possible new fuel efficiency standards.
The upcoming Chevy Camaro is still on the docket, but the future Impala — which Lutz says may not be named Impala — could be shelved until a front-wheel-drive model is designed. The article didn't mention the upcoming Pontiac G8, due out in 2008, but we assume it's still in the pipeline.
Lutz says the RWD cars can't achieve 30% better mileage, which is part of the Bush administration's proposal to raise fuel economy over the next 10 years.
The move also curtails development of some exciting new vehicles we now may never see, including a high-performance midsize Pontiac — a possible G6 replacement? — a small Cadillac below the CTS, a Buick Lucerne replacement, and 300-hp versions of the Pontiac Solstice and Saturn Sky roadsters.
It's an interesting article — maybe even a "must read."
[GM Puts Brake on Rear-Drive Vehicles, Chicago Tribune]