Got Stuff? No Problem With the 2016 Honda Civic's Huge Center Console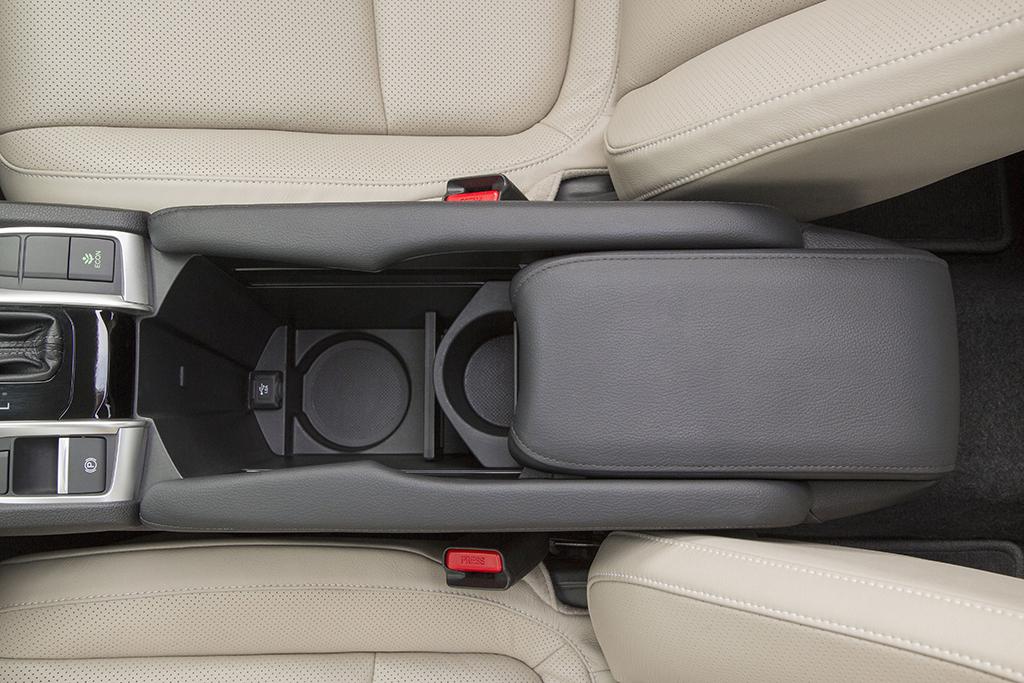 CARS.COM — Honda redesigned its compact sedan for 2016 and added a very uncompact center console. In fact, the 2016 Civic's new center console rivals some SUVs for its large size and flexibility. With its deep bin and multitiered, configurable trays and cupholders, the new Civic's center console is versatile enough to swallow — and organize — just about anything you can toss in it.
Related: 2016 Honda Civic Review
For the Civic's redesign, Honda ditched the traditional emergency brake, freeing up space for an enormous center console. The storage box is topped by a padded, sliding armrest, and Honda says its pair of cupholders can accommodate 42-ounce cups. Slide the adjustable cupholder section back and there's room for a large sports bottle too. Remove the cupholder for a total of 7.2-liters of storage, enough for a large tablet or purse and only a bit less than the console storage box in Honda's three-row Pilot SUV, which can hold 11.4 liters.
Honda says the Civic's interior was designed with a "tech center" theme; a console bin incorporates a two-tier smartphone tray with a wire management pass-through for organized connectivity. On EX trims and above, there's also a rubber mat to better secure a device and LED accent lighting for improved nighttime visibility.
When traveling with my family, I loaded the Civic's storage box with snacks and still had enough room leftover to use the cupholders. Other editors were similarly impressed and put the new storage space to work.
"Adding to the big usability factor of this little car are more cargo trays forward of the gear selector above and below the console. I prefer having my wallet, phone and keys out in the open rather than tucked away, so the Civic's multilayered storage greatly appeals to me," said Joe Bruzek, senior road test editor.
Check out its many configurations in the gallery below.
2016 Honda Civic; Manufacturer images