Gunner G1 Intermediate Kennel: Tested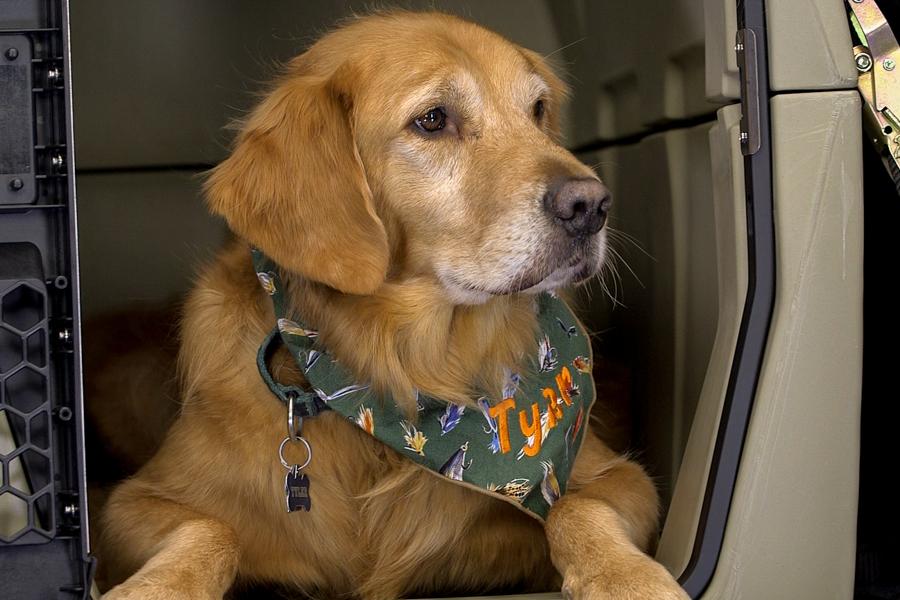 CARS.COM -- Pet stores are filled with carriers, crates and travel harnesses touting their ability to keep furry family members safe, but few have been crash-tested and among those that have, even fewer live up to safety claims.
Gunner Kennels' G1 Intermediate crate is one that does fulfill its safety promises; in fact, the Center for Pet Safety called it "hands down" the top-performing crate of its 2015 Crate and Carrier Crashworthiness Studies.
Related: Center for Pet Safety, Subaru Name Top Pet Crate and Carriers
Gunner provided Cars.com with a G1 kennel to evaluate in the vehicles we test. We will return the crate once we're done with our testing.
Made of double-walled rotomolded plastic, the 49-pound crate arrived at my house unassembled. It came with an Allen wrench; the only other tool needed was a screwdriver. The directions were easy to understand, and assembly took about 30 minutes.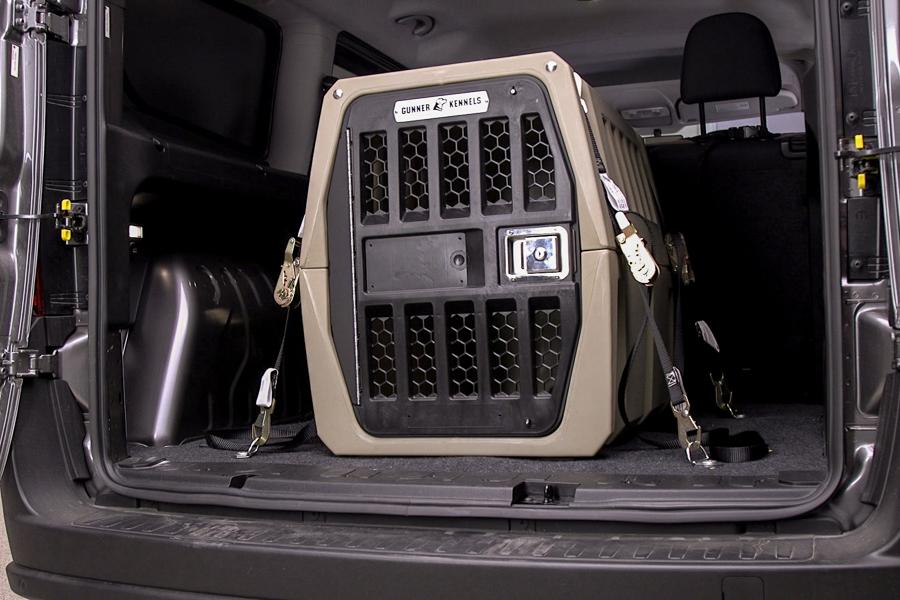 There's a lot to like about this crate. It's sturdy and well ventilated; it has steel tie-down pins in each of the top four corners; it has rubber feet at the bottom for gripping a vehicle's cargo floor; and the door has a paddle-latch door lock and a secondary sliding-button lock. Additionally, the crate's wide base provides good stability, rubber kayak-grade handles at each end make it easy to carry, stainless-steel hardware prevents rust and a removable drain plug makes it easy to clean.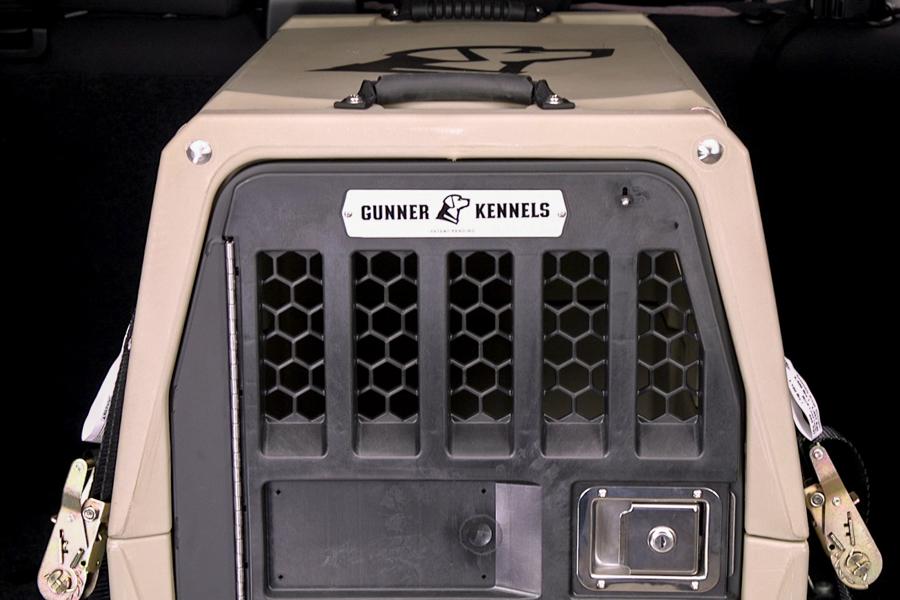 So how did it perform? Gunner says the G1 Intermediate crate can handle dogs up to 75 pounds, so we used my 65-pound golden retriever, Tyler, to test it. (Gunner also makes a G1 Large crate that can accommodate dogs up to 95 pounds but that has not yet been tested by CPS.)
It took 5 minutes to strap the kennel into a 2015 Ram ProMaster City Wagon using four ratchet-style cargo straps each rated to handle 1,066 pounds. Gunner sells a cargo strap kit designed to work with the crate (Gunner straps are rated for 2,500 pounds). It's important to know the weight limits of your cargo straps and vehicle's tie-down rings. If your load is heavier than those ratings, the straps and/or tie-down rings could break during a crash, turning the crate-dog combination into a projectile with significant force.
Tyler and the Gunner kennel together weighed 114 pounds; the ProMaster tie-down rings are rated at 250 pounds apiece, so they can handle a load of 1,000 pounds.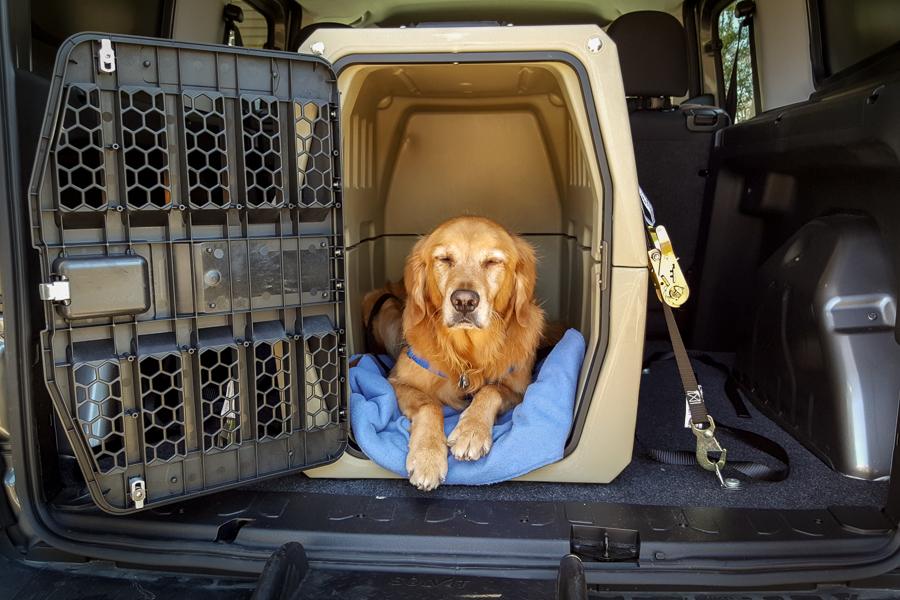 Although he weighs 10 pounds less than the G1's max weight rating, Tyler is a big dog. At 27 inches long and 24 inches tall, he was just able to turn around in the crate. The crate's interior dimensions are 29.5 inches long, 18 inches wide and 25 inches high. Once Tyler turned so that he was facing the door, he was able to lie down comfortably. We took two long trips — a 130-mile round trip and a 66-mile round trip — with Tyler in the crate and he did just fine. The crate remained firmly in place, never shifting once — even during a sudden stop. I relished the peace of mind I felt knowing he was safely and securely restrained in the van.
We also checked to see how well the crate fit in our personal vehicles; we had no problems installing it in our 2004 GMC Safari van. However, it was about an inch too high (the kennel's exterior dimensions are 34 inches long, 23 inches wide and 28.5 inches high) to fit through the cargo opening of our 2014 Kia Sportage compact SUV.
If the Gunner crate appeals to you, be sure to measure your dog and the cargo area/opening of your vehicle and check those numbers against the crate dimensions provided on the Gunner website.
Gunner crates are expensive; the intermediate crate costs $499.99 and the large one costs $599.99. The cargo strap kit is an additional $74.99. If you travel a lot with your dog and your vehicle can accommodate the crate, it's a worthwhile investment. I use CPS-certified safety harnesses for our dogs when driving, so I know they're well-protected, but if Santa put this crate under our tree I'd be a happy traveler.