Here's Every Car That Earned a Top Safety Award for 2020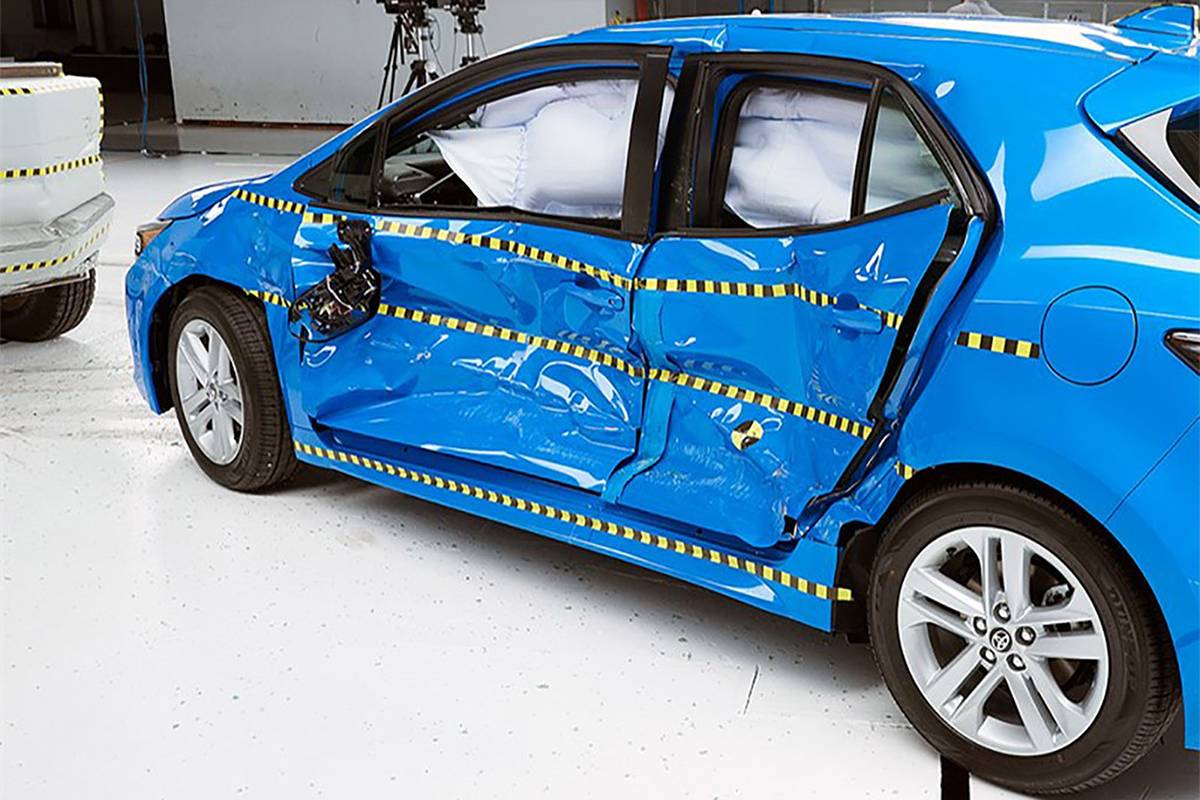 Another year, another round of toughened requirements for the Insurance Institute for Highway Safety's safety awards. The two coveted awards, Top Safety Pick and Top Safety Pick Plus, reflect high scores across nine major IIHS tests for 2020, with ratcheted-up equipment requirements for the Plus tier.
Related: Standard Headlights, Pedestrian Protection Mandates Raise Bar for Crash-Test Honors
Both awards require good or acceptable grades (out of good, acceptable, marginal or poor) in IIHS' evaluation of nighttime headlight effectiveness, but well-rated lights must be standard across the board for a car to earn Top Safety Pick Plus. Models that have well-rated lights in some variants but marginal- or poor-rated lights in others — often base models without key headlight upgrades — can earn a Top Safety Pick but not the Plus.
That's the sole difference between the two award tiers. In either case, the awards have significantly tougher standards for 2020, which IIHS unveiled in December, including grade requirements for an all-new test.
Scores of models met the bar for 2020, with some three-dozen nameplates earning a Top Safety Pick and 22 making Top Safety Pick Plus. All are from the 2020 model year.
2020 Top Safety Pick Plus
Acura: RDX
Audi: A6
Cadillac: XT6
Genesis: G70, G80
Honda: Insight
Hyundai: Nexo
Lexus: ES, NX
Mazda: Mazda3 (sedan, hatchback), Mazda6, CX-3, CX-5
Mercedes-Benz: C-Class (sedan), GLE-Class (not GLE Coupe)
Nissan: Maxima
Subaru: Crosstrek Hybrid, Forester, Legacy, Outback
Tesla: Model 3
Toyota: Camry
2020 Top Safety Pick 
Audi: A7, Q8
BMW: 3 Series
Chevrolet: Equinox
Ford: Edge, Escape
Honda: Accord, Civic (sedan, coupe, hatchback, not Type R), CR-V
Hyundai: Elantra (sedan, GT hatchback), Kona, Palisade, Santa Fe, Sonata, Tucson, Veloster
Kia: Forte, Sorento, Soul, Sportage, Stinger, Telluride
Lexus: UX, RX (not RXL)
Lincoln: Corsair
Mazda: CX-9
Nissan: Altima
Subaru: Ascent, Crosstrek, Impreza (sedan, hatchback), WRX
Toyota: Corolla (sedan, hatchback), RAV4
Volkswagen: Tiguan
Volvo: S60, XC40
Read the Fine Print
Most awardees have caveats detailed on IIHS' website. For some, certain variants or examples built earlier in the model year aren't eligible for the award. For others, the qualifications require ponying up for optional safety equipment or getting a version with well-rated headlights. (The latter is the case for all cars awarded the lower tier, Top Safety Pick.) It's also worth noting that IIHS awards generally apply only to the body style tested — though for nameplates like the Mazda3 and Honda Civic, the agency tested multiple body styles.
What about electrified models? The list above distinguishes between some (the Crosstrek and Crosstrek Hybrid, for example, have different award tiers) but not others. Ratings for given models apply to hybrid variants "as a general rule," IIHS spokesman Joe Young told Cars.com, but plug-in hybrid versions "are treated more on [a] case-by-case basis" depending on vehicle structures. All-electric variants require new testing, Young said.
Finally, it's worth noting that the agency's latest awards are for the 2020 calendar year. Although all current awardees happen to be 2020 models, you may notice some 2020s that received earlier Top Safety Pick Plus or Top Safety Pick designations aren't here — crew-cab versions of the 2020 Ram 1500 and Toyota Tacoma pickup trucks, for example — because they earned those awards under IIHS' criteria for the 2019 calendar year.
What changed in that criteria for 2020? Read on.
Out With the Old
Both awards require good scores in IIHS' six crashworthiness tests — three that evaluate frontal protection plus one apiece for side protection, head restraints and seats, and roof strength. That's a key change from the 2019 awards, where only Top Safety Pick Plus cars needed top scores across the board. Top Safety Pick (no "Plus") cars in 2019 could get by with an acceptable grade in IIHS' passenger-side small overlap test, the newest of the agency's three frontal evaluations.
That isn't the only change. For its latest awards, IIHS has aggressively phased in a new evaluation of automatic emergency braking. Cars with either 2020 award must now earn superior or advanced scores — out of superior, advanced, basic or none — in two series of AEB track tests. One test approaches stopped vehicles, while another approaches pedestrians (both simulated, of course).
For 2019, pedestrian tests weren't part of IIHS' award criteria. Still, cars can make either award with an optional AEB system, though many cars increasingly offer such technology as standard. AEB is an important safety feature that IIHS once estimated could reduce rear-end impacts by roughly 40%, and virtually all automakers have voluntarily committed to making it standard by late 2022. But the commitment didn't distinguish between systems that can decelerate for vehicles or other large obstructions versus those that also have pedestrian detection technology, which generally requires more — or better — forward sensors. Citing a steady climb in pedestrian fatalities since 2009, IIHS began testing AEB for pedestrian detection in 2019.
More From Cars.com:
Not All New Tests Included
IIHS has considered beefing up its side-impact test with a heavier barrier rammed at higher speeds than the slower, lighter barrier used under current testing parameters. Such criteria have yet to hit prime time, however; the 2020 Top Safety Pick and Top Safety Pick Plus awards employ a side-impact test that ranks among the oldest of IIHS' nine tests. Nor do the awards include IIHS' onetime ratings for rear AEB, which can apply the brakes to head off a collision while in Reverse.
Such is the moving target of IIHS awards, often marketed heavily by automakers that get them. The agency often experiments with new tests before adding them — or not — to its roster of awards, with criteria advancing in what's become a yearly basis.
"We have raised the bar annually in recent years," noted Russ Rader, IIHS' senior vice president of communications. "It may not always be the case. It depends on what new real-world data or research suggest that changes are warranted."
A 10th test, for child-seat fitment, is excluded from IIHS' award criteria. Cars.com also conducts evaluations of car-seat accommodations, which you can see here.
Cars.com's Editorial department is your source for automotive news and reviews. In line with Cars.com's long-standing ethics policy, editors and reviewers don't accept gifts or free trips from automakers. The Editorial department is independent of Cars.com's advertising, sales and sponsored content departments.