Hondas a Hot Target for Thieves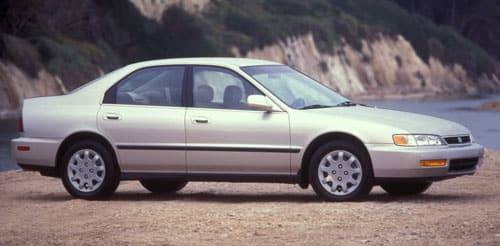 The Honda Accord, Civic and Toyota Camry were the most stolen and recovered vehicles of 2010, according to LoJack. That information comes from analyzing the 10,649 stolen vehicles that LoJack helped recover last year. All three vehicles were the top three in 2009, too.
Older model years — late-1990s Accords, for instance – are popular targets for car thieves, though LoJack does see a growing segment of thieves targeting newer vehicles. Popular newer vehicles include the 2007 Camry and Cadillac Escalade. Southern California, Texas and Florida experience the most larceny.
Some of these figures are pretty predicable. The Camry, Accord and Civic are some of the most popular cars sold in America (going on two decades now), and California and Texas are highly populated states.
Vehicles like the Acura Integra and Civic have been susceptible to theft for some time now. Both models are popular with street racers and car remodeling enthusiasts. Some models of the Integra and Civic have easily swappable engines; for instance, you can place the more powerful Integra powertrain into a more lightweight Civic.
The national recovery rate for stolen vehicles has reached an all-time low, according to the FBI. Only about 57% of all vehicles are recovered after being stolen. Electronic vehicle tracking systems, such as LoJack and Onstar, can help improve recovery rates. Other technological solutions such as car alarms or immobilizing devices such as a "kill switch" could help prevent theft, too.
Of course, common-sense measures such as locking your car doors and not leaving your vehicle idling unattended can prevent theft. Law enforcement and insurance companies point out that even if the doors are locked, a window can easily be broken to gain access to a running vehicle.
Continue reading below for a detailed top 10 list from LoJack:
Most Stolen and Recovered Vehicles by Make & Model:
2010 Ranking (2009 Ranking)
1.   Honda Accord (2) 
2.   Honda Civic (1) 
3.   Toyota Camry (3) 
4.   Acura Integra (4) 
5.   Cadillac Escalade (5) 
6.   Toyota Corolla (6) 
7.   Ram pickup (New) 
8.   Nissan Altima (8) 
9.   Nissan Maxima (New) 
10.  Chevrolet Tahoe (7) 
Most Stolen and Recovered Vehicles by Year, Make & Model (Less than 5 Years Old)  
1.   2007 Toyota Camry 
2.   2009 Toyota Camry 
3.   2006 Chevrolet Silverado 
4.   2007 Cadillac Escalade 
5.   2006 Ford F-250 Series