How Affordable is the Prius c?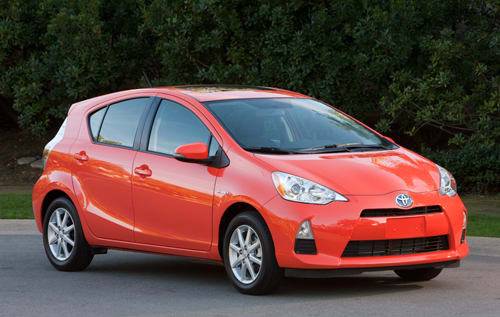 We've just published our full review of the new 50-mpg Prius c hybrid from Toyota and posted the detailed pricing for the Prius c's trim lineup: One, Two, Three and Four. But how affordable is this sub-$19,000 hybrid versus traditional subcompact cars that get decent mileage without the hybrid system or higher starting price?
It turns out the Prius c does pretty darn well.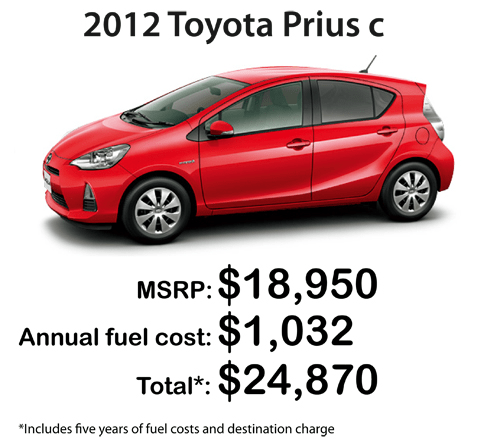 We do an apples-to-apples comparison when it comes to affordability, and all the cars we picked this time out must be equipped with an automatic transmission, power windows and locks, remote entry, USB input, Bluetooth connectivity and a tilt/telescoping steering wheel.
Those features come standard on the Prius c, but most of its competitors in this affordability story were forced to add significantly to the sticker price for just the automatic transmission.
Because of hybrids' nature, we figure car shoppers in this segment want to see the long-term impact of fuel savings in terms of total price so we included five years of fuel costs versus one or two years.
Put those two factors together and the Prius c comes in second in affordability only behind the Nissan Versa with its much advertised starting price of $10,900.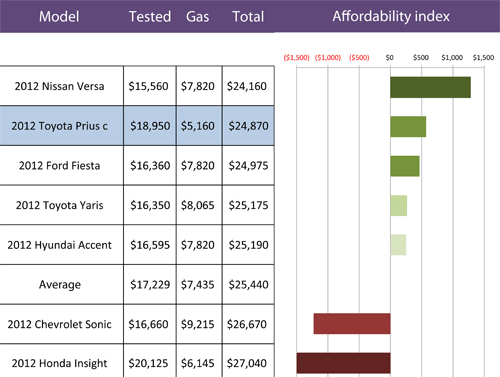 The Prius c is No. 2 on our affordability chart, but it's a tight race. Only hundreds of dollars separate it from the Ford Fiesta and Hyundai Accent sedans or Yaris hatchback, and that difference is only realized after five years. That will do little to sway shoppers making a decision based on a monthly payment where a difference of $2,600 could mean $50 a month over 60 months with an average interest rate.
Despite the Prius c One's lengthy list of features, it does have a fatal flaw: cheap seat materials. To move up to the Prius c Two with seats more in line with the competition will cost another $1,000 and then the Prius c would only beat out the Chevy Sonic and Honda Insight.
For our affordability study, we assume gas prices are at $3.44 a gallon and a driving range of 15,000 miles a year with 45% city driving and 55% highway driving. The Prius c gets substantially better city mileage — 53 mpg — than its 46 mpg highway, so where you drive will alter the equation, as well.
The Prius c delivers a similar driving experience with a comparable level of space and refinement to its compact-class competitors, but after five years it won't cost you more to own it. Taking the price premium of a hybrid out of the ownership equation should be a big win for the Prius c.