How Cars.com Conducts Car Seat Checks
CARS.COM — At Cars.com, we have three certified child passenger safety technicians who install and write our Car Seat Checks, helping to shed a little light on the often complicated and confusing process. Our editor techs underwent 40 hours of training and participate in car seat check events sponsored by the police and Department of Transportation in the Chicago area, where we're based.
Related: Cars.com's 2017 Car Seat Check Honor Roll
We start each Car Seat Check by investigating the car's Latch system, which is supposed to make it easier to correctly install car seats, to test its user-friendliness. Next, we test how each vehicle handles the various sizes of child-safety seats in terms of both space and installation.
What Is a Latch System?

Latch stands for Lower Anchor and Tethers for Children. Few automakers set the lower anchors out in the open, so finding these small metal bars often involves digging between the back and bottom seat cushions, called the seat bight, to find them. Sometimes the cushions are difficult to move out of the way, or the anchors are buried deeply between the cushions, nestled too closely against them or positioned too close to the seat belts. All of these scenarios make it difficult to install child-safety seats.
Cars manufactured after Sept. 1, 2002, are required by the federal government to have a Latch system, which usually consists of two sets of lower Latch anchors and three top tether anchors. Some cars, such as convertibles, don't always have the tether anchors, and two-seat roadsters skip the whole system since they lack a backseat. When the Latch system proves to be too difficult to use, we install the car seat with the seat belt.
Before We Install Car Seats

Before we begin installing car seats, we check to see if the head restraints are adjustable or removable as well as if the rear seats recline or slide back and forth. All of these small factors can affect car-seat installation and fit. When possible, we remove the head restraints if they interfere with a car seat's fit; often, they'll push the child-safety seat's back off of the car's seat cushion. We also recline the seatback to allow for better access to the Latch anchors as well as slide the seats as far back as possible for the most legroom.
Down to Business

Depending on the Latch system, car-seat installation can go quickly if the lower Latch anchors are exposed, but if the anchors are buried deeply in seat cushions, it can be a difficult time with scraped knuckles and some swearing on the technician's part.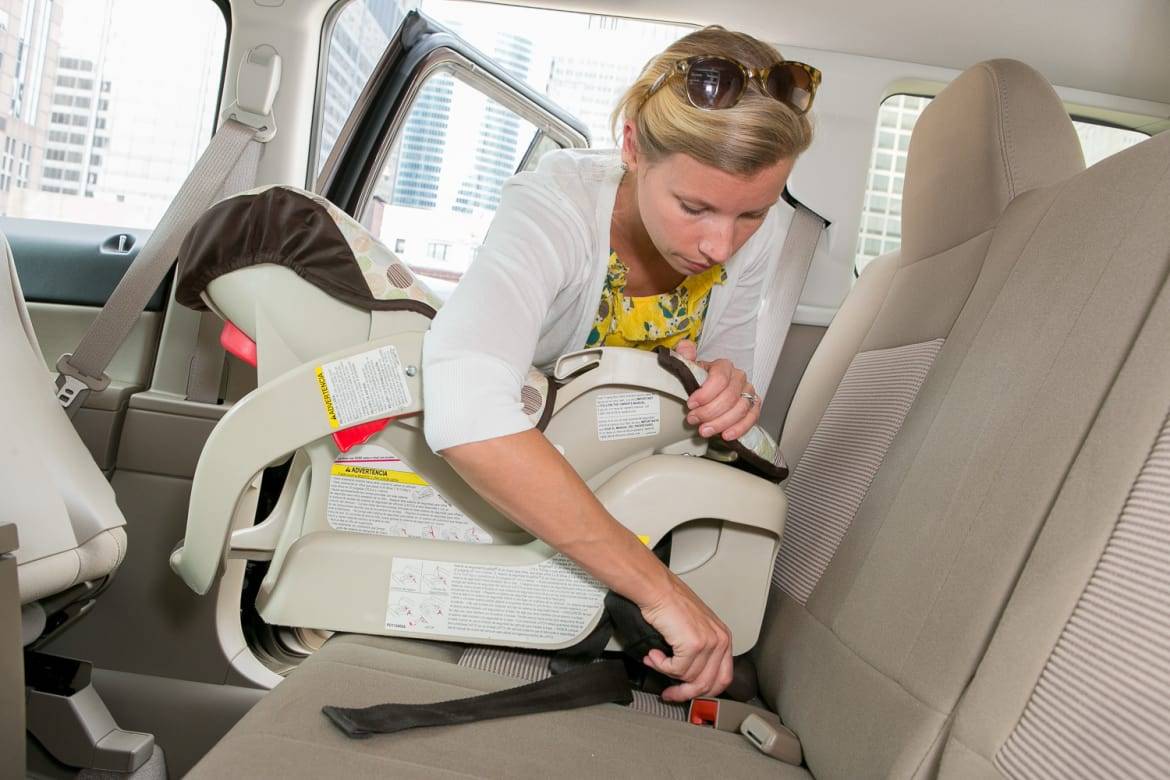 Infant seat: We use a Graco SnugRide Classic Connect 30 seat and install it behind the front passenger. We like its hooklike Latch connectors; their skinniness makes it a little easier to connect to the Latch anchors. Out of our three car seats, this rear-facing seat is the space hog. We often have to move the front passenger seat forward — sometimes all the way forward — to fit it in the backseat.
Convertible seat: The Britax Marathon convertible seat can be used in the rear-facing position until a child reaches the seat's maximum height and weight limit for that position. Then it can be turned around to the forward-facing position. When rear-facing, this car seat takes up a lot of space. It has rigid Latch connectors that can easily connect with the Latch anchors, unless the seat cushions or seat belt buckles are in the way — then they're difficult to work with. When there's a tether anchor in the third row, we'll install the convertible there.
Booster seat: We use a high-back Graco TurboBooster for our checks. While backless boosters are easier to fit into most cars, we use this one to illuminate how backseat bolsters can affect a booster seat's fit, sometimes causing the booster to sit at an angle. Another important part of installing booster seats is seat belt buckles. We check to see if the buckles are on floppy bases, which can be difficult for younger children to use independently. This is especially important for kids riding in the third row, where it may be difficult for a parent to help them buckle up.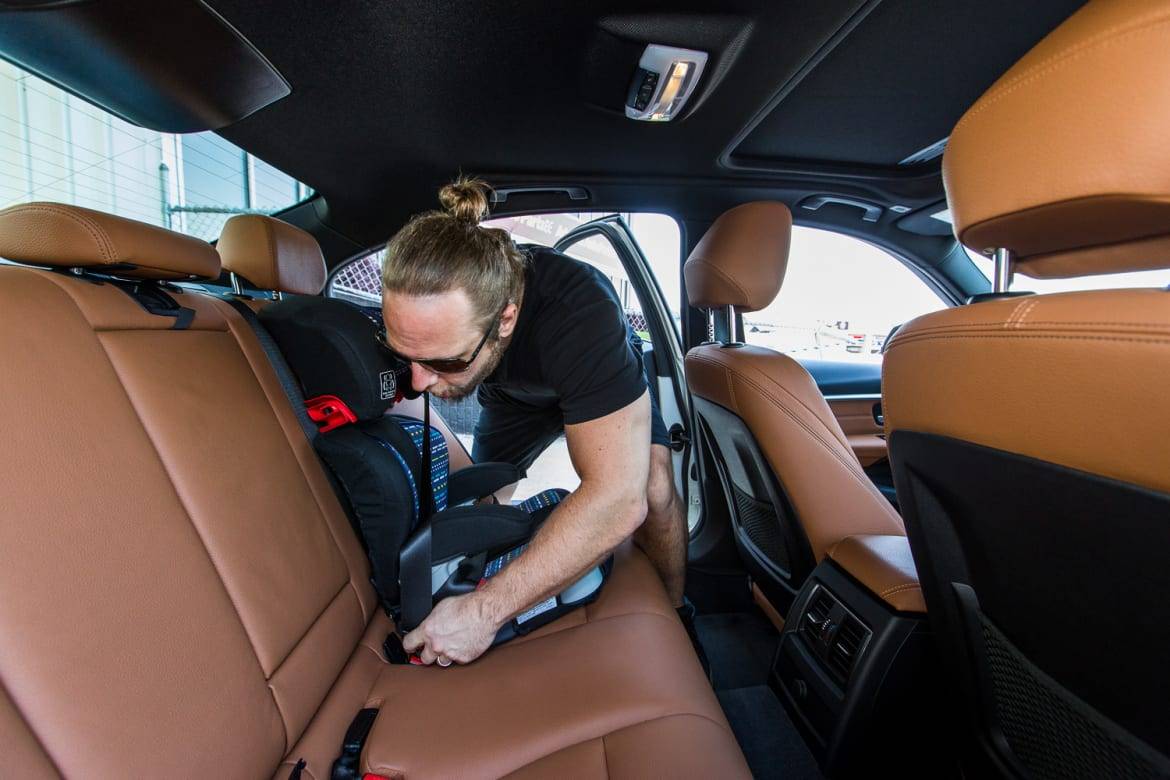 Quick Tips for Parents

Car seats can be confusing, so start by reading your manuals. When you get a new car seat, make sure to read its manual as well as the section on car seats in your car's owner's manual.
Next, register your car seat. This allows the car-seat maker to alert you when there's a recall.
Finally, ask for help. If you're at all unsure whether you've installed your child's car seat correctly, schedule a car seat check in your area.