Hybrids Safer for Passengers, More Deadly to Pedestrians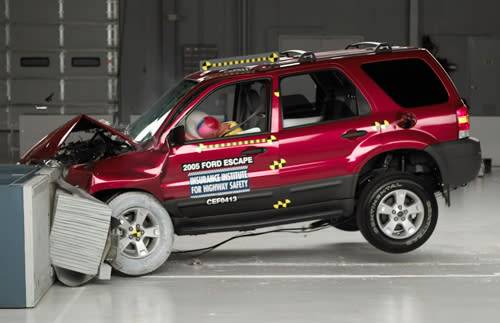 That's because a hybrid model typically weights more, says the Institute. For instance, a Toyota Highlander Hybrid weighs about 4,500 pounds compared to 4,170 pounds for the gas-powered Highlander. The extra mass gives the weightier vehicle an advantage in a crash because it will push a smaller, lighter car backward on impact, according to IIHS. That means less crash force is inflicted upon the occupants of the heavier vehicle, but more on the lighter one. On average, hybrids weigh 10% more than their conventional gasoline counterparts.
IIHS discovered the correlation by examining nearly a decade's worth of personal injury protection and medical payment claims from insurance companies. The study included 25 hybrid/conventional vehicle pairings and controlled for calendar year, driver's age, gender, marital status, vehicle density (number of registered vehicles per square mile), location, vehicle series and vehicle age. The Toyota Prius and Honda Insight were not included in the study because they don't have conventional gasoline counterparts.
What the study found is hybrid owners are 25% less likely to be injured in a crash than people traveling in an identical model but with a conventional gasoline engine. Despite the controls, IIHS admits that a part of the lowered risk has to do with how, when and by whom hybrids are driven. Regardless of advancements with vehicle occupant safety such as dual-stage airbags and side impact protections, the heavier model is usually safer, says IIHS.
While the advancement is good for occupants, the same can't be said for pedestrians. Hybrids are nearly 20% more likely to injure pedestrians compared to regular models due to the quiet nature of hybrids at low speeds.