Hyundai's Genesis Concept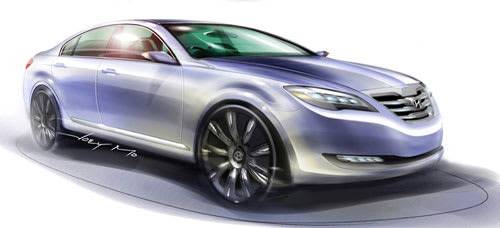 Hyundai will debut a rear-wheel-drive sport sedan concept at this year's New York Auto Show. Called Genesis — the guys at Hyundai are either Trekkies or big Phil Collins fans — the concept gives a glimpse at the future of Hyundai design. To our eyes, the sketch looks like a cross between a Mercedes CLS and a Toyota Camry, and we're not sure if that's good or bad. We also aren't sure if Hyundai should even be entering into a higher-priced market, but perhaps America is ready for a performance-oriented sedan from a non-luxury Asian automaker.   
We'll see more and bring you actual photos when the Genesis debuts in April. For now, here's a larger version of the sketch above and another of the rear.