Incentives Diet: Buy This, Not That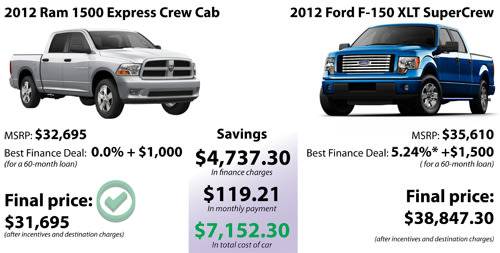 If you're about to spend the weekend shopping for a new car, we have a couple of choices that might be unexpectedly better deals than others.
In this latest round of "Buy This, Not That," we decided to focus on full-size pickups, midsize coupes and two new compact sedans.
All the trim levels picked for these comparisons needed to include an automatic transmission; air conditioning; power locks, windows and side mirrors; keyless entry; cruise control; Bluetooth connectivity; and a USB port. MSRPs include destination charges.
2012 Ram 1500 Express Crew Cab vs. 2012 Ford F-150 XLT SuperCrew
Due to the special nature of configuring a truck, we came up with a few more prerequisites for this comparison. Each model had to be configured as a 4×2 crew cab with a V-8 engine.
The 12th-generation Ford F-150 has undergone a few extensive engineering changes since the model was first seen four years ago. It got a whole new lineup of fuel-efficient engines, including the new 360-horsepower, 5.0-liter V-8. The F-Series lineup remains the best-selling in America, and there are healthy incentives to be had.
The most recent Ram came out a year after the F-150, in 2009, and it features a more civilized driving experience, but it scarifies extreme payload and towing capacities with its coil spring rear suspension. Ram recently changed its trims, offering more lifestyle-specific options for the model year. The Express trim is a new value-oriented sport model that offers monochromatic paint schemes and plenty of standard equipment, according to PickupTrucks.com.
Because of Ram's liberal roster of standard features, we were able to configure a Ram with the appropriate requirements for thousands of dollars less compared with the F-150. The Ram Express crew cab with Uconnect and the ST Popular Package had all the appropriate features, plus 20-inch aluminum wheels, dual exhausts and body-colored ground effects. A similarly equipped F-150 XLT SuperCrew costs $2,915 more.
The Ram's 0% financing and $1,000 cash back, compared with the Ford's cash-back-only offer, make the ultimate pricing difference between the two trucks quite stark, with more than $7,000 being saved when opting for the Ram.
2012 Ford Focus Sedan vs. 2012 Honda Civic Sedan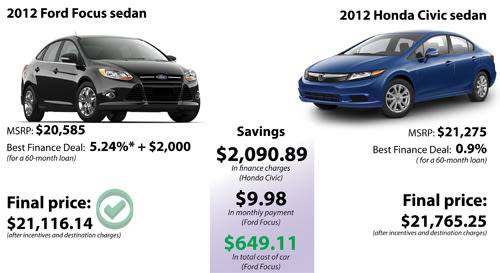 The last time we did an incentive series like this, we included the Ford Focus sedan, which at the time was in high demand with few incentives. More than half a year later, the Focus has relatively robust incentive offerings for a new design in this segment.
The more recently redesigned 2012 Honda Civic has suffered from a string of bad publicity, from a no-recommendation snub from Consumer Reports to crippling supply issues after the earthquake and tsunami in Japan last year. Now that the Civic is on better footing, Honda is trying to rebuild the model's image, and yes, it's offering attractive financing options on the car — something a younger, more bright-eyed Honda would never have done this early in the Civic's product cycle.
Both of the sedans we chose had similar pricing, though the Civic EX we opted for cost about $700 more than the Focus.
This is where things get interesting. The Civic has an attractive 0.9% financing option, while the Ford Focus has $2,000 cash on the hood, but has to be financed normally at the average rate of 5.24%, according to Bankrate.com.
While opting for the Civic will save you more than $2,000 in financing charges, the more affordable ($2,500-plus more affordable) Focus is still the better deal by about $650.
2012 Nissan Altima Coupe vs. 2012 Honda Accord Coupe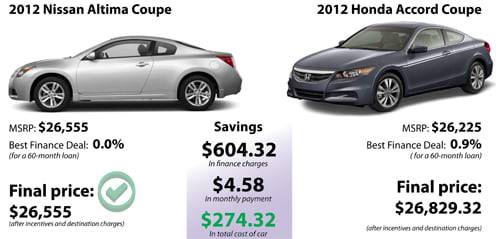 There aren't many midsize coupes to choose from these days, but the Honda Accord and Nissan Altima coupes are still competent players despite being long in the tooth. The Accord coupe will be redesigned for 2013 and go on sale this fall, and a new Altima sedan is expected to debut this year.
These two models were the most similarly priced among the group we researched for this incentive rundown; the Nissan cost just $330 more. Ultimately, Nissan's 0% financing can't be beat by the Honda's still-attractive 0.9% financing rate.
The Honda will cost you some $600 more in financing, but only a mere $274 more in total costs. These two are essentially a tossup for buyers when it comes to pure value. That makes the research process that much more important here.