Is Stimulus Money Going to the Worst Roads?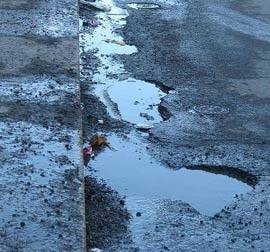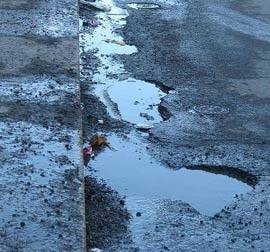 Of the almost $10 billion allocated to fix the nation's highways, most of those funds aren't being used on the country's worst roads, according to a USA Today analysis of the 2009 Recovery and Reinvestment Act.
Half of the nation's worst roads will only get 20% of the stimulus funds, which are allocated by state and federal governments. The problem is the federal government stipulated that the money has to be spent quickly in order to stimulate jobs, said John Barton, of Texas' Department of Transportation. Remember the term "shovel-ready?" Many of the country's worst roads are not anywhere near shovel-ready. Take Detroit's massacred asphalt streets that will get only 10% of Michigan's stimulus money or New York City's 900 miles of poorly rated roads that received "almost none" of the $400 million the state has approved for road repairs so far.
Overall, the 74 counties in the country with the worst roads will divvy up $1.9 billion; other road construction projects will be left with $1.5 billion.
Wait a minute: What qualifies as a "bad" road? The measurement is taken from the Federal Highway Administration, which quantifies only how "bumpy" they are. It does not take into account roads that are not structurally sound or other issues that could make a certain segment of the road dangerous.
The FHA's measurement is important, however, Dallas is considered to have some of the worst roads in the country (second only to that utopian village of Los Angeles); it's been allocated only 1% of Texas' $530 million road-repair fund.
This is the fundamental conflict of the highly controversial stimulus package: It was designed to put people back to work, yet the government doesn't just want to pay people to do meaningless work. It actually wants to see results from all this money. We'll leave it to you to decide which is the more important factor.
Stimulus Takes Detour Around Ailing Metropolitan Area Roads (USA Today)