Is the 2019 Hyundai Veloster the Most Fun You Can Have for $24,000?
Some automakers today would have you believe that nobody wants cars anymore. Everyone's buying SUVs, crossovers and small trucks that sit high and don't handle well, don't accelerate quickly and get mediocre mileage. Sports coupes? Dead in the water. Put a fork in 'em — they're done.  
Not so fast, says Hyundai; fun cars aren't quite dead yet. To prove it, they've brought us the new 2019 Hyundai Veloster sports coupe. The slickly styled, value-priced front-wheel-drive coupe has been thoroughly redone for 2019 and doused with a big bucket of refinement. It's still quirky, still sporty, still has that playful demeanor that's made it a niche favorite. But it now brings a sophistication to its operation that should really open some eyes.
Related: 2019 Hyundai Veloster: Hot Hatch for a Comparably Hot Price
A Joy to Rev
The goal here is to have the most fun you can without spending ridiculous money, and the Veloster achieves it — at least with the turbocharged variant. Two engines are available, a naturally aspirated 2.0-liter four-cylinder engine making a rather tepid 147 horsepower (I didn't drive that one) or a turbocharged 1.6-liter four-cylinder making 201 hp (now we're talking). The turbo is a snarly, raspy little mill, making a lot of its torque down low where it's most usably felt.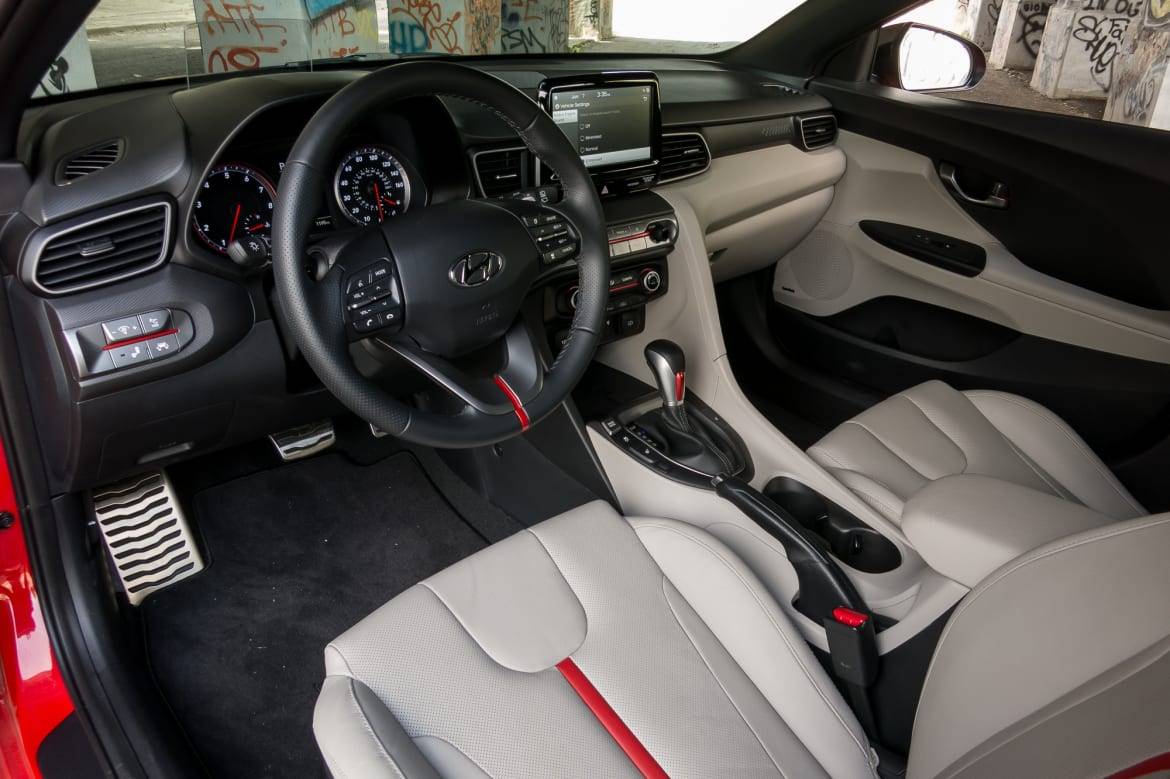 And feel it you will: It's extremely responsive, exhibits very little in the way of turbo lag and is a joy to rev to the higher reaches of the tachometer. The engine sound you're hearing is artificial, however, generated by the audio system and piped into the cabin, as the plumbing of the engine and the sound insulation of the Veloster makes it a little too quiet naturally for its sporty pretentions. If this is the first time you've heard of such a thing, it's by no means rare nowadays, but what's uncommon is that you can change how much of the piped-in sound is transmitted to the Veloster's cabin via a page in the multimedia system.
Two Good Gearboxes
There are two transmissions available for the turbo depending on which trim level you choose. I did some time with both the six-speed manual transmission in the R-Spec trim and the seven-speed dual-clutch automatic in the Ultimate model, and can attest that both of them are excellent. The six-speed manual is the only option on the R-Spec trim, but that's OK — it's meant to be the model that enthusiasts go for, as it includes things like aggressive 18-inch Michelin Pilot Sport 4 summer tires, a B&M short-throw shifter, a basic cloth interior and fewer distracting or costly options. The manual transmission is precise and a pleasure to operate, shifting with a snickety gated action that rivals anything I've experienced in a Honda. The clutch is equally smooth, with an easily discernable take-up point and ease of operation that's sure to make new stick-shift drivers feel like pros. My only complaint is that the shifter itself is located rather far forward on the center console, making it slightly awkward for taller drivers who set their seat far back to reach 5th gear (you'll be using fingertips if you're over 6 feet tall or have short arms).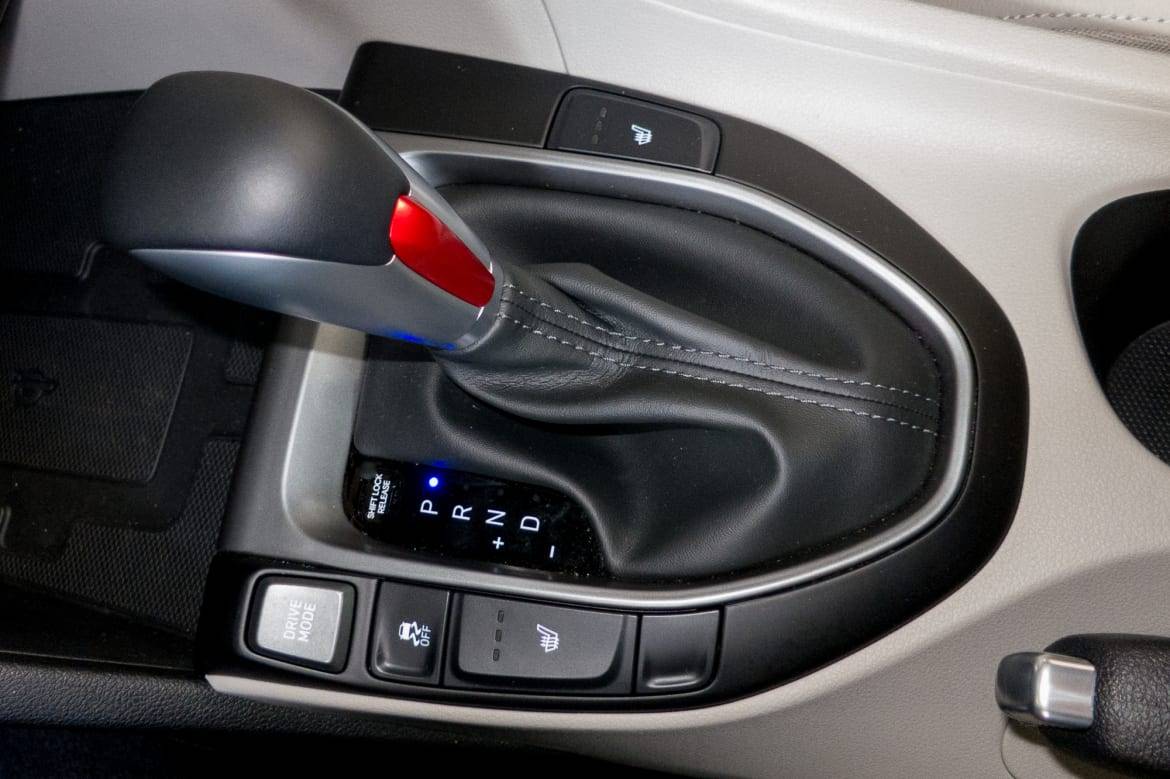 The seven-speed dual-clutch automatic transmission is equally fun, with shifts banged off in quick succession when you plant your right foot. Acceleration is brisk with the turbocharged engine, and either transmission is matched well for spirited driving. I can't really say that I preferred one over the other — the dual-clutch automatic is better for conditions in which you'll see a lot of stop-and-go traffic, but it doesn't penalize you for making the choice of an automatic over a manual gearbox because it's probably the quicker choice for overall acceleration and includes steering-wheel-mounted shift paddles. The manual transmission is fun in an old-school way, giving you a better feeling of control over the car and involving you more in the driving experience. Pick either one; they're both fun.
Sticks Like Crazy
Where you'll notice more difference is in the tire choice. The R-Spec trim comes with 18-inch Michelin Pilot Sport 4 tires, aggressive summer rubber that sticks like crazy but transmits a lot more road noise and pavement imperfection to the cabin. It gets downright loud in the Veloster Turbo R-Spec at highway speeds but less so in the fancier Ultimate version, which uses 18-inch Nexen all-season performance tires when you specify the dual-clutch automatic (the Ultimate gets the Michelin tires if you opt for the manual). It rides better in everyday use, so unless you're a young first-time buyer looking for a performance bargain in the R-Spec, the all-season tires are a more pleasant alternative. Handling is entertaining regardless of tires, with super-quick-ratio steering that encourages you to throw the Veloster into corners and hold the line when powering out of a highway on-ramp.
Good Looks, Bad Views
The Veloster is more comfortable than before and definitely more stylish inside, as well. Just like the asymmetrical exterior door treatment, with one backseat door on the curb side only, the dashboard is visibly divided into the driver's part and the passengers' part. It's not as obvious on a car with a black interior, but opt for a lighter color and you'll see that one half of the dash is dark while the other is light. Same with the driver versus front passenger doors. Like most recent Hyundai interiors, it's significantly nicer than ones that have come before it.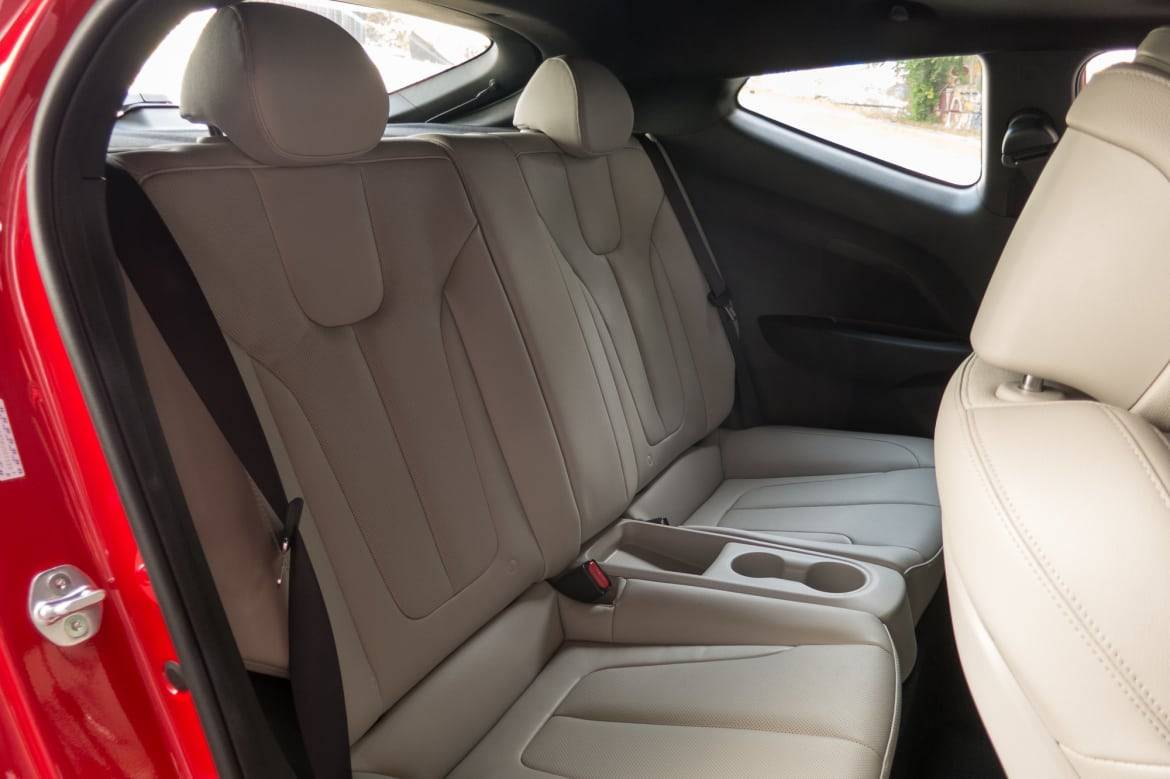 The biggest issue with the interior is being able to see out of it — it's not easy. To the front and sides, no problem; looking past your shoulders, however, big problem. The fast sloping roof and low rear glass mean that the rearview mirror is only moderately useful — you can't see anything more than 100 feet behind the Veloster out its back window. The horizon isn't visible. You'll see only the bumper of a car directly behind you. This makes keeping an eye out for the constabulary much more difficult — I predict Veloster owners will get plenty of speeding tickets owing to the car's considerable abilities, options for bright colors like Sunset Orange and drivers' inability to see anyone sneaking up on them before it's too late.
Performance Bargain
But that's fine, because you'll have saved enough money buying the car that a few tickets won't be showstoppers. The car's value stretches into the interior as well, with the R-Spec being the one to get. The cloth sport seats are comfortable, if minimally adjustable, and there's adequate headroom because there's no moonroof in this trim. But there are plenty of standard items that fulfill all your basic needs in the Turbo R-Spec: Apple CarPlay and Android Auto, forward collision warning with automatic emergency braking, an eight-speaker Infinity premium audio system, air conditioning and more. Like the rest of Hyundai's lineup, few stand-alone options are available. If you want more content, you have to bump up to higher trim levels. There's more content to be had, such as a leather interior, navigation, a moonroof, a contrasting painted roof and more, but for the best, purest, most economical fun, stick with an R-Spec. 
The base Veloster 2.0 starts at $19,385 including destination fee, and it gets you a basic Veloster with the aforementioned standard safety and entertainment equipment (add $1,000 for an automatic transmission). A Veloster 2.0 Premium will run you $23,635 and adds all kinds of comfort items like the moonroof, premium audio, 8-inch multimedia display, 18-inch wheels, leather seats, automatic climate control and more. The Turbo R-Spec can be had for $23,785, or you can bump up to the Turbo or Turbo Ultimate, topping out at just $29,035.
Our choice is the excellent R-Spec, a brilliant combination of fun-to-drive sports coupe dynamics and value pricing at just under $24,000, yet already including items that buyers would likely add to their Veloster like a short-throw shifter and high-performance summer tires. Given its entertaining handling, decently spacious interior and powerful turbocharged engine for that kind of money, it begs the question: Why would anyone buy a much more expensive, smaller, slower Toyota 86?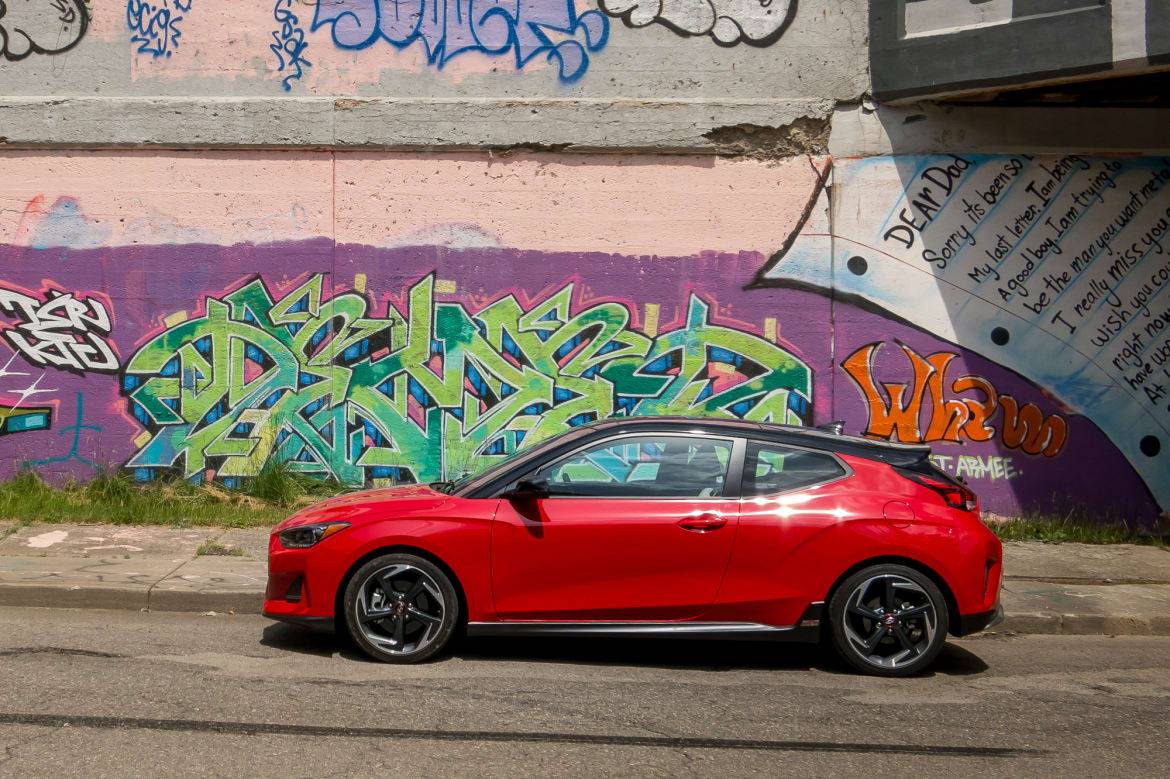 Cars.com's Editorial department is your source for automotive news and reviews. In line with Cars.com's long-standing ethics policy, editors and reviewers don't accept gifts or free trips from automakers. The Editorial department is independent of Cars.com's advertising, sales and sponsored content departments.