Isuzu Closing Doors in U.S.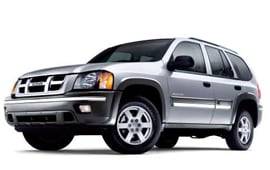 Isuzu began notifying its car dealers Wednesday that next year the Japanese automaker will stop selling its entire consumer motors market lineup, including the midsize Ascender SUV model derived from the Chevrolet Trailblazer and the midsize i-290 and i-370 pickup trucks derived from the Chevy Colorado.
One source said he wasn't sure consumers would even notice, since Isuzu only sold 7,098 vehicles in the U.S. last year. Isuzu sells only SUVs and trucks here, no cars.
Sales will stop after Jan. 31, 2009, but service will not, the automaker said. Consumers who own an Isuzu SUV or truck will continue to be offered service and warranty work, company spokesman Chip Letzgus said. He wouldn't provide details on how that will work until all dealers have been told how the service program will work.   
There are 200 Isuzu car dealers in the U.S., but only about a dozen are stand-alone Isuzu stores. The rest are duals (body and engines) with other brands, many Chevrolet, which is why those dealers can continue to service the vehicles; both are rebadged Chevrolets.
One Chicago Isuzu motors dealer said his store got a phone call this morning advising them of the action. He said his business has basically been limited to servicing cars and trucks — rather than vehicle sales — for some time.
It doesn't help that Chevrolet is expected to sell its own version of the Buick Enclave, GMC Acadia and Saturn Outlook crossovers, called the Traverse, for 2009. That car will cater to those who previously shopped for the TrailBlazer SUV in Chevy's lineup, thus taking away Isuzu's source for its SUV – and cutting into Isuzu's very small market share.
There has been speculation that the slow-selling Chevy Colorado and GM Canyon midsize pickups' days are numbered, though Chevy Motors insists they are still in the product sale cycle for at least three years.
Letzgus said that while Isuzu will no longer sell passenger vehicles, the motor company will continue to sell some commercial vehicle models in the U.S.