January's Fastest- and Slowest-Selling Cars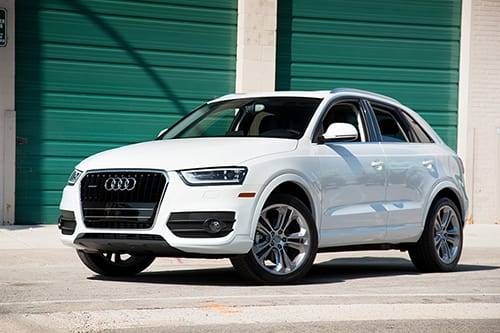 A blizzard hitting the Northeast didn't slow down car sales in January. In fact, the time it took to sell a new car was identical to January 2014's rate of 42 days. As we've noticed during winter months — with or without blizzards — SUVs and trucks are hot.
Fifteen of the top 20 fastest-sellers were SUVs or trucks, and there was an equal mix of luxury and mainstream models. Subaru continues to be popular, with four spots in the top 20, and Land Rover ruled too as luxury buyers bought four of its models at a quick rate. Of course the entire country wasn't impacted by snow, and those places must be where folks were snapping up the redesigned 2015 Ford Mustang convertible.
Luxury brands make up almost the entirety of the slowest-sellers' list, with large, luxury coupes and convertibles falling out of favor, it seems. We did find one gem for luxury shoppers amongst the slow-sellers, Porsche's Panamera E-Hybrid. The plug-in hybrid is a terrific alternative to Tesla's Model S sedan. It starts at $99,995, including a destination fee, but knowing it takes 92 days for a Porsche dealer to sell one might put you in a better position to drive home in one for less money.
January's Fastest-Sellers
2015 Subaru XV Crosstrek: 8 days
2015 Land Rover Range Rover: 9 days
2015 Land Rover Range Rover Sport: 9 days
2015 Audi Q3: 10 days
2015 Mercedes-Benz CLA250: 10 days
2015 Porsche Macan: 11 days
2015 Subaru Outback: 12 days
2015 Ford Mustang convertible: 13 days
2015 Land Rover LR4: 13 days
2015 Toyota Prius v: 13 days
2015 Ford F-150 crew cab: 14 days
2015 Lexus NX 200t: 14 days
2015 Nissan Murano: 14 days
2015 Toyota Highlander: 15 days
2015 Cadillac Escalade ESV: 16 days
2015 Subaru Impreza sedan: 16 days
2015 Chevrolet Colorado extended cab: 17 days
2015 Hyundai Santa Fe: 17 days
2015 Land Rover Range Rover Evoque four-door: 17 days
2015 Subaru Impreza hatchback: 17 days
January's Slowest-Sellers
2015 Nissan GT-R: 260 days
2015 BMW M6 coupe: 199 days
2015 BMW 740Ld xDrive: 193 days
2015 Infiniti QX60 Hybrid: 183 days
2015 Jaguar XK convertible: 137 days
2015 Jaguar XKR convertible: 124 days
2015 BMW 650i Gran Coupe: 119 days
2015 Jaguar F-Type S convertible: 118 days
2015 Kia Forte hatchback: 107 days
2015 Chevrolet Silverado 2500 HD extended cab: 105 days
Cars.com Picks
2015 Porsche Panamera E-Hybrid: 92 days
2015 Nissan Versa Note: 89 days
2015 Mitsubishi Mirage: 80 days
2015 Hyundai Elantra sedan: 78 days
2015 Chrysler 200: 77 days
About the Lists
The Fastest- and Slowest-Selling Cars list reports the average number of days it takes to sell models from the day they arrive on the lot until the final paperwork is signed by a buyer. This is not a days-of-inventory list like you may find on other websites. With lots mostly clear of 2014 models, we look exclusively at 2015s.
For the fastest sellers, we only list vehicles that pass a certain threshold of sales in order to weed out limited editions, ultra-high-performance cars and others that might skew the numbers or otherwise inaccurately portray popularity. To highlight all slow sellers, slowest sellers have no such threshold.
Our Picks highlight cars that take a significant time before they're sold and might be overlooked by shoppers. Dealers could be more motivated to sell these cars.
Cars.com photo by Evan Sears