KFC's Cupholder-Friendly Go Cups Put To the Test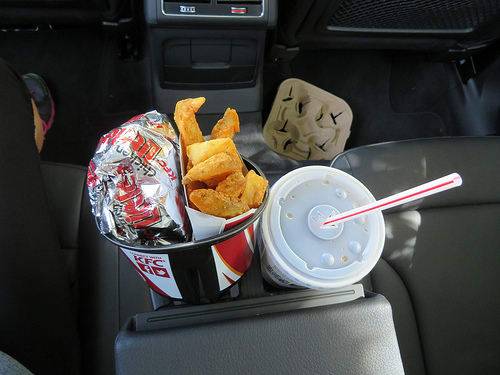 There are many things we're not supposed to do while driving: texting, talking on a cellphone and eating top most lists. Headsets and multimedia systems with voice recognition help alleviate the dangers of texting and cellphones, and now fast-food containers that fit in a cupholder are here to help.
KFC has a new item called the Go Cup, a container that houses chicken and fries and fits in your car's cupholder. Or at least it "will fit into 83 percent of cupholders out there," according to USA Today. Challenge accepted. I put on my lab coat and went to work.
KFC says the Go Cup portions are snack sized, so don't expect to get a bucket of drumsticks and a vat of mashed potatoes and gravy. I ordered the Original Recipe Boneless Tenders (two large tenders) and the Chicken Little (a small sandwich with two nuggets, pickles and mayo). All chicken items come with potato wedges. These were good-sized portions — I ate one for lunch — KFC doesn't skimp on the amount of food for something labeled a snack. But what's required of the cup to accommodate all this food creates a headache.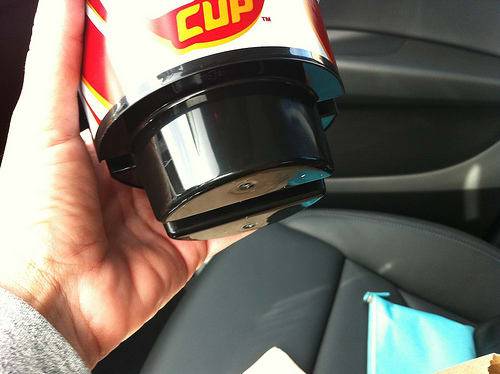 The lower third of the Go Cup is smaller in order to fit in your car's cupholder. The cup is wider toward the top to fit the chicken strips and potato wedges, which are segregated into their own cardboard container within the Go Cup. This makes the Go Cup top-heavy and likely to spill.
I needed to find a sweet spot to keep the Go Cup from toppling over. If you have side-by-side cupholders and get a beverage with your snack, the rims rub together. It's the same problem if you get two Go Cups and your cupholders are in close proximity to each other as mine were in the 2014 Audi Q5.
A hiccup also occurs if you have two sets of drinks and Go Cups. Unless you have lots cupholders in your car, something will probably have to go in your lap to be truly hands free. This reviewer also recommends avoiding dipping sauces or ketchup. It's just too much to work with, people!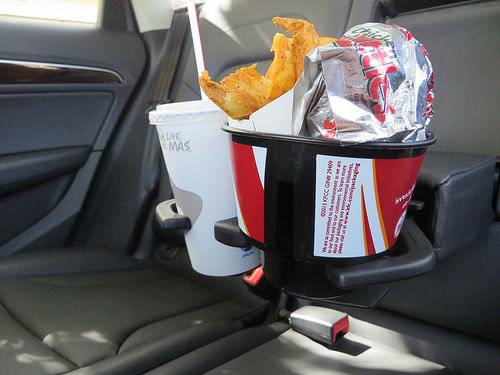 KFC is certainly proud of its groundbreaking packaging. Cupholders are such wily creatures, and accommodating 83 percent of them is no small feat. However, the Go Cup feels a bit overengineered.
Sonic also has a cupholder-sized container. It's a simple cylindrical cardboard container for its finger food. In-N-Out will put your order in a box instead of a bag if you're eating in the car, though it's best to do this when parked. Do you have any special tricks for eating fast food when behind the wheel? Tell us in the comment section below.
Related
Drive-In Diners Motor into 21st Century
More Pop Culture News
More Automotive News