Mazdaspeed3 Review Preview
Did you think the sport compact craze went the way of the dodo or The Fast and the Furious 3's 72-hour stint at movie theaters this summer? Quite the contrary. While many frown on ridiculous custom compact cars, automakers are making better and more affordable sport variants of their compact cars, like the Honda Civic Si and Volkswagen GTI, that are ready to race right off the lot. Now Mazda's getting back into the hunt with the Mazdaspeed3, a high-performance variant of its Mazda3 hatchback.
My bright red tester pulled up on Friday, so new it didn't even have a license plate yet. The vehicle is slowly arriving at dealerships now and will be widely available soon. I managed to put a hundred or so miles on the Mazdaspeed3 over the weekend and found the $22,240 vehicle a powerful reason to open the wallet.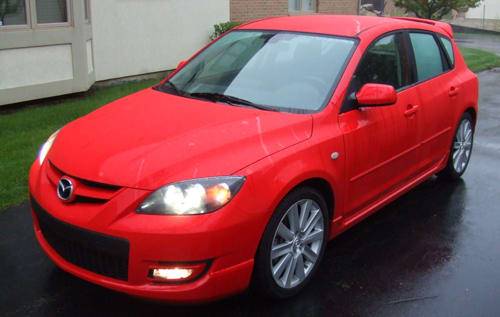 Most importantly, this thing is fast and feels really fast. The 263 hp turbo-charged engine is a lot of fun even if not the most refined. There's a noticeable — almost gut-wrenching — lag before the turbocharger kicks in. Most journalists and car companies are looking to minimalize this lag, but some enthusiasts find it a joy. I love it. My wife on the other hand was a little perturbed when we merged onto a major highway and I let the turbo go wild.
Looks are moderately changed from the Mazda 3 with new 18-inch wheels and revised front and rear end treatments. The interior also gets sporty and comfortable bucket seats.
I'm still impressed by how good all the regular Mazda3 attributes hold up. The interior is still tops in its class with only the door panels showing some age in design. A futuristic and easy to use center stack is still one of the best around and the seating position is spot on perfect offering a commanding view of the road.
I'll get to test the Mazdaspeed3 over a few hundred more miles the next few days and will report back when the full review goes live. Until then enjoy some pictures.
Update: Cars.com Full Review [Sept. 25, 2006]