Mercedes-Benz Concept A Sedan Preview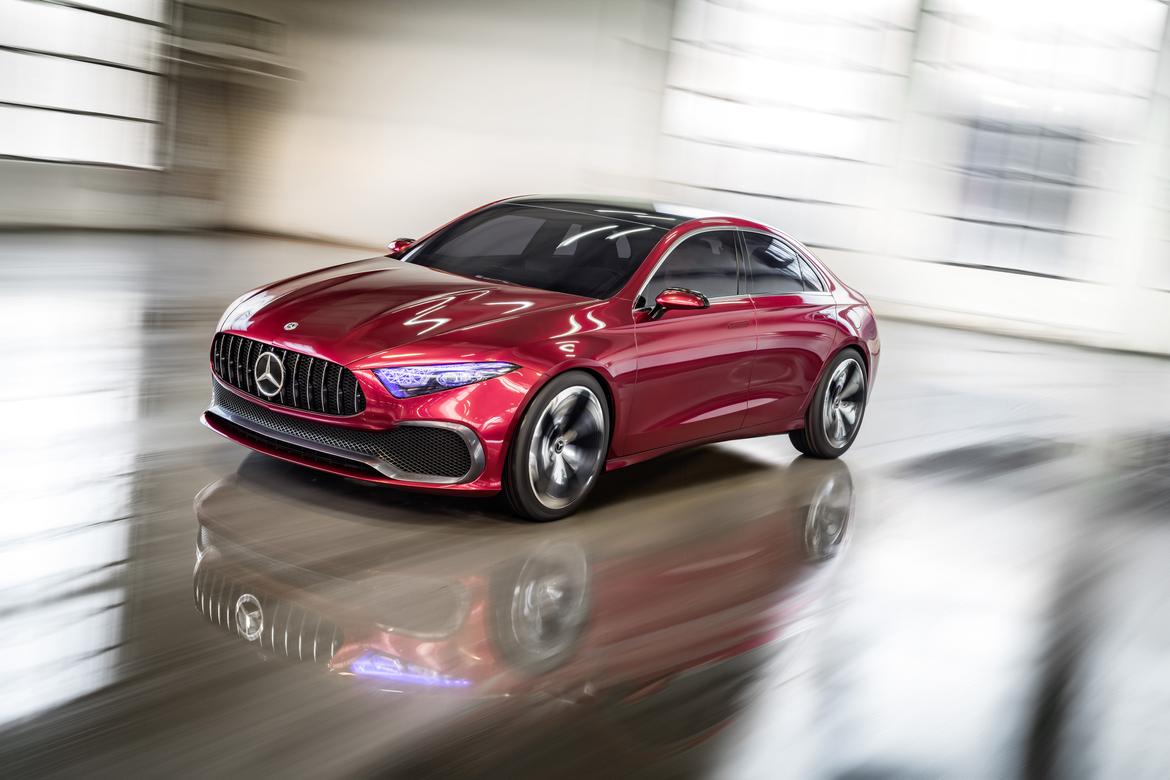 CARS.COM
Looks like: A more practical junior version of the gorgeous big-car concept on display at the 2017 New York auto show
Defining characteristics: A design based on curvy shapes and smooth surfaces, not decoration or sharp angles
Ridiculous features: The blacklight grid in the headlights that offers Day-Glo color effects
Chance of being mass-produced: Possible as a new A-Class sedan, but in any case, look for styling elements in future "baby Benz" A-Class, B-Class, CLA and GLA SUV models
Mercedes-Benz has successfully grown sales with its fleet of entry-level compacts on its front-drive platform, delivering more than two million worldwide since 2012, including the CLA sedan, GLA SUV and B-Class electric that are available in the U.S. and the A-Class, B-Class models and CLA wagon not currently sold here.
Related: 2017 New York Auto Show: Winners & Losers
At the 2017 Shanghai auto show this week the automaker unveiled the Concept A Sedan, a design concept that potentially heralds a new A-Class sedan, as well as what the future may look like for its other small vehicles. The look has a more Jaguar-like focus on shape and surfaces than current Mercedes products, which are heading down the sharply angular road being taken by luxury rivals such as Lexus.
"Our Concept A Sedan shows that the time of creases is over," said Gorden Wagener, design chief for Daimler, Mercedes' parent, in a statement. "With its perfect proportions and a sensual treatment of surfaces with reduced lines, it is the next milestone of 'Sensual Purity' and has the potential to introduce a new design era."
The concept picks up in a smaller package the design theme expressed in the drop-dead-gorgeous AMG GT Concept, the big sedan that Mercedes unveiled last week for the U.S. at the 2017 New York International Auto Show.
The A concept is a couple of inches shorter but a bit wider and taller than the CLA sold here. While it might foreshadow the look of a next-generation CLA sedan, it also could be a harbinger of a sedan version for the current A-Class hatchback. Mercedes says that the variety of its compacts for various markets has been a basis for its sales success.
The front end of the concept is dominated by the big and deep AMG "Panamericana" grille. The headlight pods stretch wide and are distinguished by a futuristic grid structure in the lamps coated with UV paint and exposed to ultraviolet light so that it can "glow" in different colors. The door handles fit flush with the body in the manner of a Tesla or the new Range Rover Velar shown in New York. No details of a possible powertrain were given.
Mercedes-Benz Concept A Sedan; Manufacturer images