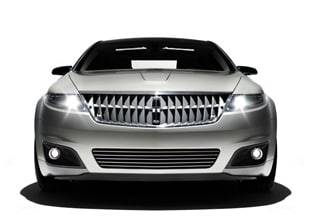 Apart from the concept shown at this year's Detroit auto show, Lincoln has been mum on details for its next flagship sedan, the MKS. But when Automotive News reported the MKS would not carry the concept car's 4.4-liter V-8 — and instead use parent company Ford's 3.5-liter V-6 — the balking began. Would luxury shoppers want a prestige sedan that fell two cylinders short of its competition, or was the MKS doomed to Acura RL, "wish-it-had-a-V-8" territory?
Ford hopes shoppers will accept a V-6 because it gets better gas mileage. Besides, it's not the engine we thought it was: Ford marketing head Cisco Codina said at a media gathering near Chicago today that the MKS would have a new 3.7-liter V-6 when it comes to market in 2008. Given a V-8 is out of the picture, we think it's wise for Ford to adopt a larger six-cylinder for the MKS – it will give shoppers a reason to choose the MKS over its smaller MKZ sibling, which uses a 3.5-liter engine.
Ford spokesman Alan Hall confirmed the 3.7-liter V-6 was part of the Duratec family, which means dual overhead cams and — if the 3.5-liter Duratec is any indication — intake cam VVT, which improves efficiency and power. The automaker hasn't announced any horsepower or torque figures yet, but we expect the engine to put out something between the MKZ's 263 hp and the V-8 MKS concept car's 315 hp. All-wheel drive will be offered, and a six-speed automatic will probably make the list, too. Check back during our upcoming auto show coverage this fall and winter for further details.