MyFord Touch Revolutionizes In-Car Displays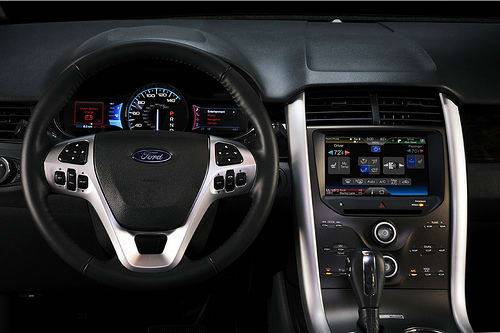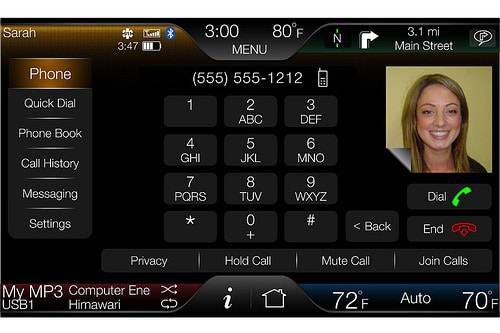 The Basics
MyFord Touch is built around the company's well-received Sync system, which uses voice commands to control many in-car entertainment and information functions. MyFord beefs up Sync's capabilities with better voice recognition, new functions and, oh yeah, reorganizes every control in the car.
 
Think of MyFord as a touch-screen and voice-controlled version of BMW's iDrive that is completely customizable and with two more LCD screens. Seem dizzying? It is. Besides a bunch of new functionality, Ford really has changed the look and feel of its controls. Gone are simple knobs and plastic buttons; they're replaced with touch-screens and capacitive touch buttons, which react like the click wheel on an iPod. MyLincoln Touch will feature slider controls (below), which take a finger swipe to raise or lower the volume or vent speed. Yeah, you read that right.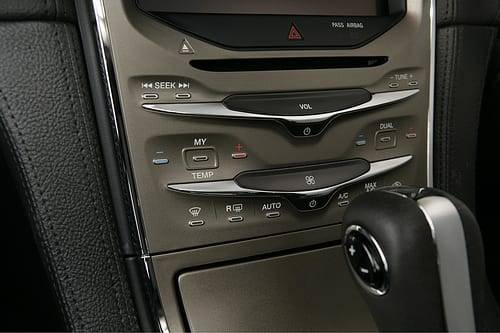 MyFord Touch will be an option on some trim levels and will come standard on others depending on the model – MyLincoln Touch will be standard in the MKX – and it will also roll out in the all-new 2012 Ford Focus compact.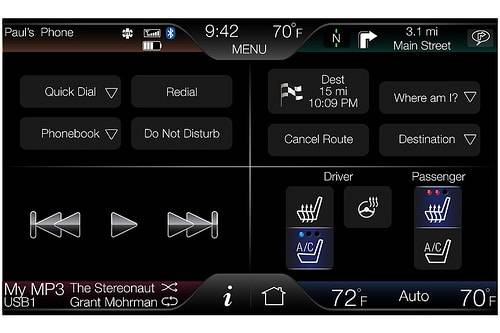 The Screens
MyFord Touch features three LCD screens. The center stack packs an 8-inch touch-screen that is the hub of the system where all the functions are controlled and settings are adjusted. Controls are broken into four color-coded categories: orange for phone, red for music, green for navigation and blue for climate. Each takes up a corner of the home screen, and tapping any part of the corner takes users to the corresponding menu screen. See, we told you it was like iDrive.
If it all seems too dizzying – the screen above looks overcomplicated to us – remember that we said it is customizable. So if you want your home screen to display only music and climate for daily driving, you can do that.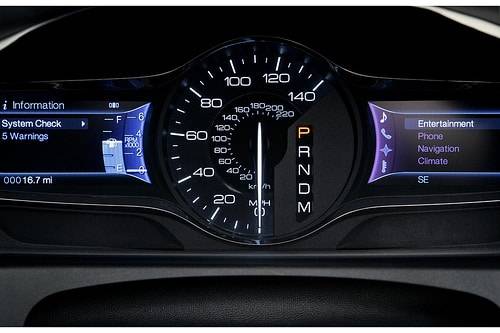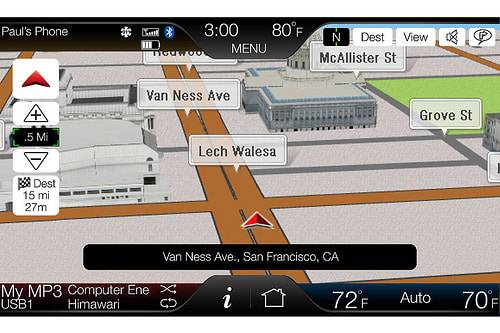 Again, there is a lot here, and we will have an hands-on look next week in Detroit.
Media Hub
Additional USB port for a total of two USB 2.0 inputs
SD Card slot
RCA A/V input jacks
Internet Connectivity   
Full WiFi capability including Internet "hot spot" connectivity and a built-in browser for use while in "Park" (late availability)
Integrated browser supports tabbed page navigation, "drag" to pan and scroll and a provides a 3-D carousel for bookmark browsing
Support for on-screen and USB-connected keyboards
RSS feed aggregator and text-to-voice reader
Mobile in-car WiFi "hot spot" capability through USB-installed air card or USB mobile broadband modem
Phone
Phone book contact photo download and 3-D carousel browsing
Birthday reminders
Enhanced error correction and reporting
Voice Recognition   
Direct speech commands and "flattened structure" for quicker, more responsive voice control
Voice-command activation of selected climate control functions
Voice commands will be available for most radio functions, including AM/FM, HD RadioTM Technology and SIRIUS/XM® Satellite Radio
SIRIUS Game Finder application will facilitate automatic voice tuning for desired sporting events using commands such as "Tune to Detroit Lions game" or "Show NBA games"
Navigation
Improved visual presentation of SYNC Traffic, Directions & Information app including directional arrows, street names, and distance markers
Map-based navigation app provided by TeleNav via an optional
SD Card
SD Card navigation includes SIRIUS Travel LinkTM services such as weather maps, movie listings, gas prices, and sports scores
SD Card navigation also adds cities point-of-interest information including ratings and amenities
Map data includes 3-D visual landmarks
Climate Control   
MyTemp personalization allows the driver to store a preferred temperature, which is then accessible with a single touch of the MyTemp button
Different MyTemp settings can be programmed to different keys; multiple drivers in a household can each have unique MyTemp settings
Audio
AM/FM/CD, SIRIUS/XM satellite radio, USB-connected MP3 players and memory sticks
New HD Radio capability
Song tagging capability via HD Radio Technology, allowing listeners to identify song information and store it for later use
Browse tracks by artist, scan lists of tracks with identical names, and browse through devices without having to change audio sources
3-D carousel album cover art and photo viewing displays allow easy scanning of available material, especially combined with Gracenote Media Management
Media player equipped with new "Podcast" source category
Enhanced Bluetooth® audio support including metadata, which allows additional command and control functions for capable mobile devices
Vehicle Setting Personalization   
Ambient lighting color control using a 3-D carousel browser
Custom welcome messages
Saved and transferrable user profiles that can be ported between Ford vehicles equipped with MyFord
Door keypad code control using on-screen menus
Where available, Active Park Assist and Rear View Camera displays
Image and video uploading via SD card slot or USB 2.0 ports
More Images