National Gas Prices Drop to $3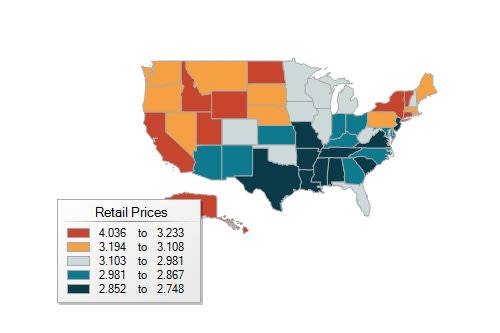 By Rick Popely
The average national price for regular unleaded gas today was poised to drop below $3 a gallon for the first time in nearly four years, falling nearly 8 cents the past week to $3. The AAA Daily Fuel Gauge Report said the average price was under $3 in 22 states. The last time the national average was below $3 was in December 2010.
Related: Study: Mileage Improvements Save Nation a Month's Worth of Gas
AAA noted that gas prices typically decline this time of year but have fallen faster and further than usual because of the declining price of crude oil. Crude oil accounts for about two-thirds of the price consumers pay for gasoline. U.S. oil was trading at around $81 per barrel as of Thursday, some 22 percent below the 52-week high set June 25.
Some analysts were predicting that oil and gasoline prices could soon bottom out, and trends in recent years support that theory. AAA data show that in 2011-13 prices reached their lowest in November or December and began rising by mid-December. In the meantime, though, motorists continued to enjoy more smiles per mile because of lower pump prices. The 2014 peak average national price for regular unleaded was $3.70 on April 28, and it has declined about 20 percent since then. The national average is 33 cents less than both a month ago and nearly 28 cents less than a year ago.
Diesel prices also continued on a slower but steady retreat, falling 3 cents the past week to $3.60, 14 cents less than a month ago and 25 cents less than on Oct. 30, 2013. South Carolina had the cheapest gas on a statewide basis, $2.748 for regular unleaded, edging Tennessee's average of $2.753. Those states were followed by Mississippi and Virginia at $2.78. Hawaii still had the most expensive gas, $4.04 per gallon, but if the recent steady decline continues the average there could soon drop below $4 for the first time since mid-January.
As prices continued to slide in most states, some motorists were seeing double-digit declines. During the past two weeks, pump prices for regular unleaded plunged 22 cents in California, 26 cents in Washington and nearly 28 cents in Oregon. Minnesota was an anomaly as prices rose 2 cents the past week to $3.10, following a 12-cent increase the previous week. AAA said tight supplies of gas in Minnesota and Oklahoma, where prices jumped 6 cents the past week, were to blame for the recent increases.
AAA graphic