New Chevy Aveo, Camaro Convertible Coming to Detroit Auto Show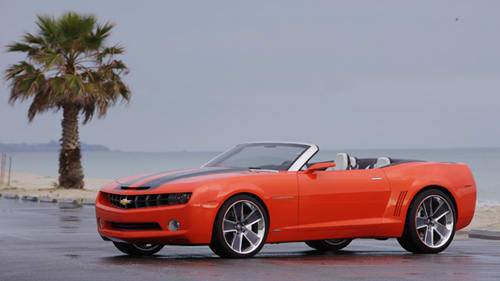 In a pre-auto show event yesterday in Detroit, GM showed reporters a sneak peek of what they'll debut at the Detroit auto show next month. Our own Mike Hanley was on hand and confirms that an all-new Chevy Aveo will be one of those vehicles.
What you'll see at the show isn't an exact production car. It will be a modified version of the hatchback body style with go-fast parts to demonstrate what tuners will be able to do with the new economy car. Because of that, he said it was hard to tell how similar the show car will be to what arrives at dealerships later next year. Hanley says it looks very similar to the production trim level they were shown as well. But it's likely only the RS will be on display in Detroit.
Unsurprisingly, the convertible version of the Camaro will also debut; it should look similar to the concept car, just like the coupe did. This is a more complete pre-production vehicle and not just a show car.
Also rolling out is a newer version of the Chevy Orlando small van, which we saw a concept of last year. Hanley says the show car looks like it has a finalized exterior that's ready for production, but the interior will likely not be fleshed out by showtime. Often, car companies will black out the windows so no one can see inside the vehicle.
On-sale dates for the three models weren't given, but we'll learn more during the show's press days on Jan. 11 and 12.