New York Considers Banning Cars From Times Square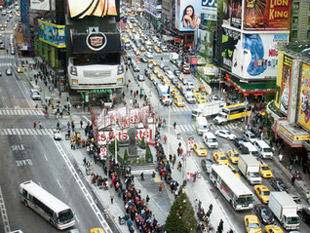 Fresh from his appearance on the Live Earth concert broadcast on Saturday, New York City Mayor Michael Bloomberg is looking to tackle car congestion in one of the most well-known intersections in the world. Bloomberg is looking to hire a Danish consultant, Jan Gehl, who is responsible for tackling traffic issues in London and Copenhagen.
Gehl's ideas for New York City are already public. He would ban most car traffic from Times Square, raise parking prices and reduce the number of parking spaces throughout the city. He'd also like to see certain avenues close down and replace streets with tree-lined areas for cafes. 
That sounds great and all, but we wonder how New Yorkers will respond. 
Auto-Matic Proposal (NYDailyNews.com)