Of Benzes and Bags: Mercedes Rolls Out Pelvic Airbags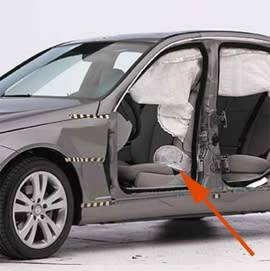 Both the pelvic airbags and the conventional seat-mounted side airbags are mounted inside the front seats — one deploys at chest level, the other at hip level. Mercedes spokesman Rob Moran said the new device is designed to protect the pelvis and reduce impact forces on the abdomen. They're in the 2010 E-Class and 2009 C-Class, but will likely migrate to other Benz models, Moran said.
We can't think of any other car — even among the high-roller crowd — with such devices, and Insurance Institute for Highway Safety spokesman Russ Rader said he couldn't think of any, either. But Rader said pelvic airbags may not be necessary if conventional side airbags can provide enough coverage. The Ford F-150, for example, has key inflation points from a larger airbag that extends all the way down the seat to offer similar protection.
"It's more common to see a side airbag that is essentially one unit but is designed to protect both the chest and the pelvis," Rader said. "You can [provide adequate protection] two ways: with two airbags or one large airbag."
Quantifying the effectiveness of extra airbags is often tricky; a car's structural integrity, the extent of airbag coverage and a number of other factors figure into its overall crashworthiness. Case in point: The previous-generation Subaru Forester nailed its crash tests with four airbags, while the Hyundai Azera fared so-so despite having eight.
In conjunction with the other factors, Mercedes' protective panoply appears to be doing its job: IIHS named the C-Class a Top Safety Pick when the 2009 model, which added pelvic airbags, aced the agency's front-, side- and rear-impact tests. Alas, Rader has no hard data on how much the pelvic airbags contributed: Mercedes asked IIHS to withhold testing on the C-Class until the pelvic airbags had been installed, he said, so the redesigned 2008 model — which only had curtain airbags and seat-mounted side airbags — went untested.