Oh, Deer: November Most Dangerous Month for Deer-Car Collisions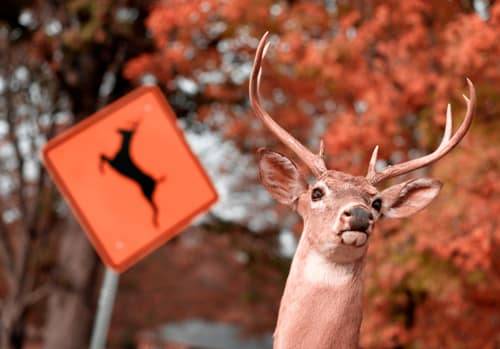 The agency estimates that 1.23 million deer-car collisions happened in the U.S. between July 1, 2011, and June 30, 2012, putting the probability of a motorist-deer accident at 1 in 171, up from the previous year's odds of 1 in 183. This means the cost of claims is also on the rise, with the average deer damage claim at $3,305 — 4.4% higher than the previous year.
Motorists in West Virginia have it the worst; for the sixth year, the state tops the list for the most deer-motorist collisions. State Farm's research shows that the chances of a West Virginia motorist striking a deer over the next 12 months are 1 in 40. In second place is South Dakota, followed by Iowa, Michigan and Pennsylvania. You're least likely to hit a deer if you live in Hawaii.
Click the image below to launch a larger photo.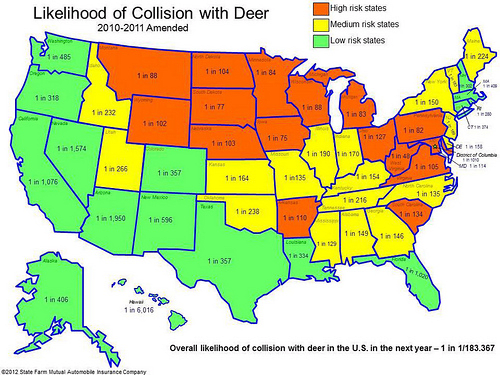 State Farm offers the following tips for reducing the odds of a deer-car accident:
Keep in mind that deer generally travel in herds — if you see one, there is a strong possibility others are nearby.
Be aware of posted deer crossing signs. These are placed in active deer crossing areas.
Remember that deer are most active between 6 and 9 p.m.
Use high-beam headlamps as much as possible at night to illuminate the areas from which deer will enter roadways.
If a deer collision seems inevitable, attempting to swerve out of the way could cause you to lose control of your vehicle or place you in the path of an oncoming vehicle.
Don't rely on car-mounted deer whistles. 
Related
With Spring in Full Force, Beware of Woodland Neighbors
Volvo Testing New Safety Systems
More Safety News on Cars.com