Porsche, Hyundai Top New J.D. Power Study, Volvo and Mitsubishi Sink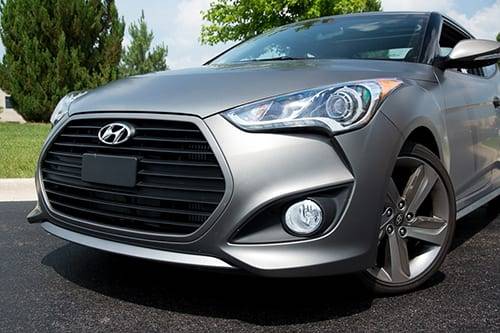 Porsche and Hyundai topped their respective luxury and nonluxury peers in J.D. Power and Associates' 2014 Automotive Performance, Execution and Layout study. Volvo and Mitsubishi, respectively, placed last in each group.
Related: Porsche Flies, Fiat Flails in 2014 J.D. Power Initial Quality Study
APEAL tries to assess what people like in their cars. This differs from J.D. Power's other major automotive studies, the 90-day Initial Quality Study and three-year Vehicle Dependability Study, which both rate things that went wrong.
For the APEAL study, new-car owners rate their vehicles across 77 areas, and the results give a composite rating on a 1,000-point scale. Not surprisingly, premium brands beat their mass-market counterparts with an average score of 840 points among the study's 12 premium brands while the 20 nonpremium brands average 785 points.
Overall results slipped one point between the 2014 and 2013 APEAL studies, however; J.D. Power notes that in-car technology left some owners less than thrilled.
Sound familiar? That was one of the takeaways from J.D. Power's 2014 IQS, released June 18. Redesigned or all-new models typically pack in the latest multimedia technology — from bigger screens and crisper graphics to more apps and input sources. But when it came to such tech, the divide in APEAL scores between older models and fresh introductions wasn't so high.
"Look at some of the areas where new and carryover [models] did not see a significant difference," said Renee Stephens, vice president of U.S. automotive at the company. A lot of those areas involved "usefulness of controls, navigation, voice [recognition]."
"The implication for that is that we are designing more attractive solutions in our new vehicles, but we have work to do to make the designs intuitive and easy to use," Stephens said.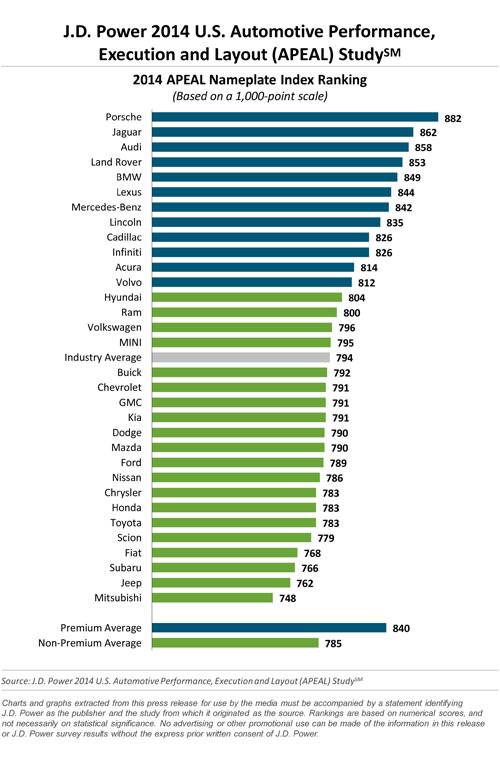 Gas mileage is still the lowest-scoring metric in APEAL. It improved six points in 2014, but J.D. Power notes that fuel prices — down 3 percent versus when the company conducted the 2013 APEAL study — may have influenced scores. Still, drivers reported an average 25.0 mpg this year, up versus last year's 24.5 mpg.
Porsche, Jaguar and Audi led the premium brands, while Volvo, Acura and Infiniti took the bottom three spots. Among mass-market brands, Hyundai, Ram and Volkswagen topped the list; Mitsubishi, Jeep and Subaru were bottom-feeders. As for segment winners, Porsche and Hyundai combined for seven podium finishes. The Porsche Cayman was a runner-up, while the Cayenne, Boxster and 911 each won their segments. Hyundai, meanwhile, had only the Accent among segment winners, while the Veloster and Sonata were runners-up in their segments.
How did the brand top its nonluxury peers?
"What I find with Hyundai is that they're actually really focusing on and improving a lot of their carryover models," Stephens said. She pointed at the Sonata, which made up 41 percent of the brand's mix and improved 22 index points despite being a carryover model ahead of its 2015 redesign. The Santa Fe, which makes up another 27 percent of Hyundai's mix, improved 9 percentage points — not enough to land an award, but enough to lift the brand nonetheless.
When an automaker launches a new or redesigned car, APEAL scores have typically been the "best you get," she said. But for Hyundai, "it's not necessarily the case."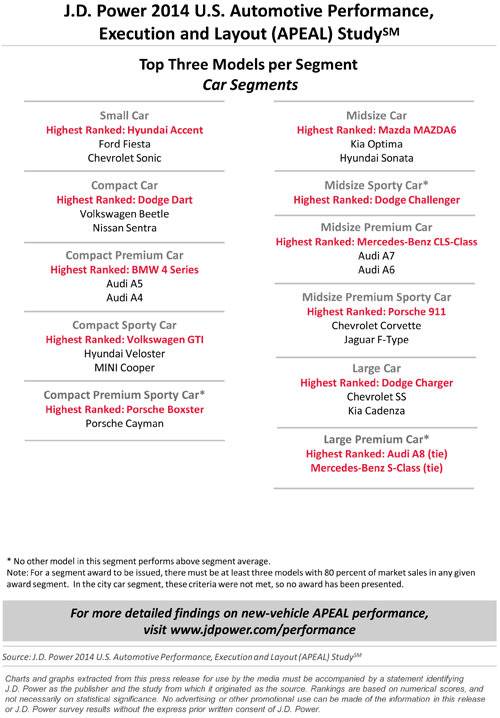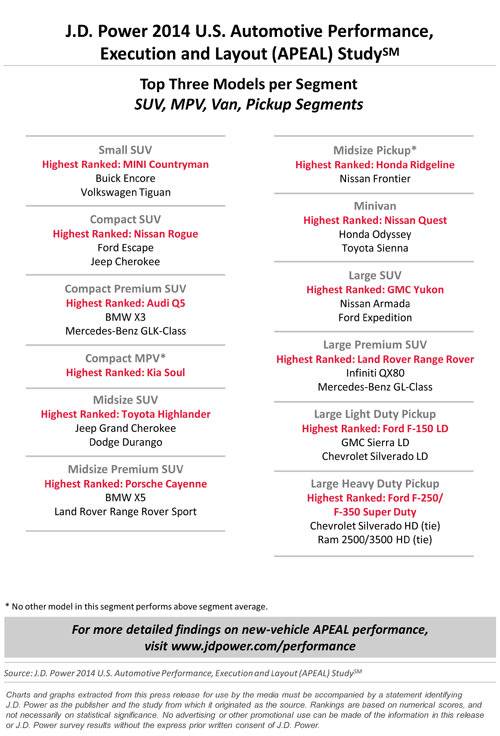 For some brands, APEAL illustrates a sharp difference between shoppers' likes and dislikes. Volkswagen — third among nonluxury brands in APEAL — placed 24th out of 32 brands in J.D. Power's 2014 IQS. By contrast, Toyota placed sixth from the bottom among nonluxury brands in APEAL, but it was fifth from the top in IQS.
Still, there was plenty of correlation between the studies. Porsche, Jaguar and Hyundai were top-five finishers in both IQS and APEAL, while Fiat, Jeep, Mitsubishi and Scion were bottom-five brands in both. Fewer dislikes and more likes often go hand in hand, evidently.
Stephens confirmed the relation. Take what survey respondents said about drivetrains, for example: "The engine and transmission scores, and how they rated that in APEAL [are] being very well aligned" with IQS, she said. "The two do correlate. It's not 1 to 1, but we do see correlation."
For this latest study, J.D. Power says it surveyed more than 86,000 purchasers and lessees of 2014 models who had owned their car for at least 90 days. The surveys took place between February and May 2014.
Cars.com photo by Evan Sears/J.D. Power and Associates images