Real-Time Speed Limits Could Reduce Work-Zone Crashes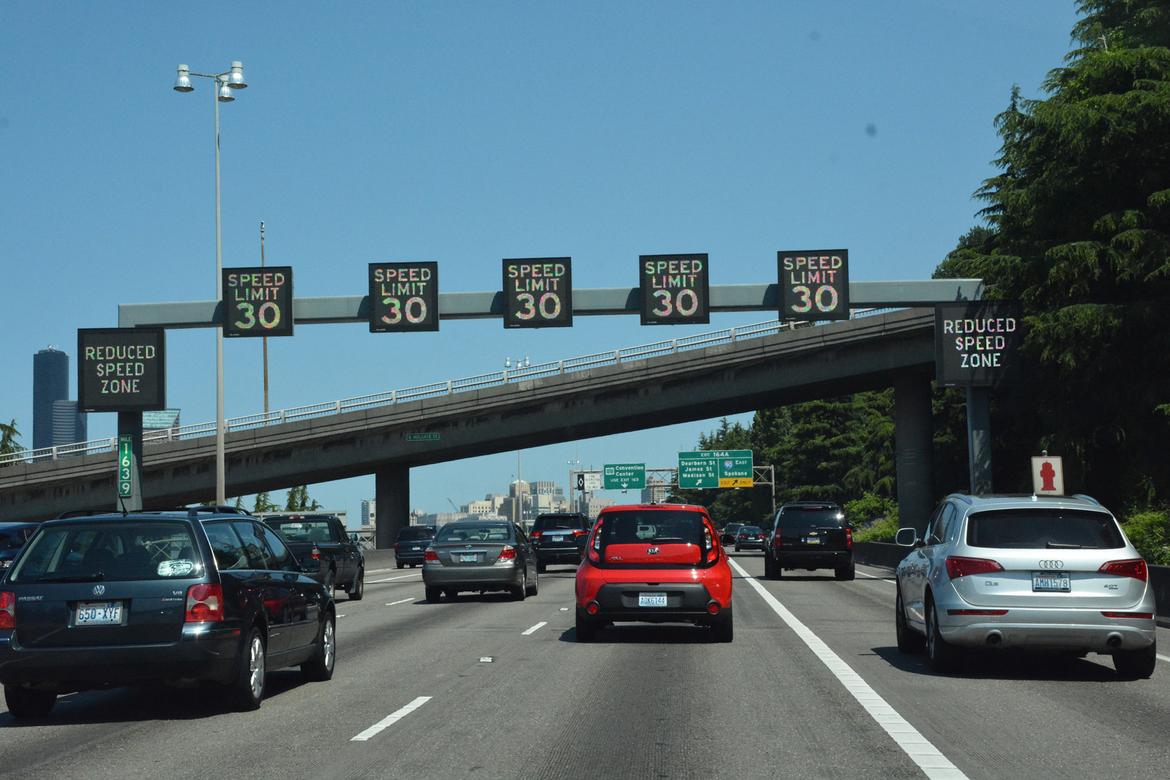 CARS.COM — A provincial cliché here in Cars.com's hometown of Chicago is that we have two seasons: winter and construction. But no matter where you're traveling to on your family road trip in the next few months, you're in the latter. And while road projects are necessary to repair and improve the nation's highways, construction sites also pose a unique threat to motorists and hard-hat workers alike.
Related: As States Fall in Line, Does Zipper Merge Still Push Drivers' Buttons?
According to the Federal Highway Administration, over a recent five-year period, 4,400 people — 85 percent of whom were drivers or passengers — died in work-zone crashes, and 200,000 were injured. The majority of fatal work-zone crashes occurred on roads with speed limits greater than 50 mph, and the most common type of work-zone collision was rear-end crashes.
Recognizing these construction-related dangers, University of Missouri researchers studied different systems for alleviating traffic backups and the perils they pose. "Variable advisory speed limits" in construction zones emerged as one of the most demonstrably effective means of easing congestion and reducing crashes. Researchers tested the measure on a particularly accident-prone stretch of Interstate 270 in St. Louis.
"Where there is queuing, if drivers are not aware of the queue downstream, they don't have enough time to hit the brakes to slow down or stop, thus, increasing the likelihood of a crash," said Praveen Edara, associate professor of civil and environmental engineering at the University of Missouri College of Engineering, in a statement. "Instead of posting a message asking them to slow down, the VASL system posts an advisory speed limit based on the actual downstream traffic speed, so drivers would know if they're driving 50 mph, they should slow down to 30 mph downstream."
The system proved effective in slowing drivers entering work zones and reducing rear-end collisions by nearly a third; that's in addition to a 20 percent dip in lane-changing conflicts. Meanwhile, researchers observed a 39 to 53 percent reduction in the average length of traffic queues and a 4 to 8 percent increase in travel times through work zones.
The FHA offers the following tips for avoiding danger while driving through a work zone:
Give your full attention to the roadway, avoiding distractions such as changing the radio station, eating or using a smartphone.
Keep your headlights on at night.
Observe warning signs and lane markings, and watch brakelights ahead and traffic around you — and be prepared to react to sudden changes.
If traffic is flowing, try to merge well before you reach the lane closure while continuing to watch for changes in traffic patterns.
Follow other vehicles at a safe distance, avoiding tailgating.
Keep in mind that workers may be just feet away and that fines often double for moving violations in construction areas.
Obey instructions from construction flaggers.
Expect the unexpected, such as work vehicles or equipment entering your lane suddenly.
Be patient.