Recall Alert: 1.3 Million Evenflo Car Seats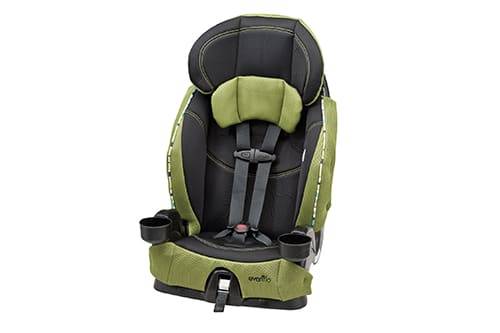 Car Seats Affected: More than 1.3 million Evenflo convertible and combination child-safety seats are being voluntarily recalled by the manufacturer. The affected seats were built between 2011 and 2014. They are select Evenflo Momentum, Chase, Maestro, Symphony, Titan 65, SureRide, SecureKid, Snugli All-in-One and Snugli Booster models.
The Problem: The car seats' harness buckle could become difficult to unlatch if food or drink gets into it, causing a safety hazard during an emergency exit of a car. This is the same problem that affected 4.2 million Graco car seats, which were recalled in February and March.
The Fix: A replacement buckle kit is available to affected owners who have registered their car seats, but the car-seat manufacturer says that the recalled car seats are crashworthy and can be used while waiting for the replacement kit — as long as the car seat's original buckle is able to unlatch. Parents also can clean the buckle by submerging the unlatched buckle into a cup of warm water and agitating it; don't use any soap or cleaning solutions to clean it. Be sure to depress the buckle's red button several times when it is submerged. Parents should not get the buckle's harness straps wet when cleaning the buckle. After cleaning the buckle, shake out excess water and allow it to air dry.
What Owners Should Do: To find out if your car seat is affected by the recall and order the replacement buckle kit, go to www.buckle.evenflo.com or call 800-490-7591.
Manufacturer image