Road Trip! 7 Ways the 2018 Tiguan Is Good for Getaways
If you're the type that's always up for a road trip with friends or family, you need a vehicle that's ready when the mood strikes. A trek up the coast from Washington, D.C., to Manhattan for the 2018 New York International Auto Show showed that the redesigned 2018 Volkswagen Tiguan (VW's best-selling vehicle in March) would be a good choice for hitting the open road.
Related: Volkswagen Slashes Price on 2018 Tiguan
We're talking about a road trip where you need a vehicle that handles people and their stuff like a VW Microbus. It's not the vehicle that you'd want when the driving itself is the point, as opposed to the destination, activity or companions (nor does it try to be). My favorites for that purpose would comfortably handle one companion — and in some we'd have to share a bag.
The test car was a top-of-the-line Tiguan SEL Premium with all-wheel drive ($38,450; all prices include a $900 destination charge) and the third-row seat option ($500). This model included such trip-worthy features as a panoramic sunroof and premium audio, as well as a full suite of driver assistance and safety technology. But most of what makes it a good road-trip vehicle applies equally to cheaper versions, including the base S ($25,495 to start) or better-trimmed SE ($27,650 to start). That includes key safety tech: the front collision system with automatic braking, a blind spot warning and a rear cross-traffic alert are available ($850) on the S model and standard on other trim levels.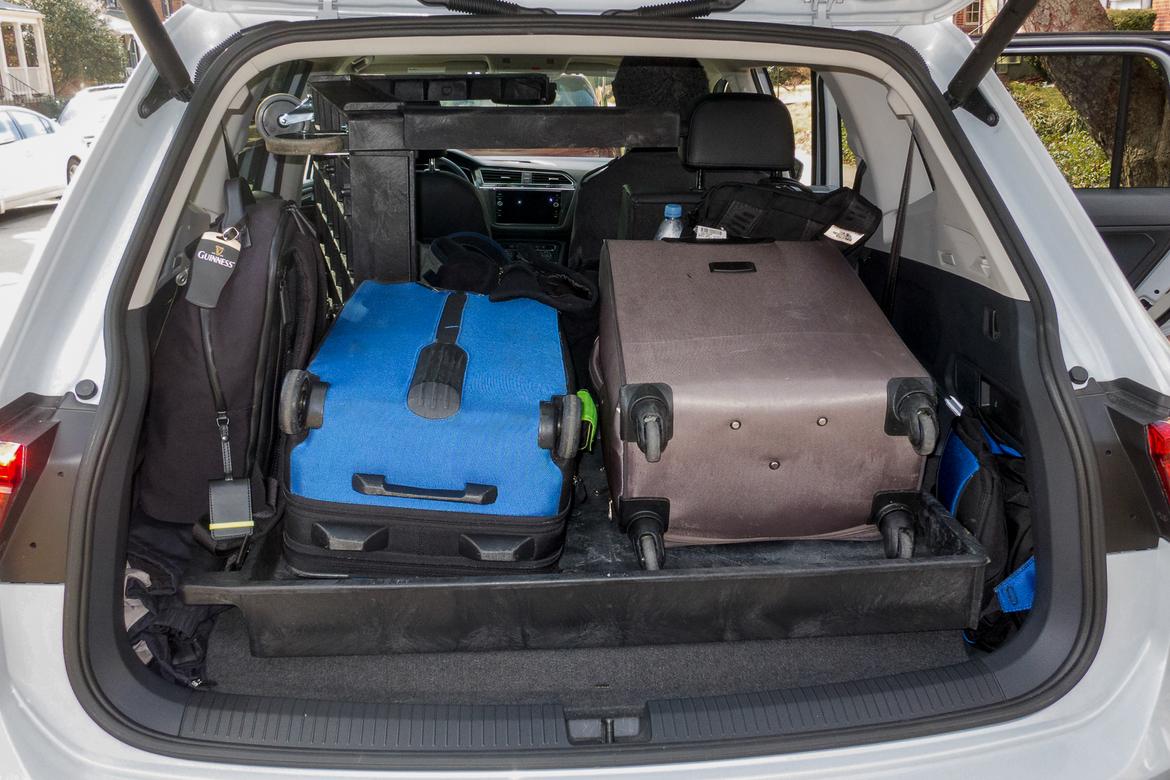 We pretty much maxed out the Tiguan's 970-pound-rated payload for the trip with three passengers (adding Cars.com Los Angeles Bureau Chief Brian Wong and his friend Alex) plus luggage. We also had multimedia equipment for the show, including a bulky cart that allowed Alex just the 40 percent side of the 60/40-split folding rear seat. The load was similar to what you might do for a beach run or camping trip with a couple of friends (maybe less luggage, but more bulky gear).
The Tiguan has its compromises as mainstream compact SUVs do (you can get more complete review here and in coverage of Cars.com's most recent Compact SUV Challenge that the Tiguan won). But for our purposes here, these are seven reasons the Tiguan deserves a spot on your shopping list if you're looking for a good road-trip companion.
It Won't Break the Bank
The all-wheel-drive Tiguan's 184-horsepower, 2.0-liter four-cylinder and eight-speed automatic transmission is rated 21/27/23 mpg city/highway/combined. That lab highway rating understated the 30.2 mpg we clocked on the trip computer keeping up with the traffic on the 237-mile run with an average speed of 40 mph, and about 10 percent of the miles in D.C. and New York City traffic. The pump measure calculated to 28.1 mpg (though at different pumps), for an average of 29.2 mpg. The result was consistent with a longer, faster drive by Brian up the Left Coast, which tallied a computer/pump average of 27.1 mpg averaging 60 mph. We had the windows up and climate control on (air temp in the 60s Fahrenheit). Adaptive cruise control was used briefly only to test it. But the traffic was not suited to sitting back, and the Tiguan's modest 2.0-liter required more vigorous prodding than the adaptive cruise offered to get back up to speed when an opening appeared to get around a slower-moving vehicle.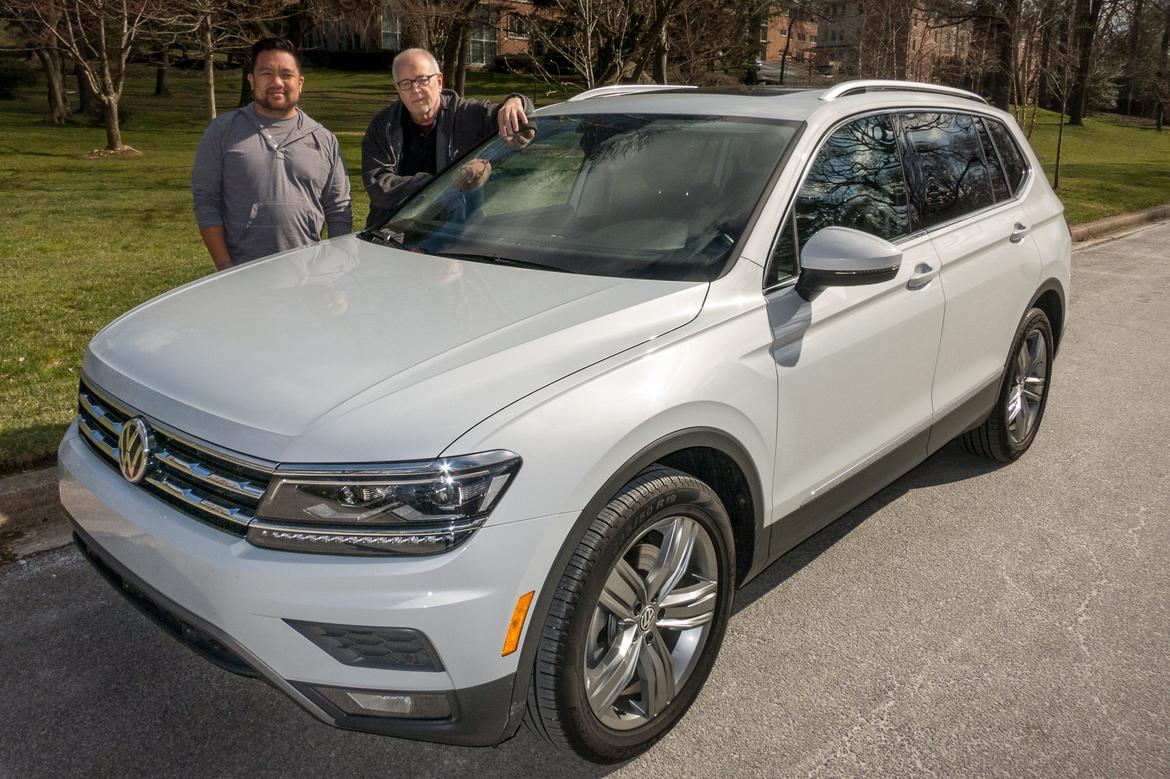 Load It Up
The three-row Tiguan took all we gave it, even carving out enough of the 73.5 cubic feet of maximum cargo volume for a passenger in the second row. It's not the biggest cargo hold among compact SUVs in cubic feet, but the shape makes it all usable (Tiguan cargo space compared with rivals here). And the large, square-ish tailgate and relatively low lift-over height were welcome for loading the bulky cart. Absent that awkward item, there would have been ample room behind the second row to let us take another passenger and still have room for all of our luggage. We could have put a fifth person in the middle of the backseat, too, but the shape of the cushion and seatback, plus less legroom, would make that the short straw for a long trip. If you don't need the optional third row (best suited to short trips), you get not quite 8 more cubic feet of cargo space behind the front seats and 4.6 more behind the second row.
Second Row, Not Second Class
I was very much a fan of the comfort in the second row, which slides 7 inches fore and aft, and reclines. Alex specifically appreciated "how roomy it was because I wanted to sleep," even though he had just the 40 side of the 60/40-split folding seatback. He was able to sleep soundly because the ride quality and motion in the backseat are suitable even for a motion-sensitive passenger. He also appreciated the backseat USB port so he could charge his phone. The rear-seat comfort is all the more notable in the new Tiguan because that was not a high point for the old version.
It's Playlist-Ready
This is one asset specific only to the SEL Premium model we were in. It has one of VW's Fender-branded audio systems, a 480-watt, nine-speaker system with a subwoofer; others get a six-speaker system. When taxed with a varied playlist and multiple genres, the Fender system produced clean sound, even at higher volume, with a particularly strong midrange (a personal preference). Bass could have been stronger and more defined, but it was sufficient. Using the standard Android Auto and Apple CarPlay was easy and glitch-free, too.
Enjoy the Scenery
The Tiguan has a low, horizontal beltline and big windows to go with the big panoramic moonroof for excellent visibility in all directions, whether you're in mountains or in the man-made canyons of New York City (the moonroof is optional on the second-tier SE and standard on higher trim levels). And unlike in many small SUVs, the visibility is as good for the rear seat as it is in the front.
Good Seats Available
The seats have well-designed comfort for multiple people sizes. The padding and support feel good when you get in and still feel that way six hours later. And there is enough adjustment for everyone to get a just-right position. That includes welcome height adjustment on both sides in the front and the sliding/reclining backseat. The test vehicle's seats were leather-trimmed; the S has cloth and the rest have leatherette that also is comfortable and easier to care for. An added plus for the interior, which some have criticized as not fancy enough: When it comes time to clean up after the trip, the simpler design and surfaces were appreciated.
At Home in a Crowd
The Tiguan was quiet and comfortable on the highway, easing fatigue. And on an earlier drive in Colorado, it showed itself capable for light duty when the asphalt ends (aided by the 4Motion all-wheel-drive system's modes). But for road trips, particularly in the Northeast, you need a vehicle that is as at home in a crowd as on the range. Unlike many bigger SUVs, the Tiguan is not a boat for traffic or parking. In the congested Times Square area of Manhattan, where lane markings are taken as a suggestion, the excellent visibility and competent steering and brakes were assets.
So was the safety technology. A near-miss between a bike messenger and NYC cab in front of me triggered the front collision system. I saw it and also hit the brakes, but I easily could have been distracted for the split second it would have taken to spoil the road trip right there. I also made good use of this SEL Premium version's 360-degree camera system, still an unusual feature for compact SUVs. Teamed with parking sensors, it gives the Tiguan the urban parking ease and confidence of a smaller vehicle.
The Biggest Change We'd Like ...
... to make it a better traveler: Give us the option of a "real" 2.0-liter, one with 200-plus hp, such as the 220-hp unit from the Golf GTI and expected to power a GLI version of the redesigned 2019 VW Jetta. It wouldn't make the bigger, heavier and less sophisticated Tiguan a GTI - but we'd gladly give up a couple of mpg and pay more for gas to give the loaded SUV extra oomph for on-ramps and passing (and just for fun). It also would make the adaptive cruise control more useful and satisfying.
2018 Volkswagen Tiguan Road Trip; Cars.com photos by Fred Meier
Test Vehicle: 2018 Volkswagen Tiguan SEL Premium With 4Motion

Powertrain: 184-hp, turbocharged 2.0-liter four-cylinder producing 221 pounds-feet of torque; eight-speed automatic transmission; all-wheel drive
Fuel economy rating: 21/27/23 mpg city/highway/combined
Key features: 8-inch multimedia display with Android Auto and Apple CarPlay, dual-zone automatic climate control, leather seating surfaces, 360-degree camera system, autonomous forward emergency braking, blind spot warnings, panoramic moonroof
As-tested price: $38,950, including a $900 destination charge
Cars.com's Editorial department is your source for automotive news and reviews. In line with Cars.com's long-standing ethics policy, editors and reviewers don't accept gifts or free trips from automakers. The Editorial department is independent of Cars.com's advertising, sales and sponsored content departments.