Saab PhoeniX Concept at 2011 Geneva Motor Show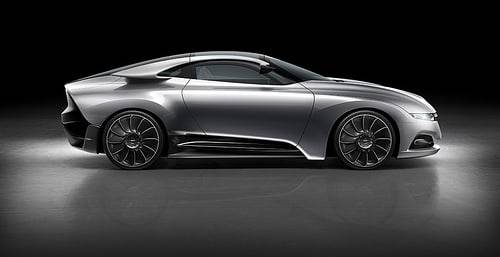 Looks like: The Saab Aero X concept, now featuring more "Tron" 
Defining characteristics: Hybrid all-wheel-drive capability, Android-powered multimedia system 
Ridiculous features: Two roof-mounted "winglets" 
Chance of being mass-produced: The undercarriage will be applied to the next 9-3 
Historically, Saab has been known for its fuel-efficient and quirky-styled cars, though under General Motors' stewardship many Saab models lost a lot of their luster. The just-unveiled Saab PhoeniX concept illustrates a potential push by Saab's new owners to return the company to its founding ethos.
Let's be clear: The PhoeniX concept isn't a thinly veiled production car. It's more of a statement by Saab of what it wants to be. The PhoeniX is a 2+2 coupe, featuring all the common staples you'd expect on a concept vehicle: butterfly doors, abstract interior, humongous wheels and little side-mirror camera replacements.
This showcase is somewhat different from the similar Saab Aero X concept because underneath, the PhoeniX carries the architecture of the next-generation Saab 9-3. That architecture features an all-aluminum 200-horsepower, 1.6-liter turbocharged four-cylinder hybrid powertrain that includes a small electric motor to power the rear wheels. Saab doesn't mention if there's a differential to connect the gasoline powertrain to the rear wheels as well. This is an interesting approach to all-wheel drive, as we've reported something similar on a Japanese Nissan Cube. Saab says the hybrid system isn't just a concept; it's being developed for its next generation of cars.
The PhoneiX also features Saab's next-generation multimedia system, called IQon, which uses the same Android operating system found on many smartphones. IQon won't have access to the Android Market, but Saab says it is developing applications that can use the 500 different sensors found in its cars. For example, an app could collect information about the vehicle's workload, data that a typical car records but doesn't display. Saab says it's already working on a beta version of IQon with some of its fleet vehicles.
In terms of exterior design, we could be seeing some future interpretations of Saab design cues. Most noticeably, Saab's three-port grille has been stretched; it now features a gaping maw with a honeycomb mesh sitting below a much more prominent centered body-colored wing and Saab emblem. The rear ditches the full-width light bar for a dot-matrix assortment of LEDs.
Check out more photos below and see if you like Saab's new direction.