Sales of Redesigned Cars Soar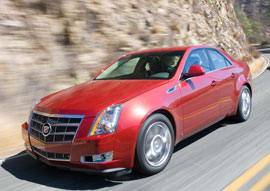 It sounds like a no-brainer, but guess what? New and redesigned models sell, especially if they get good reviews. Sales figures for September — widely projected to be a slow month for automakers — are in, and redesigned models like the Honda Accord, Cadillac CTS and Mercedes-Benz C-Class are selling well. Really well.
Unfortunately, the automakers don't break out how many of the cars sold are 2007s versus 2008s, but we were able to glean a few tidbits from the numbers. The Cadillac CTS did the best of the three in terms of percentage increase, showing a 73.5% sales increase over September 2007. If you look at the CTS' sales in August, they were down 9.1%.
Another well-received entry-level luxury sedan, the Mercedes C-Class, had a redesigned model hit the streets last month. Sales of the C-Class were up 42.8%. In August, they were down 1.9%. We're stressing August's numbers because they're a good gauge of how incentives affected sales of leftover 2007 models in September.
Taking into account the fact that the Honda Accord had a huge ad campaign and positive reviews for the 2008 model, sales were up 31.2% in September. Last month, when incentives were high on the 2007 Accord and there were no 2008 models available, sales were up even more compared to the previous year, at 37.3%.
All three models have broken into Cars.com's list of the top five cars with the biggest increase in consumer searches as well.
These three cars are vital to their respective brands and all seem to be doing well out of the gate, though the Accord is harder to gauge than the others. Regardless, we're always intrigued to see buyers following what research and independent car reviews are saying. 
Related
2008 Cadillac CTS Expert Review (Cars.com)
More Cadillac News (KickingTires)
2008 Honda Accord Expert Review (Cars.com)
More Honda News (KickingTires)
2008 Mercedes-Benz Expert Review (Cars.com)
More Mercedes-Benz News (KickingTires)