Saturn Tackles Outlook Engine Lag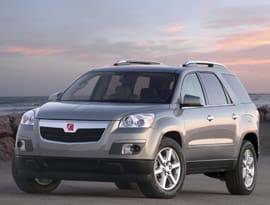 Saturn says it is now addressing a problem with transmission hesitation in its new Outlook SUV. As reported in our Dec. 5 full review, lag in the six-speed automatic was the only major strike against what is otherwise an impressive new eight-seat crossover. We found in our test Outlook that there was a slow reaction when the accelerator was depressed, and that raised safety concerns. As hoped, Saturn has developed a new calibration for the transmission-control module, which the company has begun to use in manufacturing new Outlooks. Though there is no recall at this time, any owner who is dissatisfied with the transmission performance can have it recalibrated at the dealership.
We're attempting to get our hands on a revised Outlook as soon as possible and will report back if it gets a clean bill of health.
Related:
2007 Saturn Outlook, GMC Acadia Recalled Due to Faulty Airbag Sensors
Taking on the Saturn Outlook