Smart Car to Arrive in 2008, But Safety Concerns Linger
Talk to a Smart rep about the ForTwo minicar, and the discussion invariably turns to safety. That's because the public's reaction to the ForTwo seems to hinge largely on what people think of its crashworthiness. That ought to be expected when you market a car half the length of a New York taxicab.
The ForTwo is scheduled to hit showrooms in early 2008. Smart representatives are quick to point out its bevy of safety features, as well as its projected crash-test results. Even so, some experts remain skeptical, warning that drivers of small cars like the ForTwo have an increased risk of personal injury if they get hit by a larger vehicle.
The ForTwo's appearance at the Detroit auto show carries unfortunate timing. Last month, the Insurance Institute for Highway Safety crash tested several small cars, including the Chevy Aveo and Honda Fit, and five of the eight models — including some with advanced safety features like side curtain airbags — fared poorly.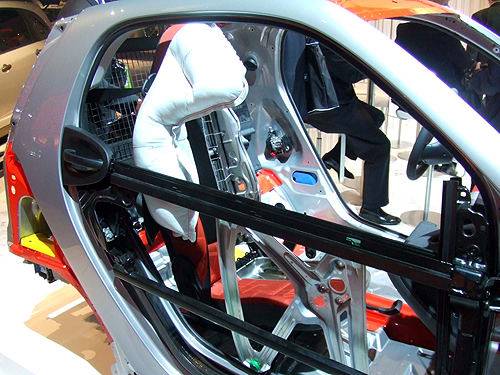 IIHS spokesman Russ Rader couldn't comment on the ForTwo, as his organization hasn't crash tested it yet, but he said small cars are at an inherent disadvantage when they're hit by larger ones.
"The bottom line is, you can't repeal the laws of physics," Rader said. "You can have all the airbags and all the safety features that currently exist, but you can never make a small car as safe as a bigger, heavier one."
Smart spokesman Ken Kettenbeil disagreed.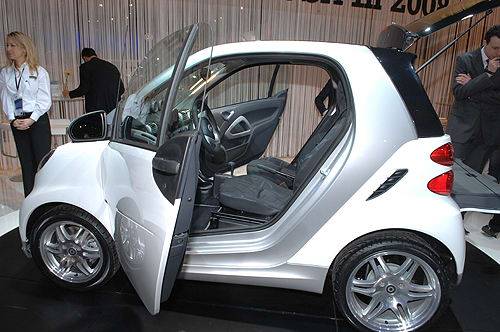 "To generalize and say that the Smart is at a disadvantage in all crashes is unfair," Kettenbeil said. "We've seen numerous times, either in person or on television, where occupants have walked out of a crash regardless of the size of the vehicles that were involved in the accident, and you wonder how that happens."
In Detroit, product specialist Russell Smolik said these kinds of safety fears probably stem from memories of earlier subcompact cars. Unlike those relatively crude cars of the 1980s, the ForTwo comes stocked with safety features. At its heart is a reinforced steel safety cell, called the Tridion safety cell, which surrounds the driver and passenger.
"It acts as a protective shell, if you will — sort of like a shell around a walnut," Kettenbeil said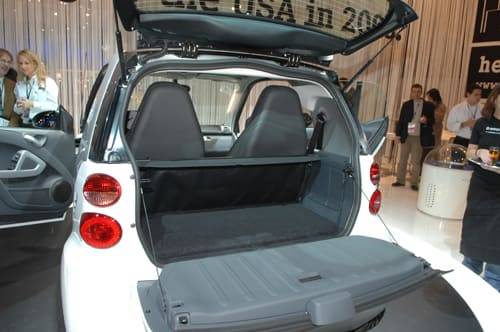 The ForTwo's Tridion cell is designed to keep the occupant space intact while everything else, from the bumpers to the engine bay, absorbs the impact. Standard front- and side-impact airbags, as well as antilock brakes and an electronic stability system, are there to provide additional safety.
The car's small size could also help it avoid crashes altogether, Smart USA president Dave Schembri said. He pointed to the car's agility: "Maybe small could even be safer."
Rader disagrees, calling the agility argument "an urban myth."
"It's a huge myth," Rader said. "If small cars are avoiding crashes because they're more maneuverable, we should see that in the crash statistics, but that's not the case. Actually, the crash statistics show the opposite."
Compact cars are typically driven by younger, more inexperienced drivers — which is partially to blame for their higher crash statistics. Even taking that information into account, though, small cars still get into more crashes, he said.
While Rader wouldn't speculate on the ForTwo's crashworthiness, he did concede that small cars can be viable in certain areas.
"If you're driving in low-speed urban situations, a small car might be a better alternative," he said.
The ForTwo is intended for precisely those urban environments. In such areas, the car's safety systems can provide adequate protection against smaller crashes, Smolik said.
"The car has been designed to receive a four-star crash rating" in National Highway Traffic Safety Administration front- and side-impact tests, Smart president Schembri said. That agency has not yet tested the ForTwo either.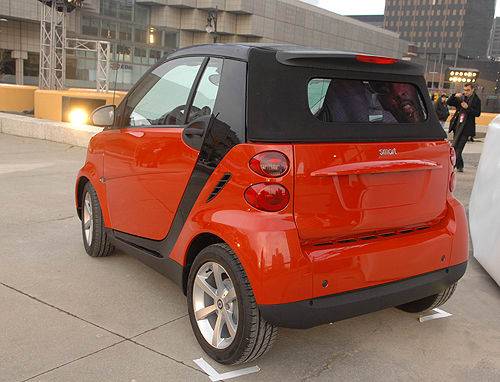 Smart's expected crash-test ratings could change down the road. On Jan. 8, the Department of Transportation announced plans to overhaul NHTSA's testing procedures. The announcement came two years after a report by the Government Accountability Office concluded, among other things, that NHTSA's crash tests do not adequately measure the effect of large cars hitting smaller ones.
NHTSA spokesman Rae Tyson wouldn't speculate about whether or not the revised procedures would affect the ForTwo's projected crash-test ratings.
Powered by a 71-horsepower, 1.0-liter three-cylinder engine, the ForTwo will start under $15,000 when it arrives at U.S. dealerships in early 2008. It's the second-generation car, as opposed to the slightly smaller first generation that's been sold, mostly in Europe and Canada, since 1998.
Related:
Getting Smart: The Smallest Car in Detroit