CARS.COM — The future of car technology isn't limited to self-driving systems and autonomous vehicles. Cars will someday do much more than take over driving. At some point down the road, they will communicate, listen and, most importantly, learn.
Related: More 2017 CES Coverage
Major car companies and flashy dream cars are the undisputed stars of any auto show, but that's not the rule at the Consumer Electronics Show held in Las Vegas. Companies you might never have heard of are leading the way toward a dramatically different world of mobility. The revolutionary steps they're taking don't always involve fancy designs or shiny sheet metal. In some cases, this world-changing technology fits in the palm of your hand, or can be controlled using only your fingertips.
World's First Self-Driving Car Computer
"It's not an exaggeration when we talk about artificial intelligence as the technology that will spark an industrial revolution," said Rob Csongor, vice president and general manager of California-based tech firm Nvidia. The inspiration for this bold announcement just happens to be smaller than your average laptop — and hundreds of times smarter than one, too.
Developed in partnership with Nvidia and the German car-part manufacturing firm of ZF Friedrichshafen, the ZF ProAI is the world's first self-driving car computer. Approximately $2 billion has been spent developing the system, which can be scaled to manage everything from heavy-duty industrial equipment and trains, to the car or truck sitting in your driveway.
Why should I care? "This is the first serious production approach where we introduce [artificial intelligence] to many industries ... It's scalable, extremely powerful and has deep learning capability," said ZF's CEO, Stefan Sommer. Intelligent machines — whether a freight train or a compact car — need massive amounts of computing power to make autonomous driving feasible. "The capability in managing this data is one of the differentiating factors of the future," Sommer said.
That future begins as early as 2018, when the ZF ProAI will be pressed into production applications. Considering the short time frame, initial uses will likely focus on industrial applications, not passenger cars.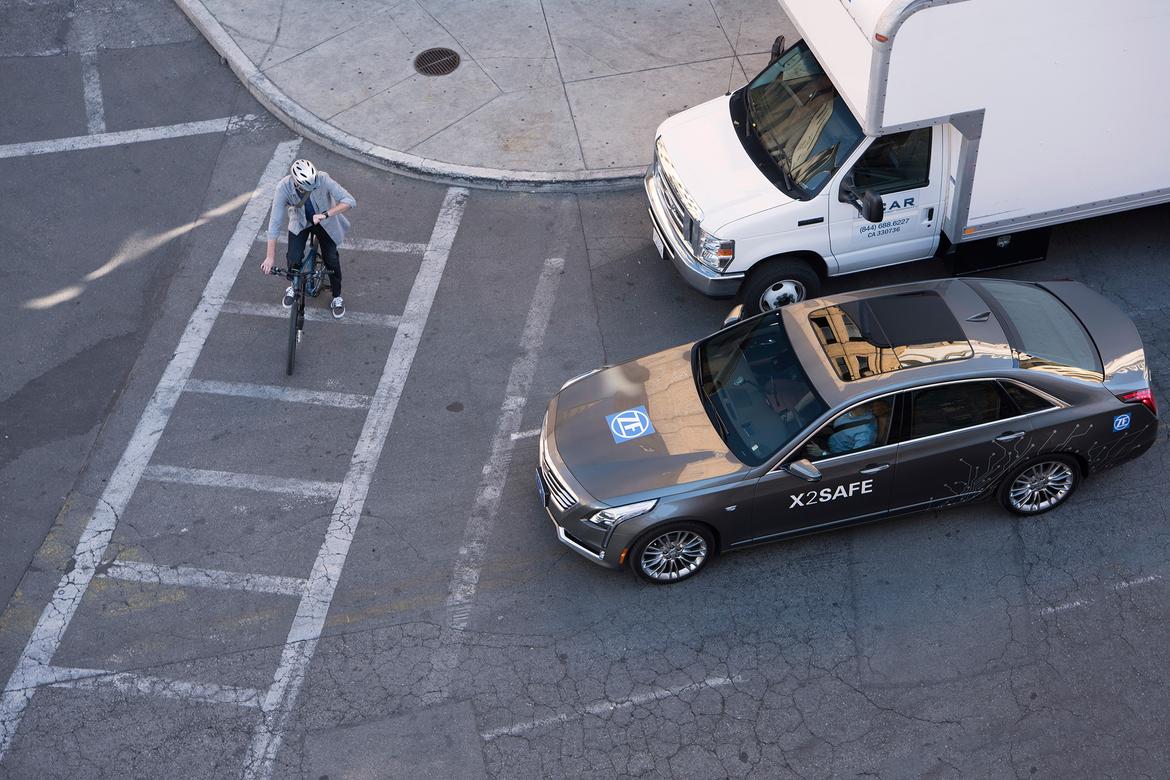 ZF also discussed the near-term introduction of X2Safe, a cloud-based system allowing vehicles to "speak" to pedestrians using smartphones or other mobile devices. A bicyclist could be alerted via a wearable device that a car is coming around a corner long before the vehicle is within view, for example. The technology is "ready for application," Sommer said. That means it's ready to roll, in layman's terms, but needs a large user base to allow it to function as intended.
Hyundai Shows Off Self-Driving Ioniq Concept
The only vehicle that Hyundai brought to CES this year flew under the radar, and it seems like that's exactly the way it was intended.
Were it not for the giant "autonomous" sticker on the car's side, it'd be nearly impossible to tell the Autonomous Ioniq concept apart from its other versions. Instead of putting the lidar system on the roof like most other self-driving cars, it's hidden behind the front bumper. The rest of the additional sensors also blend seamlessly into the bodywork — there are no weird arrays with antennae poking out of the top of the car or giant LEDs flashing about. Hyundai also used the Ioniq's existing hardware to keep costs down and make autonomous driving more accessible.
Why should I care? The Autonomous Ioniq looks like a normal car, and that's the biggest sign that a self-driving car may be even closer than we think. The Ioniq Autonomous concept can roll incognito, gliding by on the street without anyone being the wiser.
Self-Driving Cars Give You Days of Freedom
Bosch wants to give you four days of rest and relaxation so long as you drive often — and don't mind letting an autonomous car do the job. According to Bosch's research, a "frequent driver" could regain as much as 95 hours of free time by relying on a self-driving vehicle for only one year.
"Connectivity is transforming our daily lives," said Bosch board member Werner Struth. "Who doesn't want personal assistants that make life safer, easier and more convenient? Vehicles will be connected to their surroundings and even driving themselves."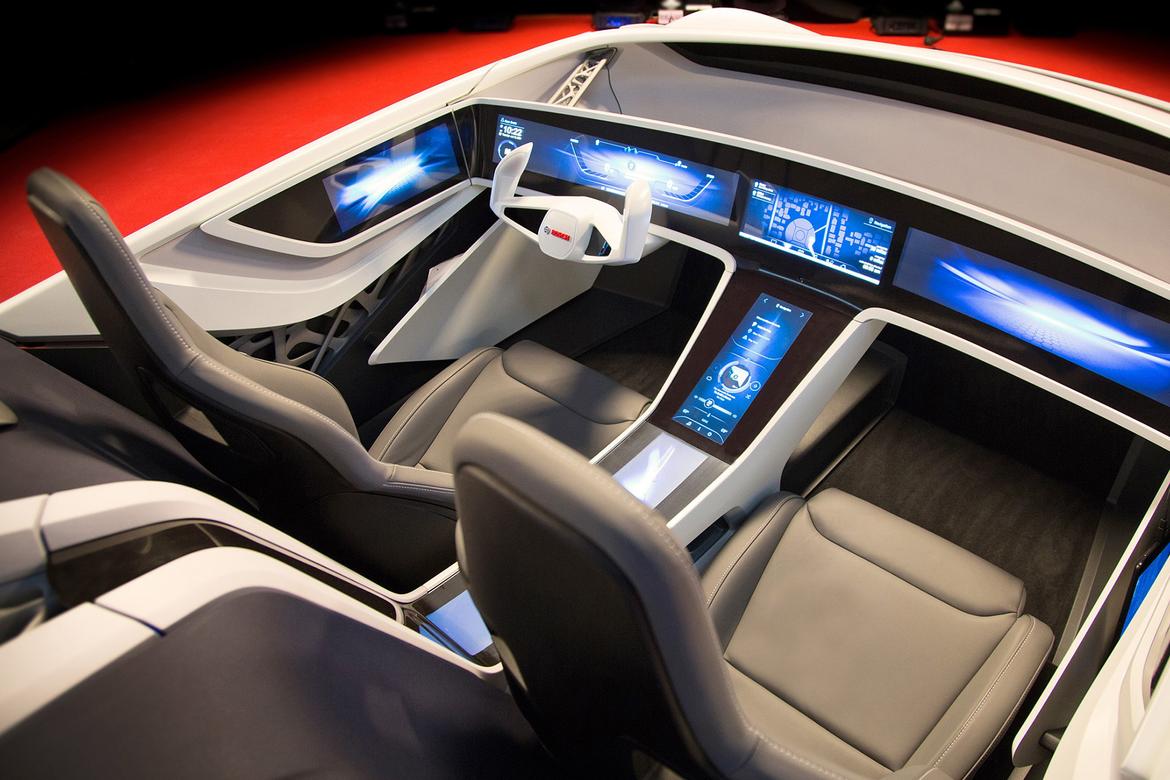 Bosch also wants cars to cooperate to help make parking easier. Its Community-Based Parking system scans the road while you're driving, then communicates to other vehicles about whether there are any open parking spots. The system is capable of learning, too, so any obstacles (such as garbage bags or construction cones) are accounted for and factored into parking alerts.
Why should I care? Do you really want your car to give away a prime parking spot? In ideal conditions, Bosch's Community-Based Parking system sounds like a perfect way to avoid circling block after block, looking for a spot. The human factor is the problem, however. What happens if two or more cars suddenly want the same parking spot? The cars might behave, but the humans behind the wheel could be another story.
Bosch also had its version of a future vehicle interior on display, complete with touch-sensitive feedback. When scrolling through the virtual menus and controls, inaudible ultrasonic waves send pulses to your fingertips. "It's very cool," Struth said, matter-of-factly.
Tesla's Gigafactory, Smart Highways and Self-Driving Pods
Panasonic's press conference featured everything from autonomous drive mobility pods and Tesla sedans to intelligent induction ovens and a cameo appearance by none other than Mickey Mouse. There was a little something for everyone, to say the least.
As the world's largest producer of electric vehicle batteries, Panasonic is no stranger to the automotive world. That's why the company began its head-spinning array of CES news with an update regarding its cooperation with Tesla and the Silicon Valley-based automaker's newly operational Gigafactory near Reno, Nev., that is now producing Panasonic-developed lithium-ion batteries. "Smart mobility energy leadership, that's what our partnership with Tesla and the Gigafactory is all about," said Tom Gebhardt, president at Panasonic Automotive Systems of America.
Why should I care? You don't have to be on the waiting list for Tesla's upcoming electric-powered Model 3 sedan to be impacted by Panasonic's innovations at CES. Working in partnership with the city of Denver, Panasonic is engineering a 90-mile stretch of "connected highway" to provide real-time data to drivers. This will help drivers avoid accidents, be aware of any hazards and reduce traffic congestion. This urban plan also includes connected bus stations and parking garages fitted with solar panels, as well as sensors that allow self-driving cars to navigate busy roadways.
Chrysler's concept car at CES, the Portal EV, also uses Panasonic technology. Biometric sensors recognize the driver and then customize the vehicle to the specific person's settings. This is much more than maneuvering the seat where you want it or tuning into a favorite station: Your car could recommend a restaurant, find the best route there and even pay for the meal (using your credit card, of course). Still, it sounds like a pretty nice date, doesn't it?
The most far-fetched item on Panasonic's lengthy tech menu at CES are autonomous mobility pods, spherical vehicles that project information onto the car's interior glass. While zipping down the road, the "driver" can scroll through emails, conduct a meeting or perhaps binge watch a show. "One day, just like flying, we'll be able to sit back and enjoy the ride," Gebhardt said.
The See-Through Car at CES
Valeo had an entire suite of news and updates at CES, but the French firm's XtraVue camera tech was the item that drew audible "wows" from the crowd. The system is ideal for tricky passing maneuvers on two-lane roads when seeing around a slower vehicle is difficult or nearly impossible.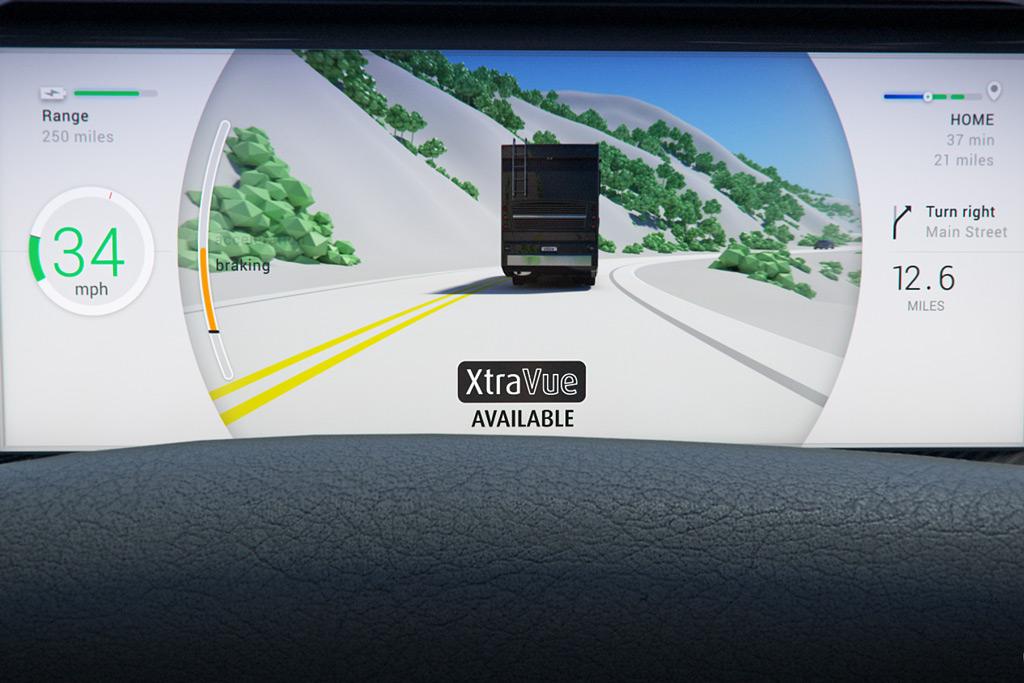 With XtraVue, your car communicates with the other vehicle and wirelessly links to a camera mounted in that car's grille or front bumper. The view from the lead car's camera is then beamed back to provide a clear picture ahead for the car trying to pass.
Why should I care? Anyone who has been stuck behind a plodding car on a narrow road knows the value of this technology. Imagine how much simpler and safer it would be to pass a large truck without worrying about bobbing and weaving into the opposite lane to see if the road is clear. Valeo's XtraVue does rely on all cars having front cameras, so the system would be limited to only new vehicles with full camera arrays.
Cars.com L.A. Bureau Chief Brian Wong contributed to this story.
Editor's note: This story was updated on Jan. 6 to clarify that Bosch's future vehicle interior has touch-sensitive feedback.