Some Chrysler, Dodge, Jeep Incentives Beat Employee Deals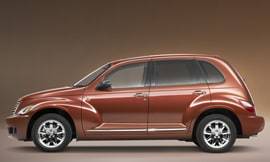 We've been covering the rollout of April incentives this week, and so far the deals coming from Chrysler, Dodge and Jeep are the most jaw-dropping. The weak economy and double-digit sales slump in March spurred major incentive spending from Ford, while GM has kept incentives about even for the past few months. Chrysler, however, has incentives so large that, in some regions, they even beat the radical employee discount sale from the summer of 2006.
Not surprisingly, the biggest numbers are on large trucks and SUVs, with the Dodge Ram half-ton sporting a $5,500 cash-back offer. The Dodge Durango and Chrysler Aspen have $2,500-$3,000 cash back, while the Jeep Commander and Grand Cherokee have between $3,500 and $4,000 cash back. Those prices don't quite match the 2006 employee pricing deals of $6,000 in some cases, but they're nothing to sneeze at.
If you're looking for an inexpensive car, though, there is significant savings on the company's lowest-priced models. The Chrysler PT Cruiser is seeing between $1,500 and $3,000 cash back, dropping the MSRP of $15,685 to $12,685 or 19% off. At the height of employee pricing, the PT saw just $1,084 off.
What's that you say? The PT is an aging model? What about something newer, like the Dodge Caliber? That's getting $1,000-$2,000 off, with added regional cash back of $1,000 in some areas. That drops MSRP from $14,580 to $11,580 or about 21% off.
Our ultimate pick, though, would have to be the Dodge Magnum, which is being discontinued. It's still a lot of car for the money, especially with some regions seeing total cash back of $4,000, with $2,000 in additional regional cash-back. That drops the $24,120 MSRP to $18,120 or almost 25% off. 
There are a lot more cash-back offers on these brand's entire lineups, broken down below, along with the fine print.
Chrysler
2008 Chrysler 300
$2,000-$2,500 off the base 300 models, while the 300C is offering $3,000 to $4,000 cash back. SRT8 models are not included. Back in 2006, the SRT8s were included, but the sale price had between $2,174 and $3,828 off for the SRT8.
2008 Chrysler Aspen
$3,000 cash back.
2008 Chrysler PT Cruiser
The sedan has $1,500-$3,000 cash back, while the recently discontinued convertible has just $1,000 cash back.
2008 Chrysler Pacifica
Another discontinued model sees major cash back. The five-passenger version is seeing $2,000-$4,000 cash back, with $2,000 regional cash back offered in some areas. The six-passenger version has $2,500 to $4,500 cash back, with $2,000 regional cash back in some areas. In 2006 it had $2,576 off.
2008 Chrysler Sebring
The sedan is getting just $500-$1,000 off. The convertible, however, is seeing $2,500 off.
2008 Town & Country
The redesigned minivan gets $1,500 off across trim levels.
Dodge
2008 Dodge Avenger
The redesigned sedan gets $1,000-$2,000 cash back with an additional $1,000 in certain regions.
2008 Dodge Caliber
$1,000-$2,000 cash back on the affordable hatchback.
2008 Dodge Charger
$2,000-$2,500 on the base or SXT and $3,000-$3,500 on the R/T. 
2008 Dodge Dakota
The crew and extended cabs have $2,000-$2,500 cash back.
2008 Durango
$2,500-$3,000 cash back on the truck-based SUV. Nowhere near the $6,000 plus in 2006.
2008 Dodge Grand Caravan
$1,500 on all trim levels.
2008 Dodge Magnum
$2,000-$4,000 on the SE and SXT trims and $3,000-$5,000 on the R/T. Both have an additional $2,000 in regional cash back in some areas.
2008 Dodge Nitro
Surprisingly, the Dodge Nitro, which had soft sales last month, has only $750 cash back.
2008 Dodge Ram 1500
$5,500 for regular, quad and mega cab configurations.
Jeep
2008 Jeep Commander
One of the models being killed off after this year gets $3,500 off, which isn't close to the $4,868 offered in 2006.
2008 Jeep Compass and Patriot
The small hatchbacks are selling well and only have $500 cash back. 
2008 Jeep Grand Cherokee
$3,500-$4,000 cash back, with an additional $500 in some areas. That's just $300 shy of the 2006 discounts. The diesel Grand Cherokee is also getting $1,500-$2,000 cash back. 
2008 Jeep Liberty
Sales were down on the redesigned model, which is similar to the Dodge Nitro. Buyers can get $1,500-$2,000 off the Jeep version. 
2008 Jeep Wrangler
There is no cash back being offered on the popular off-roader.
*All incentives good through April 30. All offers should be checked with the manufacturer.