States Expand Seat Belt Laws to Backseat Passengers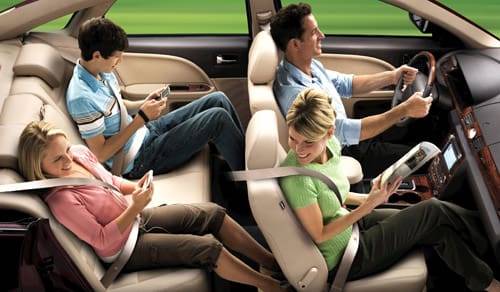 Related: Safety Advocates Sue Government Over Seat Belt Law
Wearing rear seat belts may not be comfortable, but doing so does help improve safety for every passenger in the vehicle — as well as the driver. While the law may not mandate that you wear your seat belt as a backseat passenger, it's still a good idea to buckle up. Let's take a closer look at seat belt laws and why you should fasten your belt in the backseat and front seat regardless of what the law in your state says. 
While it is not required by law in many states, it's important that backseat riders wear their belts, too — not only for their own safety but for the safety of front-seat passengers and the driver, as well. In a crash, an unbelted rear-seat passenger is five times more likely to cause fatal injuries to front-seat occupant even if the front occupants are buckled in and an airbag is deployed, according to the Telegraph. 
Even though seat belt use in the front seat has steadily grown over the years, USA Today is reporting that lawmakers are concerned by the gap — and in some instances, decline — in seat belt use in the backseat. In response, many states have enacted laws to encourage backseat passengers in vehicles to buckle up their seat belt just like they would in the front seat of the vehicle. 
In New Jersey, seat belt use among front-seat passengers grew to 94 percent this year, but only 27 percent of adult backseat passengers wore belts, 5 percentage points less than the year before, according to the National Highway Traffic Safety Administration. As a result, the New Jersey Legislature added a secondary backseat seat belt law. Since 2007, Louisiana, Minnesota, Indiana, Kansas and Texas have passed similar laws requiring seat belts for passengers in the front seat and the backseat of motor vehicles. 
Rear seat belt use stood at a 74 percent national average in 2008, compared with 83 percent for front-seat passengers, according to the National Highway Traffic Safety Administration. 
State seat belt laws, which issue fines ranging from $5 in Kansas to $200 in Texas for noncompliance, increase seat belt usage, NHTSA says. According to the Insurance Institute for Highway Safety, 25 states and the District of Columbia require front and rear occupants to buckle up.
Why Seat Belt Use in the Backseat Matters

Whether the law in your state requires a passenger in the backseat to fasten their belt, it's important to know that unbelted backseat passengers are a safety hazard to everyone else in a vehicle. In an accident, an unrestrained passenger in the backseat can essentially become a projectile inside the motor vehicle. This is especially true during accidents which occur at highway speeds. A belted driver seated in front of a backseat passenger who is not wearing a seat belt is 2.27 times more likely to be killed in a head-on motor vehicle accident. 
While people tend to think they are safer as a passenger in the back of a vehicle, this simply isn't true. The human body can become a deadly projectile and force the driver into the steering wheel and airbag during an accident. Unrestrained rear-seat occupants are dangerous to everyone in the vehicle, so it's important to always fasten your seat belt no matter where you are in the car or what the law says, according to highway safety experts.
Cars.com's Editorial department is your source for automotive news and reviews. In line with Cars.com's long-standing ethics policy, editors and reviewers don't accept gifts or free trips from automakers. The Editorial department is independent of Cars.com's advertising, sales and sponsored content departments.