Storm Surge: Beware of Title-Washed Cars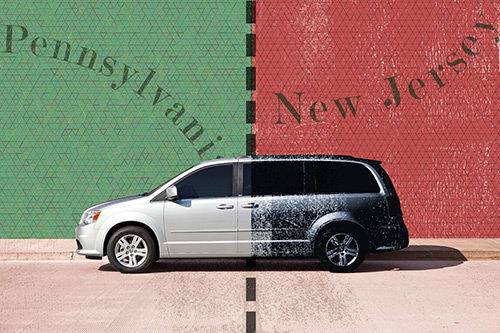 CARS.COM — Shopping for a used car in Mississippi? Beware of title washing. The Magnolia State has the highest density of title-washed cars in the country, with 1 in every 44.6 used cars bearing a washed title, a Cars.com analysis has found. That's well above the national average of 1 in 324.9 used cars. New Jersey, meanwhile, has the second-highest rate: 1 in 87 cars.
Related: How to Know if You're Buying a Flood-Damaged Car
Why? In a word, hurricanes. Nearly a decade ago, Hurricanes Katrina and Rita left 600,000 flood-damaged cars across the Gulf States. And in 2012, Hurricane Sandy reportedly left more than 200,000 storm-damaged cars in New Jersey and New York. Salvage titles, or titles for cars that were retitled after they were written off as total losses by insurance companies, proliferated after all three storms. Title washing also surged, where sellers alter vehicle titles to hide their salvage status and sell the cars as regular used vehicles. To do this, sellers often send those cars through states with looser title laws.
By contrast, used-car shoppers in Ohio, Florida and Pennsylvania have less to worry about. Just 1 in 2,127 used cars in Ohio has a washed title. Florida (1 in 1,444.9 cars) and Pennsylvania (1 in 1,200.3 cars) round out the podium for low-risk states.
CarFax, a provider of vehicle history reports, estimates that title washing could affect nearly 800,000 motor vehicles on U.S. roads. The company has state-by-state totals of title-washed vehicles — any cars (not just flooded ones) whose titles have been altered — which CarFax draws from all registrations issued since 1981. We indexed that data against the total number of registered cars per state, using IHS Automotive data from July 2014. Here's what we found: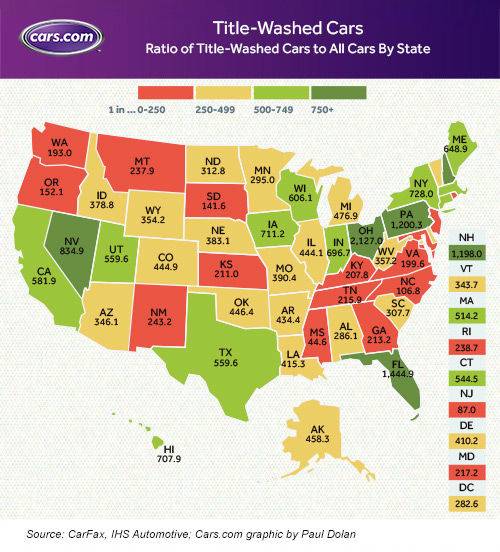 IHS data encompasses only passenger vehicles (and not vehicles such as motorcycles or commercial trucks). So does the "vast majority" of CarFax's data, spokesman Chris Basso told us.
How It Happens
So what exactly is title washing? It's what happens when someone alters the "brand" on a vehicle title; that is, the car's legal status as a flood vehicle, salvage vehicle or anything else that isn't "clean." And it often happens when someone moves the car from the state where it was "branded" to a different state with different branding requirements. That might be a state where cars of a certain age (7 or 8 years old, for example) are exempt from branding, or a state that doesn't even have flood branding.
Title washing is dubious, to say the least. The FBI calls it fraudulent and corrupt, and the International Association of Auto Theft Investigators noted in July 2014 that it's a federal crime.
Why It Happens
Why does it occur? Because the washers want to sell the car.
"Someone has a salvage car that they bought cheap — or stole — and now they want to sell it for a lot more," National Insurance Crime Bureau spokesman Frank Scafidi told us. "But to do so, they have to create a phony title for cover."
That altered title can help sell a damaged car for a lot more than it normally would. Cars that have avoided a title brand altogether — an equally dubious act known as brand avoidance, where a car should have received a salvage, flood or other not-so-clean brand but didn't — can also draw much better prices.
"Questionable actions by elements of the insurance and salvage disposal infrastructure [result] in title branding avoidance," wrote Howard Nusbaum, the administrator of the National Salvage Vehicle Reporting Program, in the IAATI article. And insurers furnish about 80 percent of the 3.5 million cars sold at salvage auction in the U.S. each year, he noted in that article.
Follow the Money
How much do sellers stand to gain from a car with a clean or less-severe title brand? In a Florida State Senate Transportation Committee hearing in March 2013, a representative of Copart, a national auto-auction company, testified that out of the million-plus cars his company had sold in 2011, some 142,000 were titled as "non-repairable" and could only be scrapped. Prices for those cars averaged $1,200. If those cars could be rebuilt, retitled and put back on the road, sellers could get $1,500 to $2,000 more per car.
ABC News notably exposed title-brand avoidance after Hurricane Sandy when it bought a used Ford F-350 at a New Jersey dealership for $20,000. It had been underwater for two days and declared a total loss by an insurance company but never received a flood title.
New Jersey later filed charges against the dealership. But the labyrinth of loopholes in various state titling laws enable a lot of branding avoidance.
"Some states have removed the non-repairable brand requirement, [and] some allow branding to be based upon subjective, non-testable criteria," Nusbaum wrote. Older cars are worth less and thus easier for an insurance company to write off as totaled, so some states allow cars past a certain age to avoid branding. And more than a dozen states lack formal branding requirements altogether.
That could lead to cars like this mangled 2013 Cadillac XTS sedan, which Copart lists online. After viewing the damage, which includes deployed side-curtain airbags and intrusion into the car's floor-pan structure, State Farm estimators manager John Cooling told us it's likely his insurer would have written this XTS off because of a "structural total loss" and sufficient "economic" damage.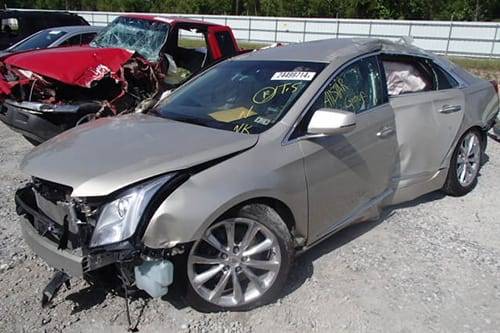 But this XTS has a clean title, according to the information reported to CarFax. Copart displayed it online under its "clean title" listings. Cooling said it sometimes takes months for a car to be retitled after an accident, which the CarFax report did flag with "severe damage reported." But that accident happened on or before Aug. 20, 2013, according to CarFax — more than a year ago. The title was updated (but not issued a brand, salvage or otherwise) on May 19 in Indiana, according to CarFax, then sold at auction in Texas on May 26. Now it's back at a Copart auction lot in Houston.
We reached out to Copart for information on that particular car, but we haven't heard back.
"Everybody has their own titling laws; some states don't even have branding laws where they don't put branding on the title," Cooling said. "Someone might take the title and send it off to one up north where they don't have branding laws."
Legislative Pushback
The Justice Department moved to limit this with acts in 1992 and 1996, which created a title-branding database that eventually became known as the National Motor Vehicle Title Information System, a national database of vehicle title brands. The Justice Department consolidated NMVTIS data into an online database, vehiclehistory.gov, in 2010.
Documents from CarFax suggest that states like Colorado and Texas, where damage needs to reach 100 percent of a car's value for insurers to declare a total loss, leave the most room for a clean title despite considerable damage. But both states have relatively few title-washed cars, and the bordering eight states, where title washers might transport a car after washing its title, show little correlation with states that have higher concentrations of title-washed cars.
It appears that title avoidance is just as much of an epidemic as title washing. Twenty-two states and the District of Columbia leave the threshold for a total loss up to individual insurers, according to CarFax. That leaves plenty of wriggle room for interpretation.
State-by-state compliance with NMVTIS sheds more light. The Justice Department requires all states to eventually report title brands and related details to the database, which now claims to have title information for 87 percent of U.S. cars on the road. But six states and the District of Columbia still don't report the data to NMVTIS.
There's a correlation between those jurisdictions and title washing. Six of the seven are among the Top 25 states in title-washing frequency: Mississippi (No. 1), Oregon (No. 5), Kansas (No. 9), Rhode Island (No. 14), the District of Columbia (No. 16) and Vermont (No. 21). The only outlier is Hawaii (No. 44), and it has a natural deterrent to transporting a car to wash its title.
"They get the title as a clean title and resell it supposedly with a clean title," State Farm's Cooling said. "People have, for lack of a better word, butchered cars back together."
How to Protect Yourself
How do you sniff out a washed title? Vehicle history reports are a good first step. The two leading providers, CarFax and AutoCheck, generally show title brands issued by any state during the vehicle's history. That can alert you to mismatched branding.
"Whenever a title brand doesn't carry over in a new registration — say, the [salvage] title was issued in Maryland and moved to Illinois, and now that salvage title goes away — we will alert anyone that's looking at the CarFax report that the vehicle has a potential case of title washing," Basso said.
Still, not all damage or branding ends up in a vehicle history report. Copart lists this 2013 Dodge Dart, for example, online for an auction in Georgia. It has significant front-end damage, and an NMVTIS report provided to Cars.com showed the Dart had been issued a salvage title by State Farm insurance on Feb. 6, 2014. Yet the information CarFax received showed a single owner, no accidents and a clean title — with a registration renewal, curiously, on Feb. 20. If repaired, this Dart might have a squeaky-clean CarFax report.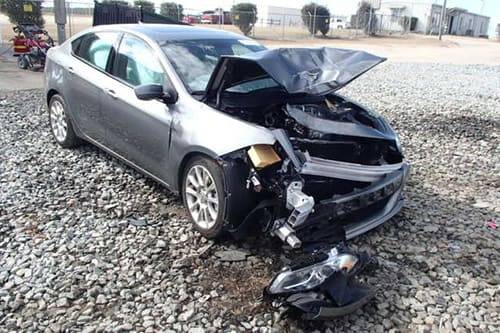 That's why it's always a good idea to get your prospective used car inspected by a trusted mechanic. And beware of sketchy sellers, particularly those whose names aren't on the title.
"We've had cases where they've repacked the airbag with newspapers and stuff and glued it back together, and people think they have a [working] airbag," State Farm's Cooling said. "It's a frightening thought to think someone could be in a car like that."
Want more? Read our list of specific questions to ask the seller, then check out our used-car-buyer's checklist. And if that isn't enough, watch the video below on ways to identify a flood-damaged vehicle.
Editor's note: This post was updated on Sept. 24 to clarify the type of auctions for which insurers furnish most cars.
Cars.com graphic by Paul Dolan; Copart photos
Cars.com's Editorial department is your source for automotive news and reviews. In line with Cars.com's long-standing ethics policy, editors and reviewers don't accept gifts or free trips from automakers. The Editorial department is independent of Cars.com's advertising, sales and sponsored content departments.