Study: More People Are Surfing the Web While Driving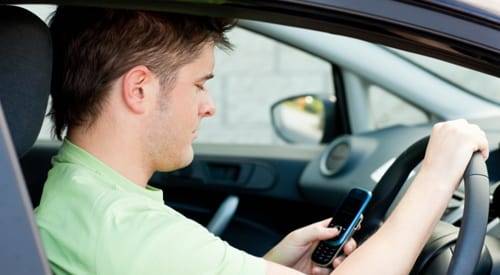 During a four-year study, the insurer polled nearly 4,000 drivers older than 18, and the data shows an increase in motorists using the web while driving. Among drivers ages 18 to 29, surfing the web on a smartphone while behind the wheel increased from 29% in 2009 to 48% in 2012. Social media sites are one of the biggest distractions. Drivers in this demographic who logged in to social media sites while behind the wheel increased from 21% in 2009 to 36% in 2012, the study found.
Although the study shows that webbing goes down with age, the dangerous trend is becoming more popular among older drivers, too. In other age groups, accessing the internet while driving increased from 13% in 2009 to 21% in 2012, and social media networking went up from 9% in 2009 to 15% in 2012.
"The mobile internet is generating another set of distractions for drivers to avoid. While the safety community is appropriately working to reduce texting while driving, we must also be concerned about the growing use of multiple mobile web services while driving," Chris Mullen, director of technology research at State Farm, said in a statement. 
Cars.com knows firsthand how prevalent texting and webbing while driving is. Check out our undercover video below to see motorists in Chicago caught in the act.
Related
Feds Propose Distracted-Driving Guidelines to Automakers
What to Do If You See a Distracted Driver
Don't Drive While "Intexticated"