Suburban Dad: 2007 Kia Rondo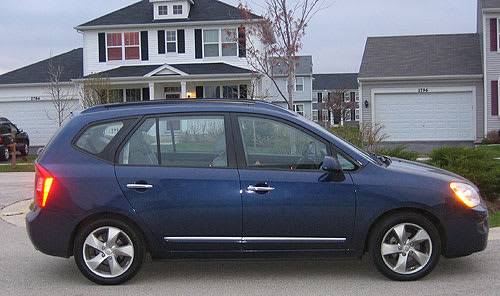 The Rondo tries to break some new ground in the crossover game — which is pretty new itself — by being a small fish among big fish. If my kids were little, say, all in elementary school, the Rondo would be a handy choice: Room enough for them in the second row and groceries in the back with the optional third row down. For carpooling, the Rondo would be handy with that third row built for the younger set. Factor in its features and a starting price right around $16,500, before destination, and a base Rondo could be a good deal for a small family.
Given the size of my kids now, and some of the Rondo's limitations, though, I'd have to pass.
Its dimensions are smaller than most of its crossover competitors, but it still tries to seat seven. It's size does give it some advantages: It's certainly less intimidating than many larger SUVs and, as my wife said when she first saw it, "It's cute!" It's like a giant, motorized jelly bean.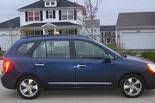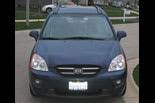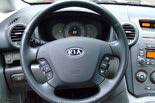 Beneath the cute exterior is a car whose ambitions exceed its abilities. In a few years, Kia will probably adjust, get it right, and make the Rondo into a strong competitor.
My 10-year-old really liked the third row, and even my wife found it roomy enough to sit in, although it's clearly meant for kids. I couldn't even get the second row seat back into position while sitting in the third row. Although my wife fit back there, the small, enclosed area made her nervous. "I don't feel very safe back here," she said, motioning to the low roof. It made me a little claustrophobic as well. Again, though, it ain't built for us.
The second row had enough leg- and headroom, and my wife and I were comfy in the roomy front row.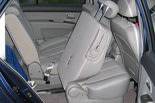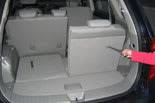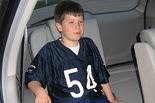 Still, the interior could use some tweaking. The controls seemed cheap even though the car was pretty much fully equipped (sunroof, third-row seat, leather, larger V-6 engine) and the sticker price hovered under $24,000. The stereo had easy-to-reach and use controls, and the sound wasn't bad. There was more than a fair amount of road and wind noise, and the doors sounded a little inconsequential when they shut.
As for the ride, the transmission was a little rough in transitions, especially at lower speeds. The Rondo's big brother, the Sedona minivan — I drive a 2004 version — has a transmission that has near-seamless shifts, something the Rondo would certainly benefit from. On the downside, while driving the Rondo for a couple of days, it only got about 15 mpg. That's not enough for a car this small; perhaps a six-speed transmission down the road could help get that number up. 
Would we buy the Rondo? Maybe, if the car were a couple years more refined and the kids were younger. As it was, the price was right, the mileage too low and my kids just too big.