Suburban Dad: 2007 Nissan Armada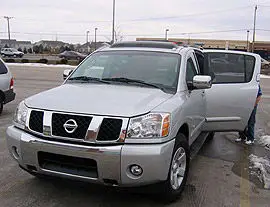 The Armada is aptly named; I felt like I was driving a large ship down the expressway. It was a tank, in terms of looks and gas mileage, but it was a comfortable tank — I have to give it that.
The Armada is up for a redesign this year, with the new version showing up at the Chicago Auto Show next week. The 2007 had plenty of creature comforts, but it got mixed reviews from my family.
I enjoyed plenty of acceleration as I drove it; the brakes were firm and not grabby, and the running boards made getting into it easy. I liked the styling, but I missed not having a navigation system. If you're going to call an SUV an Armada, you ought to provide navigation standard.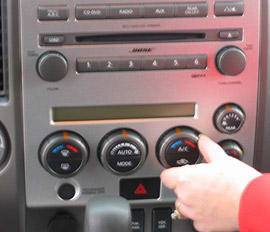 My wife found the controls easy to reach and understand, though I wasn't crazy about the toggle climate controls. I prefer turn-up, turn-down controls. Hold the toggle to the right, and the heat goes up; hold it to the left and the heat goes down. Frankly, I think you have to pay too much attention when it's a toggle switch. I think controls that turn continuously are easier to operate while driving.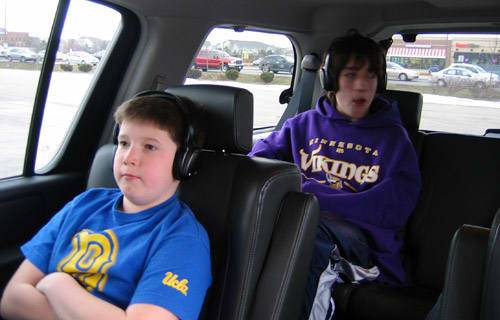 As opposed to last week's BMW X3, keeping the kids happy was much easier in the Armada. I know, they don't look happy here, but they're in one of their "I'm not sitting in the backseat" fights. Sigh. Unlike a lot of large SUVs, interior space isn't wasted. When we drove the Aspen, the second row was way too close to the front row, and there was little space in the back for groceries. That wasn't true here; there was plenty of legroom in the second row, and the seats were very large and luxurious. The third row is staggered, stadium-style, and the seats, while thin, were comfortable. Again, wireless headphones and access to the DVD player were big hits with the kids.
In trying to change things up, I asked the kids first if they thought we should buy an Armada (as a possible replacement for our minivan):
Teen Son: "No. It uses too much gas."
Tweener Daughter: "Yes. I like all the space that it has."
10-Year-Old Son: "Yes, because it's got lots of room."
Sadly for them, my wife and I were voting thumbs down. "It's just too big," she said, and that's a real issue for her, as she stands just under 5 feet tall. In addition, getting somewhere around 12-15 mpg is not very realistic either, but we both were impressed with the interior. It might be that huge SUVs just don't cut it with us.
Having seen pictures of the 2008 Armada, I'd probably still pass on this behemoth in favor of something with better mileage.