Suzuki Looks to Bring Swift by 2011, Grand Vitara by 2013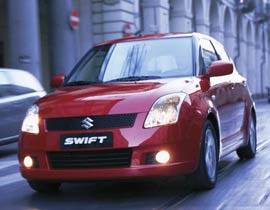 Is there an opening in the small-car market for the crowd buying Honda Fits? Can a redesigned Grand Vitara cut into the affordable SUV market against Toyota's RAV4 and Honda's CR-V?
The first new Suzuki is the next generation of the Swift, which Europe has already seen. According to Automotive News, Suzuki expects this efficient compact to make a U.S. landing by 2011.
The automaker also plans to introduce the next version of the Grand Vitara SUV by 2013 and a new crossover to replace the now-defunct XL7, which died a quiet death in May.
The unnamed crossover would arrive in 2011 or 2012 and use a longer version of the platform for the Kizashi midsize sedan.
U.S. Market Suzuki Swift Reportedly Still on Track for 2011, Next Grand Vitara Coming in 2013 (Autoblog from Automotive News)