Telenav GPS Navigator for Android Review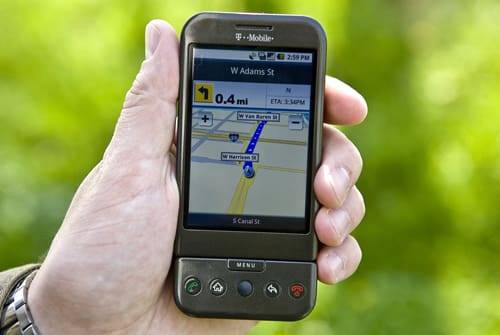 Everyone knows Google, if only as the omnipresent internet search engine. Last year, the company took a huge step into the mobile arena with the release of its open-source mobile platform, Android. Last October, HTC, Google and T-Mobile teamed up to create the G1, the first Android-based mobile phone. Quickly after its release, thousands of applications were available for the G1. We at Cars.com got word of Telenav GPS creating a G1 application for turn-by-turn real-time navigation and right away looked to get our hands on it. We took plenty of time testing the G1 and Telenav GPS Navigator, and came away very impressed with the software but convinced that the G1 and Android have lots of room to grow. Later this summer, more Android-based smart phones from other manufacturers and mobile carriers will hit the market. Telenav's GPS Navigator will be available for all of them. 
Ease of Use: 14 of 15 pts
In most cases, I'd have to say that ease of use and safety go hand-in-hand. The easier a device is to use, the safer it is to use while driving. Once the Telenav application is launched on the G1, navigating to your destination could not be much easier to do. Large on-screen buttons, easy-to-read text and voice commands make navigating the application a breeze. Entering points of interest and addresses is just as easy thanks to the built-in voice recognition software. I was truly impressed with how easy it was to use the application while driving.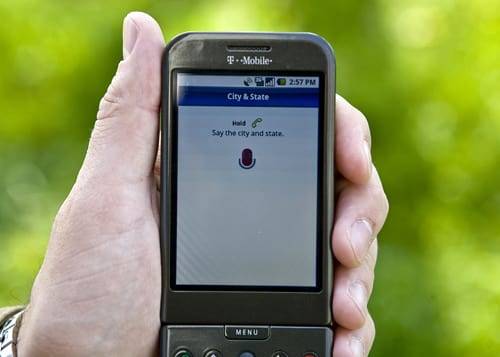 Routing: 13 of 15 pts
Recently, navigation devices have been much more consistent in their routing. Large companies like Navteq and TeleAtlas have become providers of mapping and route-guidance for most devices. The G1's mapping is provided by TeleAtlas, and it appeared to be up-to-date and accurate. Traffic updates are available over the map and routes, and users can press a button to guide them around upcoming traffic incidents. I didn't run into any problems with routing, and I enjoyed the quick response to any changes in course I had to make. 
Map Quality: 9 of 10 pts
The maps were some of the best ones I've seen outside Google Maps (my personal favorite). When in the overhead map view, street names are clearly marked, as are one-way street directions. Traffic is added to the map using an easy green, yellow and red key, with nice clickable warning signs for further traffic information. In the 3D view, street names are a bit less present, but the views can be easily toggled. It's my preference in this application to stick to the overhead view and its much more detailed map.
POI Content and Accuracy: 9 of 10 pts
There was no shortage of points of interest in the application. In all my searches, there wasn't a single time I was unable to find what I was looking for. A huge bonus was the application's speech recognition. Rather than typing in where I wanted to go, I was given an option to "speak it" or "type it." Speaking gives you the option of saying either the title of a place or its address. Typing those things was a bit more difficult, but that can't be blamed on Telenav. The G1 and its current software only offers a slide-up keyboard, which is awkward to use. It's not as intuitive as either a traditional Blackberry, with its exposed keyboard, or an iPhone's touch-screen.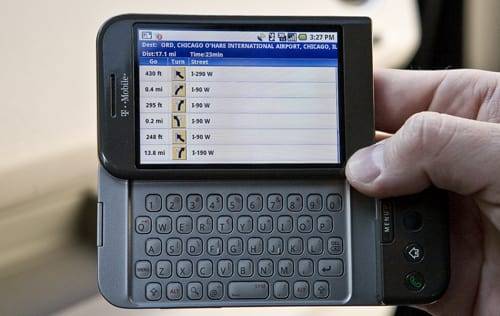 GPS Accuracy: 7 of 10 pts
As with all handheld and portable navigation devices, the G1 was unable to receive GPS information indoors. This is troublesome when attempting to set up route guidance before going outside. Once the connection is established, I had very few issues with its accuracy. As usual, there were a few hiccups in downtown areas surrounded by large buildings, but that's something that would inhibit any device. One of the benefits of using a handheld unit rather than a car manufacturer's built-in navigation system, though, is preparing for a trip before you leave, while you're at your office desk or in front of your TV at home.
Multimedia Features: 3 of 5 pts
Android comes with the basics in multimedia: a music player, photo viewer, YouTube application and access to the Amazon MP3 store. More specialized applications can be downloaded, but the offerings at this time aren't as robust as Apple's popular App Store.
Mounting Kit: 2 of 5 pts
There are third-party mounting kits available for the G1, but nothing provided or sold by Telenav. While testing this app, I just placed the device in a cupholder or rested it on the dash, neither of which are ideal. If you're spending the money on the application, you might as well buy a mounting kit while you're at it.
Voices: 4 of 5 pts
There are two options for voices within Telenav, male and female. Both offer a wide range of commands and prompts that are very understandable. There were a few times I became irritated with the constant updates on the bumper-to-bumper traffic I was sitting in. The repetition forced me to turn off all voice prompts, but during the rest of my time with the G1 the spoken instructions were clear and easy to understand.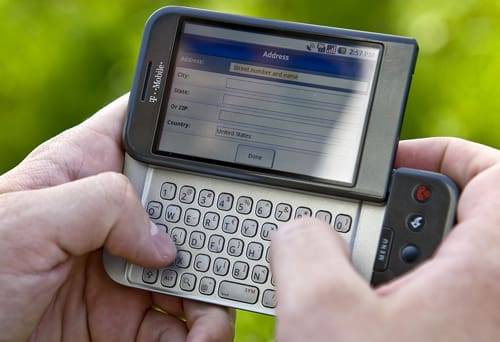 Design: 4 of 5 pts
The interface has large, easy-to-use buttons, making it a very well-designed app. I can't really comment too much about the design of the G1, though, because the line of devices able to use the Telenav application will expand greatly in the coming months.
Value: 13 of 20 pts
I must say I was much more impressed with Telenav's software than I expected to be. To me, it's the best turn-by-turn navigation system for a mobile phone available to date. What was most shocking to me was the cost of the application; service is completely subscription-based, and as of now it's $9.99 for a month, $99.99 for a year and $249.99 for four years. A data plan from your cellular provider is required.
While portability is important, I do feel the pricing is quite high, hurting its value score.
Total: 78 out of 100