Tennessee Launches $2,500 Electric Vehicle Rebate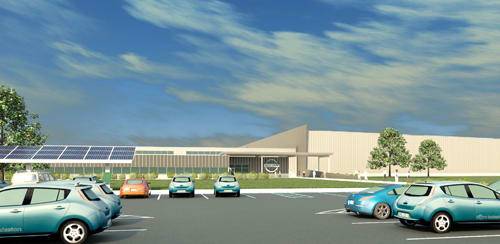 Tennessee's $2,500 rebate can be combined with the $7,500 federal tax credit. Keep in mind that a tax credit only offsets taxes that you owe. To get the full amount of the federal tax credit, you'd have to owe $7,500 in taxes after your other standard deductions. The good thing about a tax rebate –  like the one Tennessee is offering –  is you get the $2,500 regardless of the amount you owe.
According to Nissan, the Tennessee rebate can be applied for during the time of purchase.
Other initial launch states are also offering incentives. California, for instance, has a $5,000 tax rebate for residents who buy a battery-electric or plug-in hybrid car. Georgia offers a $5,000 tax credit, and Oregon has a $1,500 tax credit.
Tennessee will be one of the first states to get the electric car, the Nissan Leaf. Nissan is currently building an assembly line (pictured above) and battery plant in the state for domestic production of the Leaf, which will start in 2012. Nissan North America is headquartered in Tennessee.
The Leaf goes on sale in December in California, Arizona, Tennessee, Washington and Oregon and then in Texas and Hawaii in January 2011. A nationwide roll-out will start in the spring. There was no mention of the Chevrolet Volt in the Tennessee press release. That's probably because the rebate either does not apply to the plug-in hybrid or the state government expects the rebate money to be exhausted before the Volt goes on sale there.