Tested: Clickit Car Dog Harness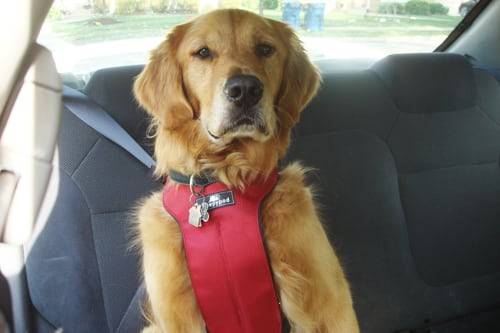 Restraining your dog while driving is an important part of any trip, whether it's to the vet in town or tackling a cross-country summer road trip. In a crash, unsecured pets can become a serious hazard to human occupants, but they also can become a serious distraction before any accident occurs.
Tips for Traveling Safely With Pets
The issue of pet distraction is exacerbated by the fact that no federal safety standards exist for pet travel products — and there are many of them. Not many have been crash-tested, and consumers should be diligent about verifying crash-testing claims, according to the Center for Pet Safety.
The nonprofit CPS aims to create testing standards for pet harnesses, carriers, booster seats and crates while also educating pet owners about pet travel safety and encouraging manufacturers to design crash-tested, certifiable products, said Lindsey Wolko, founder and CEO of CPS.
With sponsorship from Subaru in 2013, CPS tested seven harnesses that secure dogs to the backseats of vehicles. Those harnesses were subjected to the type of crash-testing the National Highway Traffic Safety Administration uses for child-safety seats. Only one harness performed in a safe manner across the board: Clickit by Sleepypod (which also makes crash-tested carriers for cats and small dogs).
"The one that came the closest to what they should do was the Sleepypod Clickit," Wolko said. "It kept the dog from launching [off the backseat]; it kept the dog from coming into potential contact with a human occupant. It offered the dog the best possible chance of survival."
We decided to test Clickit in the real world for ease of use, comfort and practicality.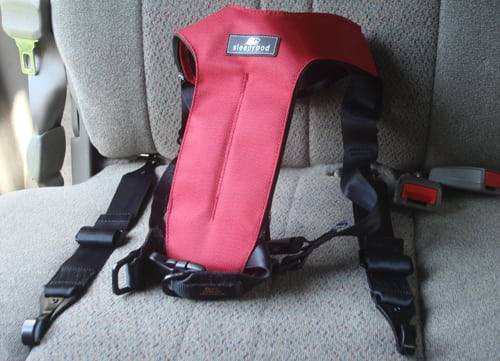 The Test
The Clickit system consists of a harness for the dog and two adjustable straps that attach to vehicle Latch anchors, which are generally used for securing child-safety seats. Those straps also attach to the harness, and a seat belt is passed behind the harness straps on the dog's back. Materials and hardware are sturdy and seem durable.
Following Sleepypod's online videos, I adjusted the harness ($96.99 for a medium) to fit my 4-year-old, 65-pound golden retriever Tyler and strapped him into our 2004 GMC Safari van for a ride.
Initial setup took about 30 minutes.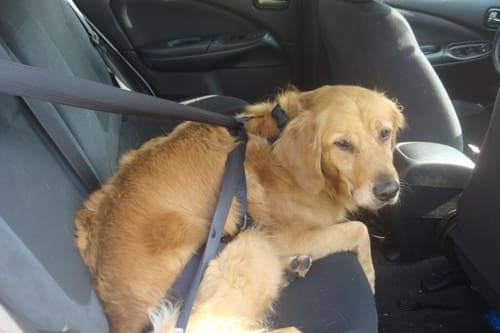 During the trip Tyler was able to easily switch from sitting and lying down positions. When I hit the brakes hard deliberately, the harness held him in place. We then moved to our 2006 Nissan Sentra. Since the Latch anchors in the Sentra sit a little farther back than in the van, I needed to lengthen the straps a bit. It took about 5 minutes to readjust the harness for the Sentra.
Would I use this harness on a regular basis? Yes. Once it's adjusted for your dog and your vehicle, using it is easy. As a multiple dog owner (I have three), my biggest issue is whether two dogs could comfortably lie down on the seat together. And if I took all three dogs at once, neither of my vehicles have enough Latch anchors (a problem with many vehicles) to accommodate three Clickits.
Other Options
Accommodating multiple dogs is even more of a predicament when you have children in child-safety seats sharing the vehicle with a pet. For those situations, Wolko said the RC Pet Canine Friendly safety harness ($100, all sizes) is a decent alternative to the Clickit. It uses only a seat belt for attachment, and in the CPS test small- and medium-size dogs did not launch off the seat. Additionally, when the Klein Metal Allsafe harness ($107.96, medium) was used with a seat belt passed underneath the harness straps rather than through its tether, it kept the test dog from launching; see the videos here.
What about crates or barriers that keep a pet in the cargo area? CPS has done some preliminary crate testing, and the results aren't encouraging. Because metal and plastic crates break or crack, rather than crumple, they pose a serious threat to pets and people. And if they aren't secured in the vehicle's cabin, crates can become projectiles. Barriers, too, can move and break upon impact. CPS hopes to do a full crate study in the future.
Besides carriers and crates performing well during a crash, the equipment used to tie them down also must be able to withstand impact, Wolko said. Many of those products (ratchet/cargo straps; bungee or elastic cords are not good choices), she said, haven't been crash-tested, and pet owners also must know whether the tie-downs in their vehicles will be able to handle the force exerted by the crate/pet combo during a crash. So check manufacturer websites for crash-test videos and for specifications about the stress the product can endure; ditto with vehicles — find out what load the tie-downs are rated for.
Finally, Wolko cautions consumers to investigate claims that a pet travel product has been crash-tested. Is there a video you can watch? If so, does the video show the entire crash sequence: acceleration, impact and the impact's aftermath? If you can't find that information, don't believe the claims. Sleepypod carriers and Variocage crates are two examples of products whose crash-test videos demonstrate what consumers should look for when a product claims to be crash-tested.
As you head out on the road this summer with your canine or feline companions, consider how best to restrain them in your vehicle.
Editor's note: Cars.com paid for the test unit reviewed in this story.
Cars.com photos by Jen Burklow