Texting Could Be More Dangerous Than Drunken Driving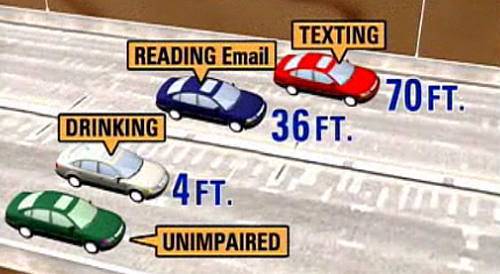 This morning, NBC's "Today" show featured a story on how driving while texting could be more dangerous than driving while under the influence of alcohol. Car & Driver has developed a test to measure the difference in reaction times when driving while reading an email, actively texting and driving with a blood alcohol level of 0.08, the legal limit. The test takes place on an abandoned air strip.
In terms of reaction time, both reading an email and texting were far worse than being inebriated for the older subject, Car & Driver Editor in Chief Eddie Alterman, 37. A 22-year-old intern also took the same tests and was quicker in all scenarios, with barely a variance between the three.
The "Today" segment only showed Alterman's more dramatic results, but obviously even a slight delay in reaction time could easily be the difference in causing an accident. The video is below.
Texting While Driving: How Dangerous is it? (Car & Driver)