The 9 Coolest Cars at 2018 SEMA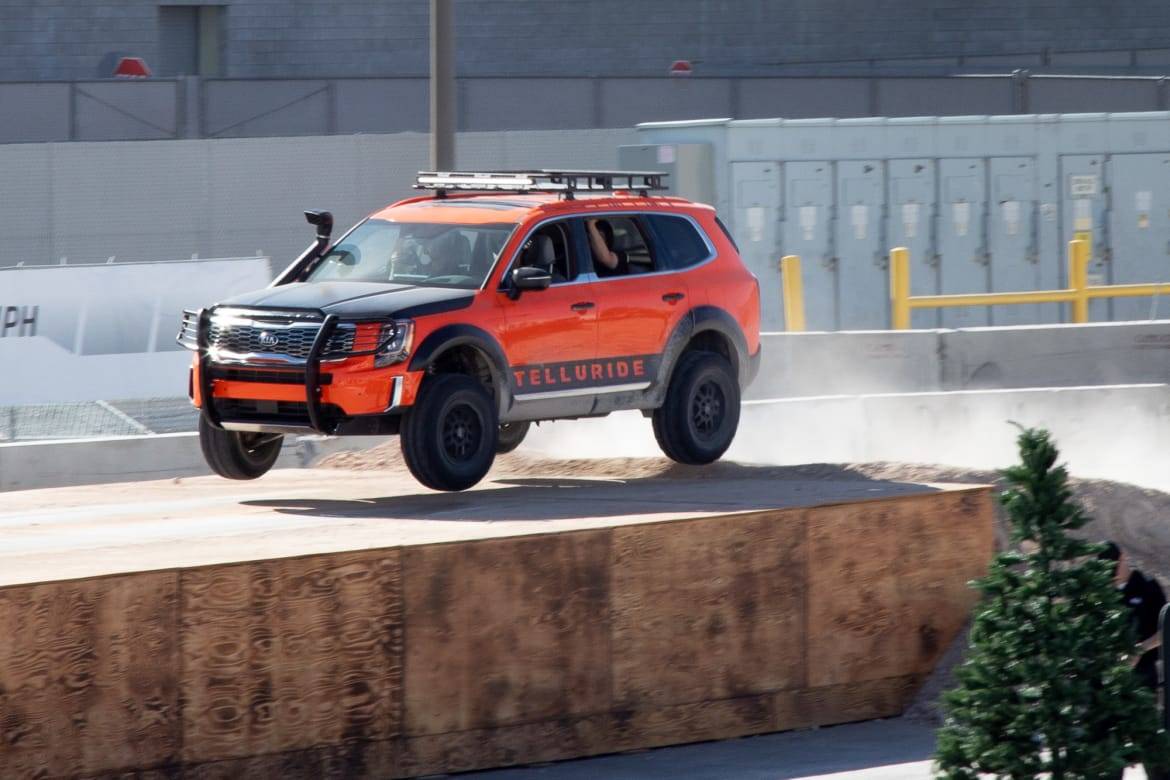 The Specialty Equipment Market Association Show is an annual celebration of everything that's completely over the top in the car world. Everywhere you looked in the cavernous Las Vegas Convention Center was filled with cars and trucks that were raised or lowered, fitted with huge tires — and often stuffed with the largest engine known to mankind. In other words, this was not the show for anyone who prefers subtlety.
Related: 12 Cars That Stole the Show During Monterey Car Week
With so many crazy vehicles on display, how could any stand out from the crowd? As we found out this year, there were still plenty of ways to get yourself noticed. Lexus opted to outfit one of its cars as a rolling wine-tasting room, for example. Trucks are always a huge part of every SEMA Show, which explains why Ford brought along a veritable army of modified Ranger pickups. (We're kind of partial to the one with a built-in tent.)
Chevrolet hinted at much-needed design tweaks for the next Camaro SS, while the engineering team at Dodge proved too much horsepower is never enough, thanks to an engine that packs pachyderm levels of power.
Here are 9 of our favorite vehicles from this year's SEMA Show:
1. Ford Ranger XLT Base Camp Concept
Trucks are big sellers and they draw huge crowds at SEMA. That explains why the folks at Ford brought along several concepts based on the brand-new Ranger pickup truck going on sale early in 2019. As you can imagine, each one has been heavily customized and tuned for a life of outdoor adventure. One of our favorites even had a tent conveniently mounted on the back of it. The Ford Ranger XLT Base Camp let's you skip the motel and sleep under the stars, courtesy of your Ford truck. A 3-inch lift kit, Ford Performance snorkel and 10,000-pound winch complete the look.
2. 2019 Ram 1500 Big Horn Low Down Concept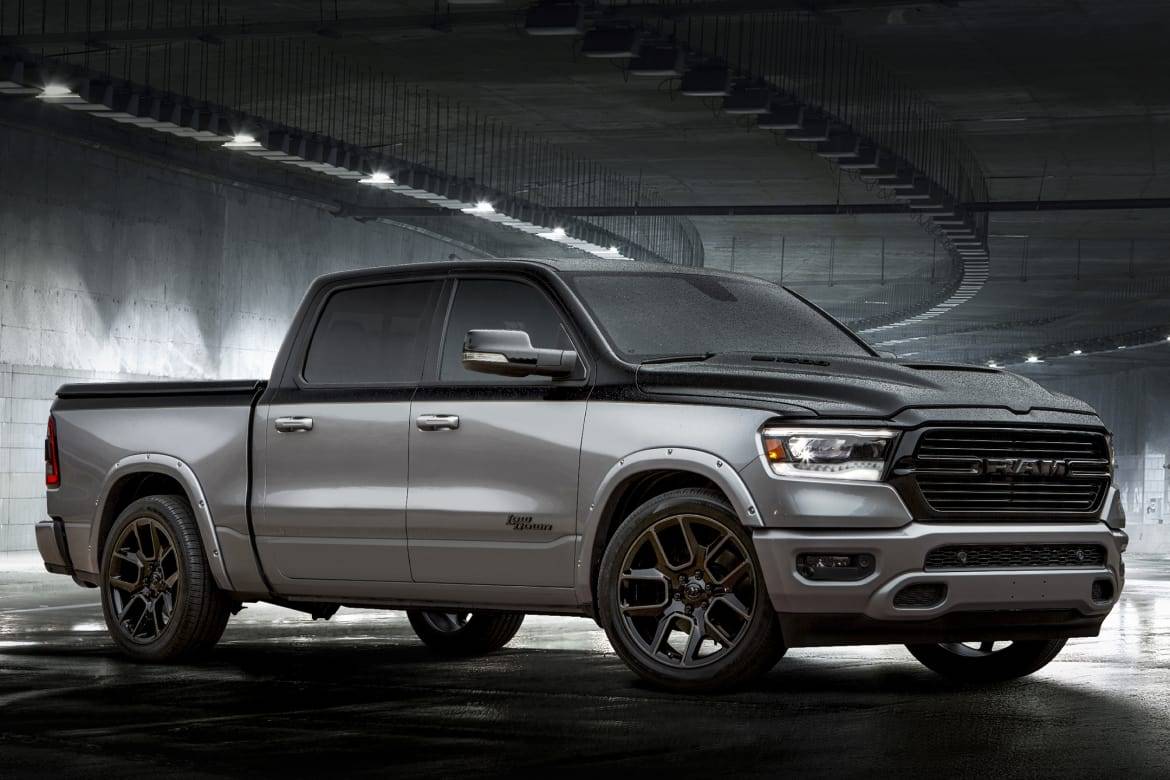 Not every truck at the SEMA Show looked like it wants to traverse boulders and muddy ravines. The Ram Big Horn Low Down Concept lives up to its name, if you'll pardon the pun. Rather than riding on huge off-road tires and a high-riding suspension, this Ram pickup truck was lowered by 2 inches and rolls on 22-inch alloy wheels. The Low Down Concept also featured a hard tonneau cover over the bed, wheel flares and custom pedals inside. OK, if you want mud-slinging excitement, there also was the Ram Rebel Concept. With its hood scoops and 2-inch Mopar lift kit, not to mention 35-inch Goodyear tires, the Rebel Concept played a more familiar, go-anywhere truck tune in Vegas. 
3. 2019 Chevrolet Camaro SS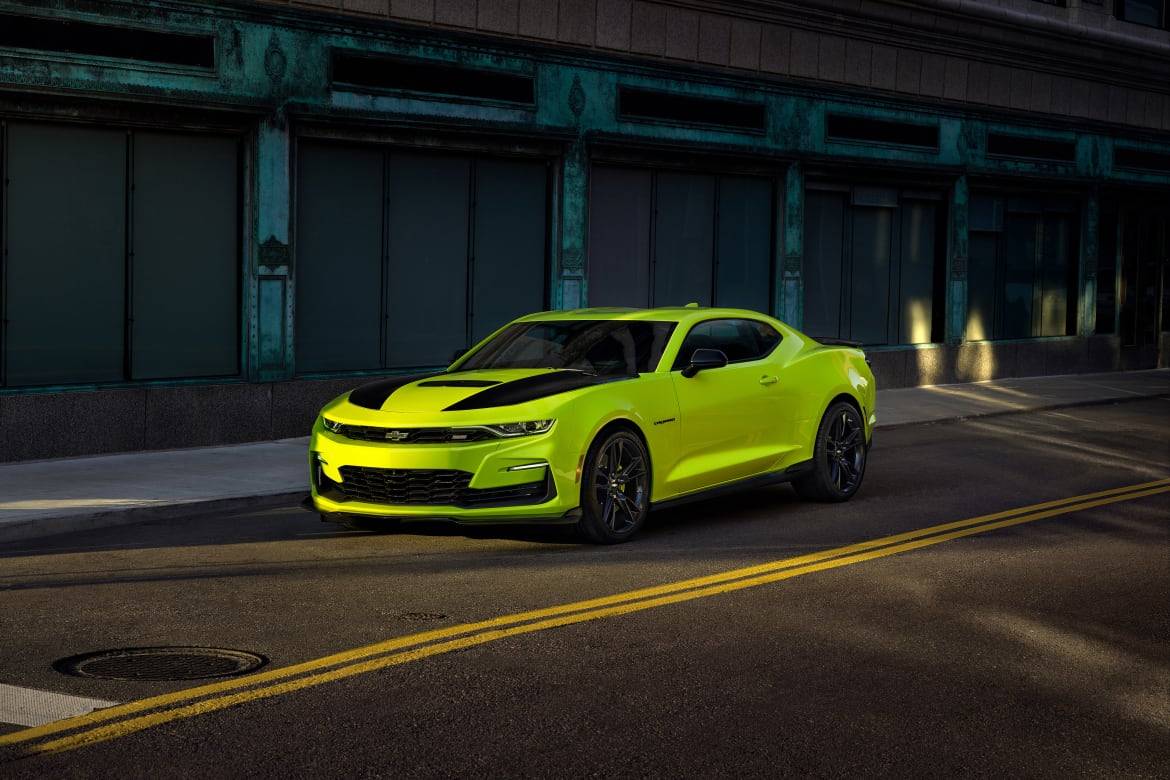 There are a lot of things to like about the Chevrolet Camaro SS, but the awkward-looking snout on this muscle car isn't one of them. The black cross-member that runs across the front grille gives the Camaro kind of a toothless grin. At best (or possibly worst), if you're a staunch Chevy fan, is that the current Camaro SS front end kind of looks like … well, something from the Dodge stable. We know, let the hate mail pour in! Apparently, we're not alone in our design opinion, because Chevrolet brought a bright-yellow Camaro SS to SEMA that sports a new nose. There's more body color at the front end and it gives the car a better overall design. Don't be surprised if this tweak makes it to production models soon.
4. 1968 Dodge 'Super Charger' With Hellephant Hemi
Here's a nostalgic twist on going ludicrously fast. First, let's start with the Hellephant part of this equation. We know, it sounds like a creature from a Dr. Seuss book, but it happens to be a new 426-cubic-inch Hemi crate motor that pushes out 1,000 horsepower and 950 pounds-feet of torque. This monster motor found its first home in a 1968 Dodge "Super Charger," a vintage muscle car that was entirely reworked and restyled to contain this hellacious, ahem, Hellephant engine.
5. Nissan Project Clubsport 23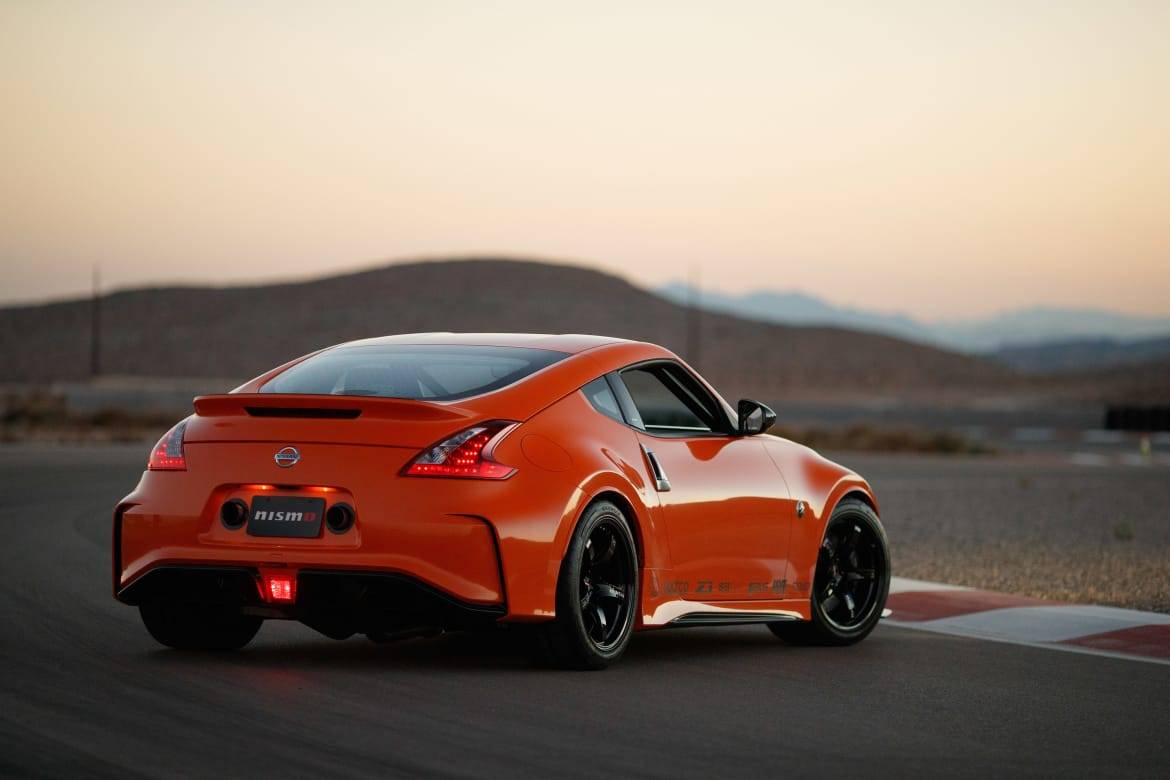 Could Nissan finally be offering some hints as to what the next Z car will be like? It's possible, and based on this 370Z-based concept we like what we're seeing. While the bulk of the car resembles the long-serving Z, under the hood is a twin-turbocharged V-6 that replaces the current car's aging 3.7-liter naturally aspirated engine. This motor is paired to a manual transmission, which should keep driving purists happy. While the rest of the car sports the expected suspension and wheel modifications, we're especially fond of how the exhaust exits directly from the middle of the rear bumper. Nissan, this looks good — now finish the job and give us a new Z!
6. DUB'd Kia K900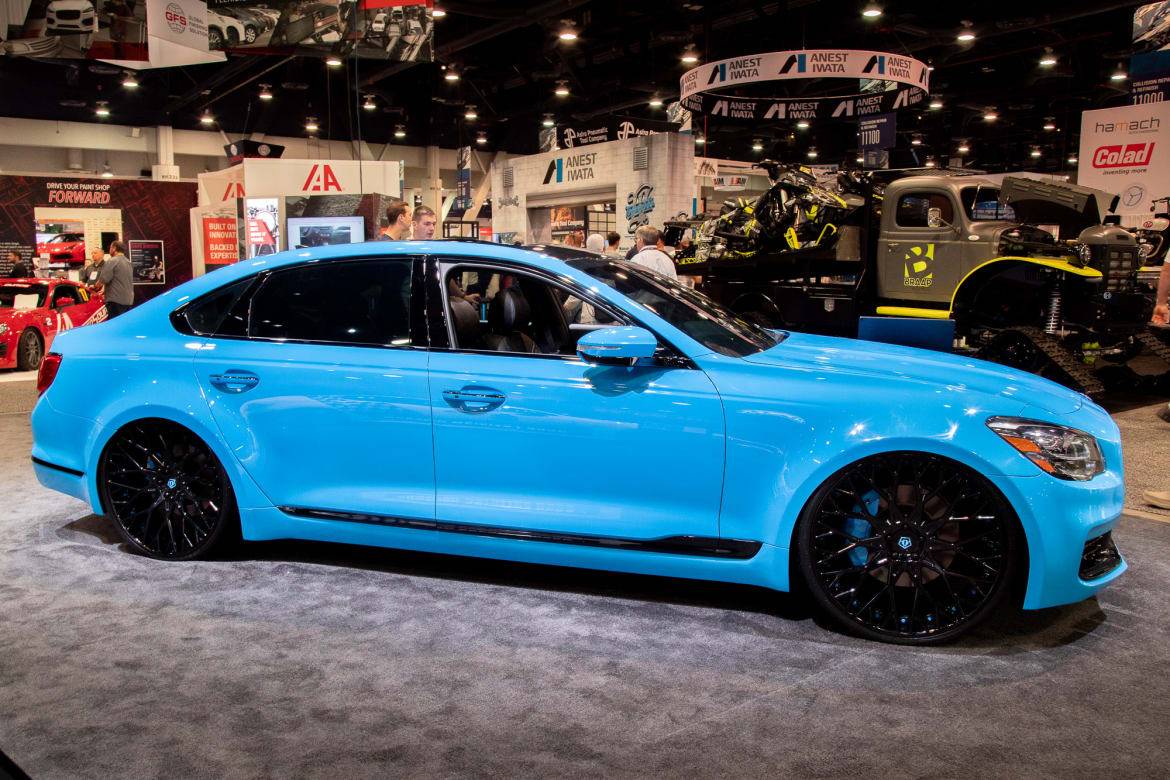 You'll notice that Kia was a familiar name at this year's SEMA Show. With its horde of car- and truck-based concepts, Kia also turned its attention to the luxury and sports sedans lurking in its lineup. Teaming up with DUB, one of the world's most well-known tuning companies, it's the K900 that's the most unlikely of the modified sedans that were displayed. With its lowered ride height and 24-inch alloy wheels, this K900 would get up close and maybe a little too personal with speedbumps. There is an air suspension, so that might help avoid any broken carbon-fiber pieces. Like the K900, the DUB Stinger has an air suspension, along with a custom exhaust, redone interior and 22-inch alloy wheels.
7. Kia Telluride Concept X 4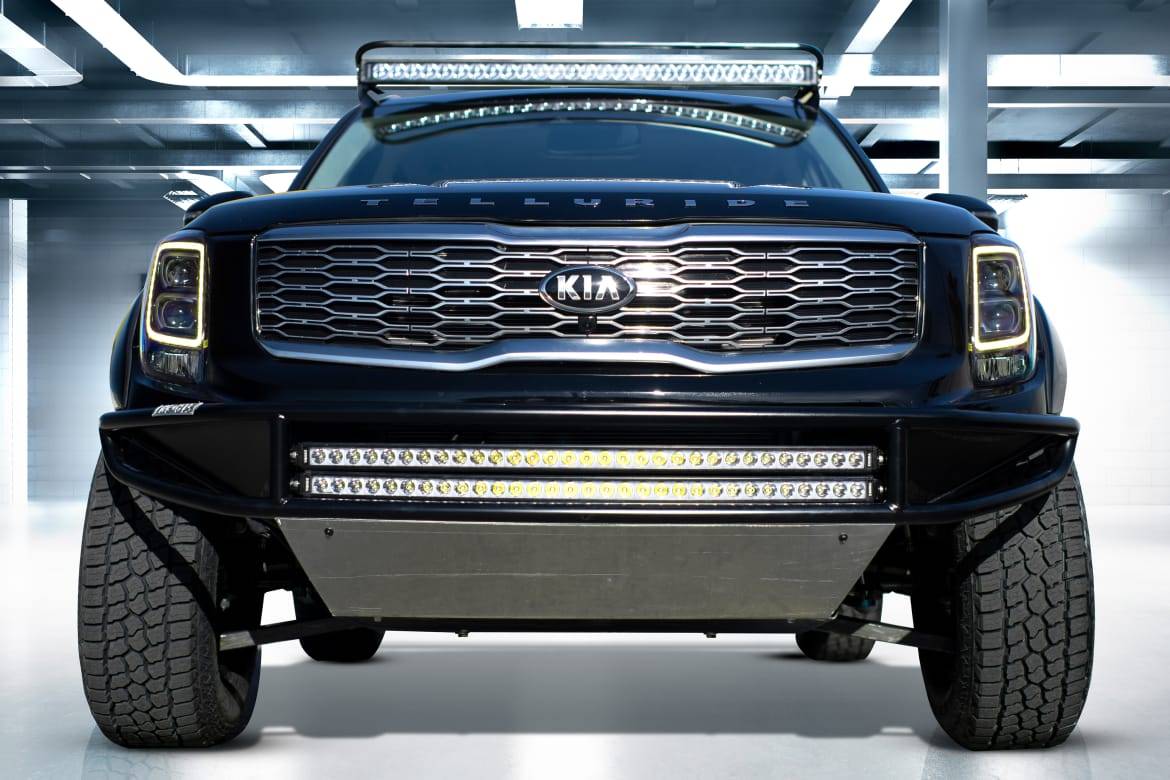 Kia is continuing to tease us with variations of the brand's upcoming three-row SUV. At the SEMA Show there were four Telluride-based concepts, with all of them sharing the same basic hardware to go along with their added levels of machismo. For starters, each was fitted with giant 32-inch all-terrain tires, not to mention specially tuned suspensions with more travel and a wider stance. We can't vouch for the legality of the straight-pipe exhaust fitted to the V-6, though it probably sounds cool. As for the eye-roll-inducing names, well, here they are: Horizon Roamer, Cadet Leader, Desert Drifter and Baja Glider.
8. 2020 Kia Forte GT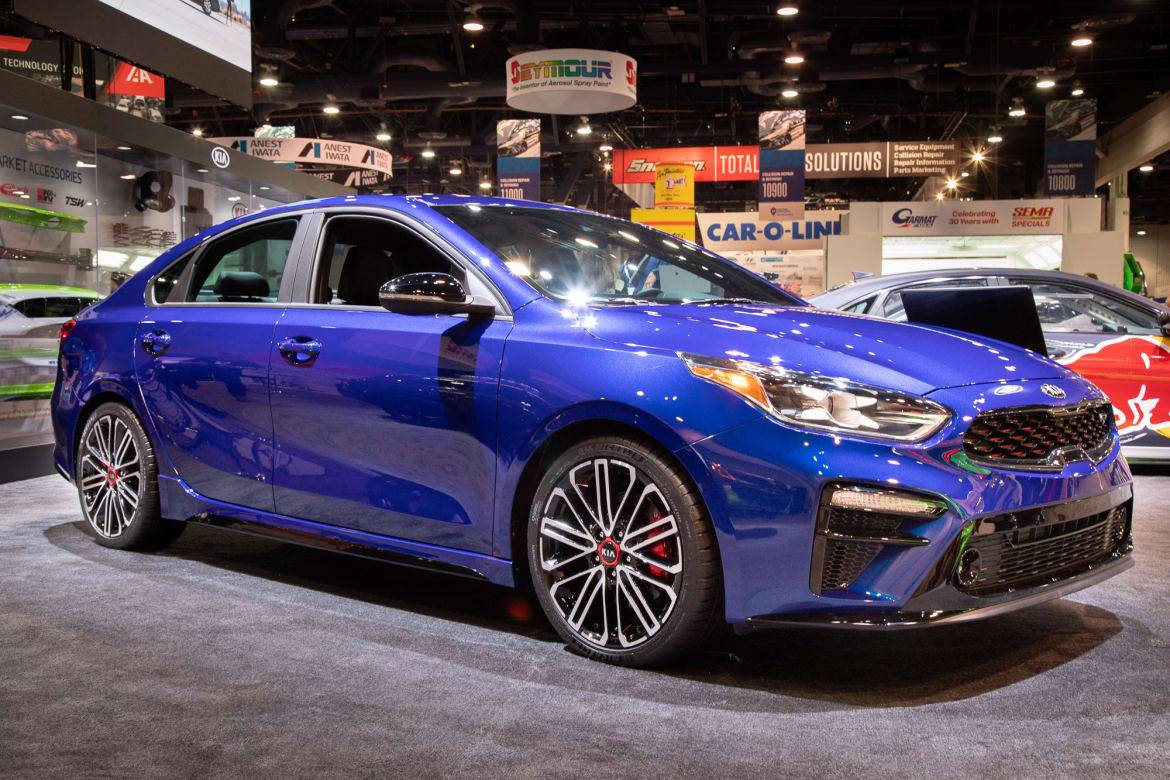 Not every car at SEMA looked like it's going to make a cameo appearance in the "Fast and the Furious" film franchise. In fact, the 2020 Kia Forte GT is a suave and (dare we say it?) relatively subtle sports sedan. Under the hood is a turbocharged 1.6-liter four-cylinder that delivers 201 hp to the front wheels. The suspension has been entirely reworked, with the rear torsion bar arrangement used in the standard Forte getting the heave-ho. In its place is a fully independent arrangement, along with beefier brakes, 18-inch alloy wheels and optional Michelin Pilot Sport summer tires.
9. Lexus ES 350 F Sport Oenophile-Mobile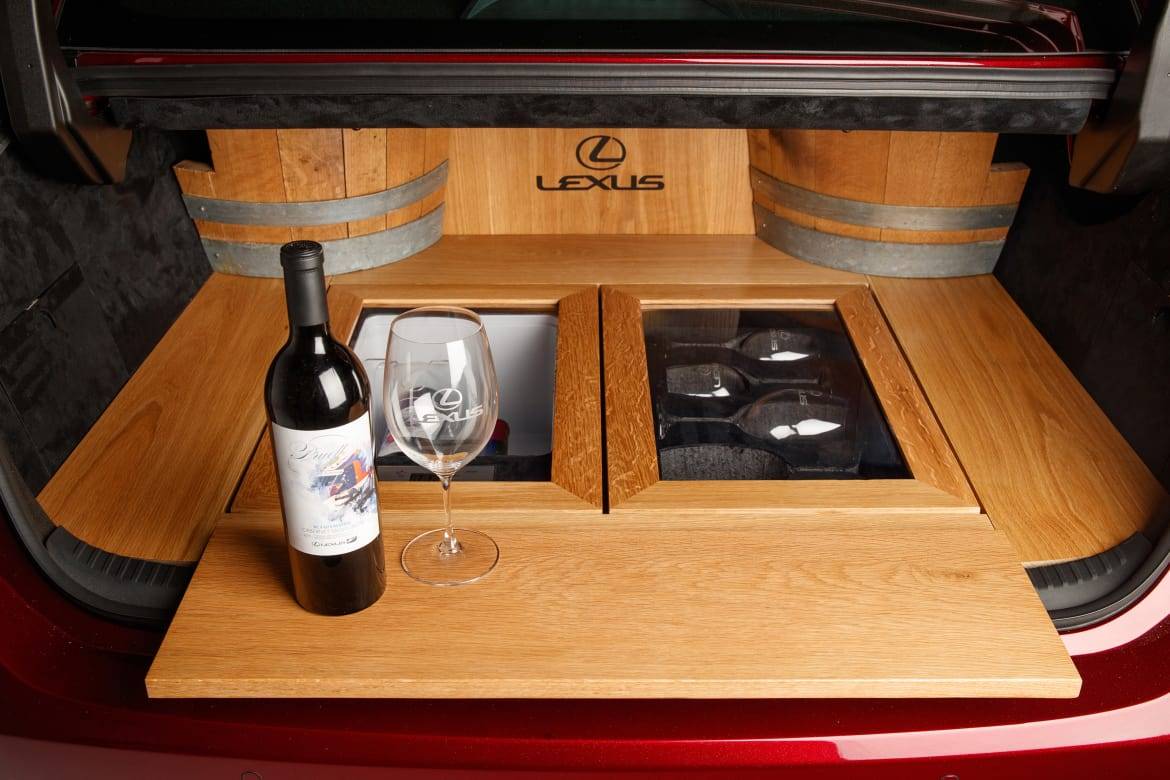 It's not every day that an automaker turns one of its vehicles into a wine cellar, but that's what Lexus did at SEMA. The trunk of a 2019 Lexus ES 350 F Sport was converted into a mobile tasting room, complete with a wine fridge, glass holder and wine rack. The floor of the trunk was fitted with barrel oak to complete the elegant ambiance. If you're feeling a little blue, the 2019 Lexus UX 250h in blue wrap could be your ideal SUV. The lower ride height and chunkier wheels really make this Lexus sport utility look like a hot hatchback — though we could live without the boy-racer black plastic on the exterior.
Cars.com's Editorial department is your source for automotive news and reviews. In line with Cars.com's long-standing ethics policy, editors and reviewers don't accept gifts or free trips from automakers. The Editorial department is independent of Cars.com's advertising, sales and sponsored content departments.