Through Ian's Lens: 2011 Mercedes-Benz SLS AMG vs. 1955 Mercedes-Benz 300SL Gullwing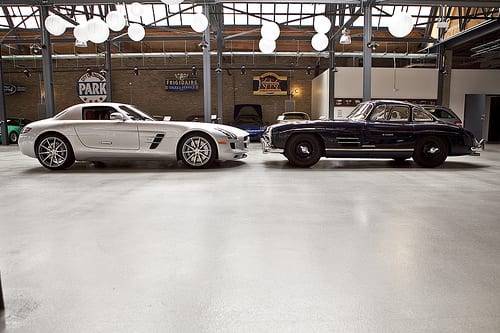 &&&&&EMBEDDED_ELEMENT_START&&&&& {"id":1420668673068,"originalName":"2015_03_04_17_02_09_920_http___blogs_cars_com__a_6a00d83451b3c669e20133f42e10bf970b_800wi","name":"MMS ID 48756 (created by CM Utility)","URI":"/88/-1570445770-1425510130388.","createDate":"2015-03-04 05:02:10″,"metadata":{"AUTHOR":"automatic-content-migration","KEYWORDS":""},"href":"https://www.cstatic-images.com/stock/1170×1170/88/-1570445770-1425510130388.","description":"Came from https://www.cars.com/.a/6a00d83451b3c669e20133f42e10bf970b-800wi","externalid":"48756″,"updatedby":"cmuadmin","updateddate":1425511467029,"associations":{}} &&&&&EMBEDDED_ELEMENT_END&&&&&
What do you do when you're given access to the new 2011 Mercedes-Benz SLS AMG supercar for an afternoon of photography in Chicago? Well, I decided to pair it with one of the prettiest cars ever built, the 1955 Mercedes-Benz 300 SL Gullwing. How does the new SLS AMG compare to the classic Benz racecar design from the '50s? It holds its own. Barely.
Designed to be visually subtle, the SLS AMG can go unnoticed when parked or rolling by. The long hood and small gill-like vents are understated, and the car's rear design is quite unimpressive. Swooping taillights and remarkably small badges on the backside seem to almost be an afterthought, but they're small for a reason. The SLS doesn't want to grab your attention until it's ready. When you open the modern gull-wing doors, the interior's red leather and carbon fiber dash gleams in the sunlight; start the engine, and only then will everyone on the block want to know your name.
Aesthetically, the SLS AMG is a subtle tip of the cap to the 300 SL, and for the most part, the SLS stands on its own design merits. Those merits just happen to be inside the car, under the hood and bellowing out the exhaust pipes when you lay on the gas.
Click on any photo below to bring up a larger photo gallery you can browse.