Tips for Washing Your Car in Winter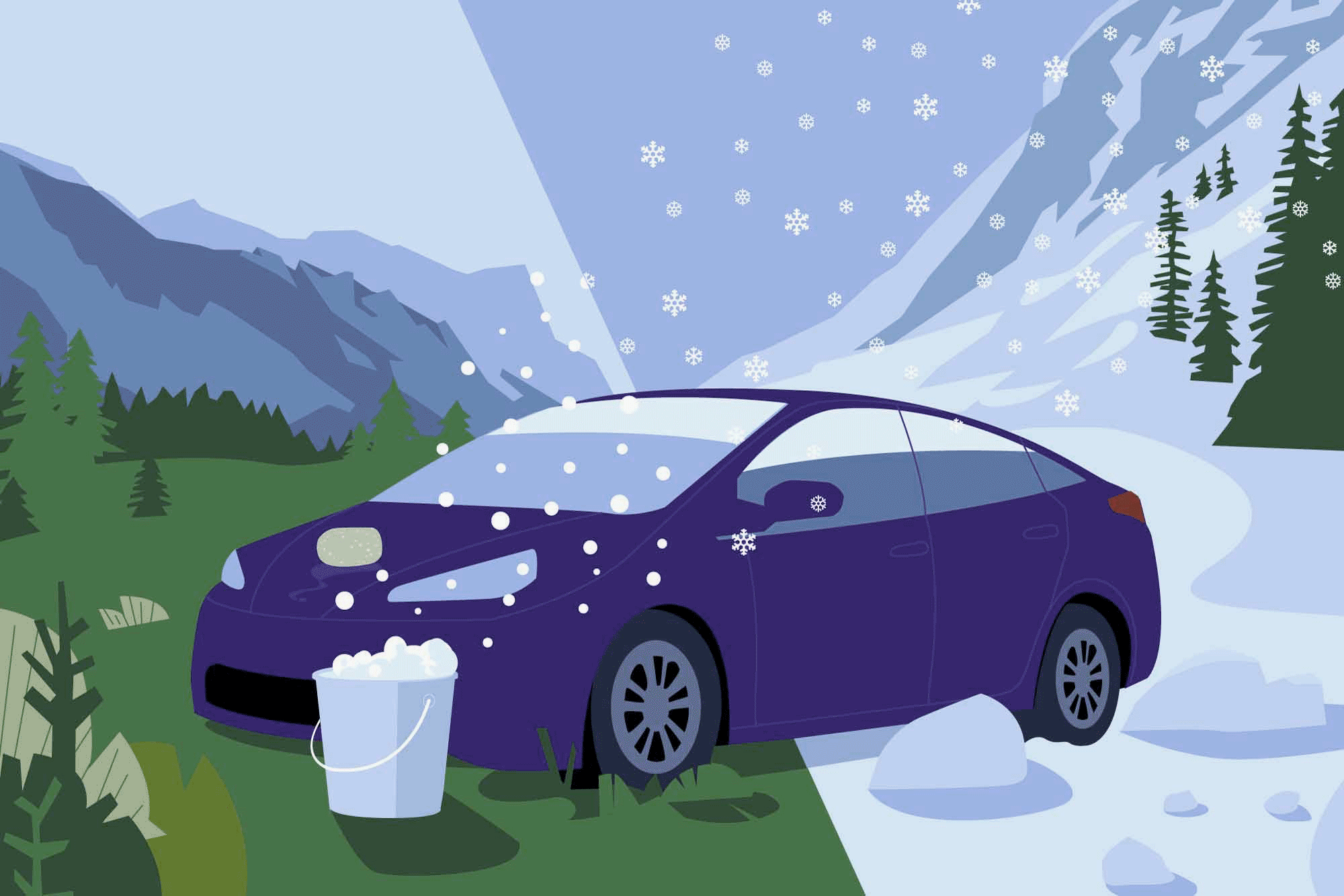 For car owners living in colder climates, washing your vehicle in the winter is about much more than having a sparkling clean ride in your driveway or garage. Winter grime, such as salt and sand, has a nasty habit of working its way into every nook and cranny of a vehicle. Left unchecked, it can lead to corrosion and rust, particularly in areas that are difficult to spot. 
Related: Get These Tips on Storing Your car for Winter Down Cold
Even if snow and sleet isn't in the forecast, maintaining your vehicle and following a few simple rules will keep you (and your car) looking good. It could also potentially save money down the road by avoiding rust-related repairs.
We asked car-maintenance experts for advice on what to do — and what to avoid doing — when it comes to winter car washing. Whether you have a brand-new model or an older vehicle with plenty of miles, here are some tips.
Before Winter Arrives
Our first piece of advice is to prepare your car or truck long before temperatures drop. Sure, you can break out a bucket and garden hose in the middle of a blizzard, but efforts to spruce up your ride may turn you into a human popsicle.
"Before winter arrives, wash, clay and protect every square inch of the exterior of your car," said Mike Phillips, director of training for the car detailing site Autogeek. (Clay is a detailing method that removes minute particles missed by car washes.)
"Nowadays, you can get glass coatings, plastic trim coatings and paint coatings," Phillips added. "These products last a long time and protect for a long time." 
Having a freshly cleaned, waxed and detailed vehicle will buy time and protection once bad weather rolls into town.What's more, waxing is best done before you break out the mittens and galoshes. 
"Usually, any car detailing procedure under 60 degrees is going to be more difficult," Phillips said. "The colder it gets, the more difficult it will get." 
No matter the product you're using, extremely cold temperatures will make it difficult, if not impossible, for a wax or polish to properly cure.
Of course, a heated garage can solve this problem. With this in mind, Phillips suggested a do-it-yourself winter car-cleaning tip to minimize mess and save water. 
"One solution for people that have a garage is the rinseless wash or waterless wash," he said. "There are lots of rinseless and waterless washes on the market, and most work really well." 
"The key," Phillips added, "is lots of microfiber towels. When using one of these types of washes, instead of washing your car with a single wash mitt or microfiber towel, you use lots of mitts or towels. And by doing this, you avoid cross-contamination."
During the Winter Months
It's cold, your teeth are chattering and your car looks like it was one-two punched by Mother Nature and a very angry salt shaker. If you think visible dirt and grime outside your car is a problem, beware that this nasty mix of salt, sand, soil and chemical contaminants can impact many unseen parts of the vehicle.
"Any accumulation of soil, ice and road salt will be more likely to cause corrosion," said Jim Dvorak, head of public relations and technical support at Mothers car-care products. This leads to rust, which can dramatically shorten the lifespan and safety of any vehicle. 
"It's not just visible rust from standing alongside the vehicle," Dvorak said. "Underneath there is a lot of vulnerability with heat shields, suspension components and even the chassis."
Related Video:
Despite the common assumption that new cars are less susceptible to rust, Dvorak warns not to let your guard down. Modern cars are generally better protected against corrosion, but hidden corners underneath your vehicle could deteriorate over time. Exhaust systems, suspension components and hard-to-spot sections of the chassis and inner fenders can trap moisture, salt, dirt and other debris.
How Often Should You Wash Your Car in Winter?
Dvorak suggests routine visits to a car wash, about every two weeks or whenever the vehicle looks worse for wear due to wintry weather conditions. This means spending a little more at a car wash. 
"Some [car washes] have optional features where you pay a few dollars extra and they spray the undercarriage of the vehicle," he said. "That's a good idea in winter."
You can also perform the same task with a pressurized wash underneath your car at home. If you're worried about the paint finish, Dvorak suggests finding a touchless car wash, which can be gentler to the paint. As for washes with huge twirling brushes, Dvorak jokingly referred to them as "tunnels of terror." While they get the job done, those brushes and bristles can harm a car's paint job over time. (Such advice applies even in warmer climates.)
More From Cars.com:
What's Inside Counts, Too
One final thing to consider is your vehicle's interior. After going to all the trouble to get the outside looking spiffy, it's equally important to clean up inside. Invest in a set of rubber all-weather floormats, since they will trap excess water and dirt, and clean things up periodically.
"Thoroughly vacuum the interior; get rid of any excess dirt," Dvorak said. "Keeping the interior of the vehicle dry is very important so you don't have issues with stubborn stains or mold." 
Cars.com's Editorial department is your source for automotive news and reviews. In line with Cars.com's long-standing ethics policy, editors and reviewers don't accept gifts or free trips from automakers. The Editorial department is independent of Cars.com's advertising, sales and sponsored content departments.