Top 10 Best-Selling Cars: August 2015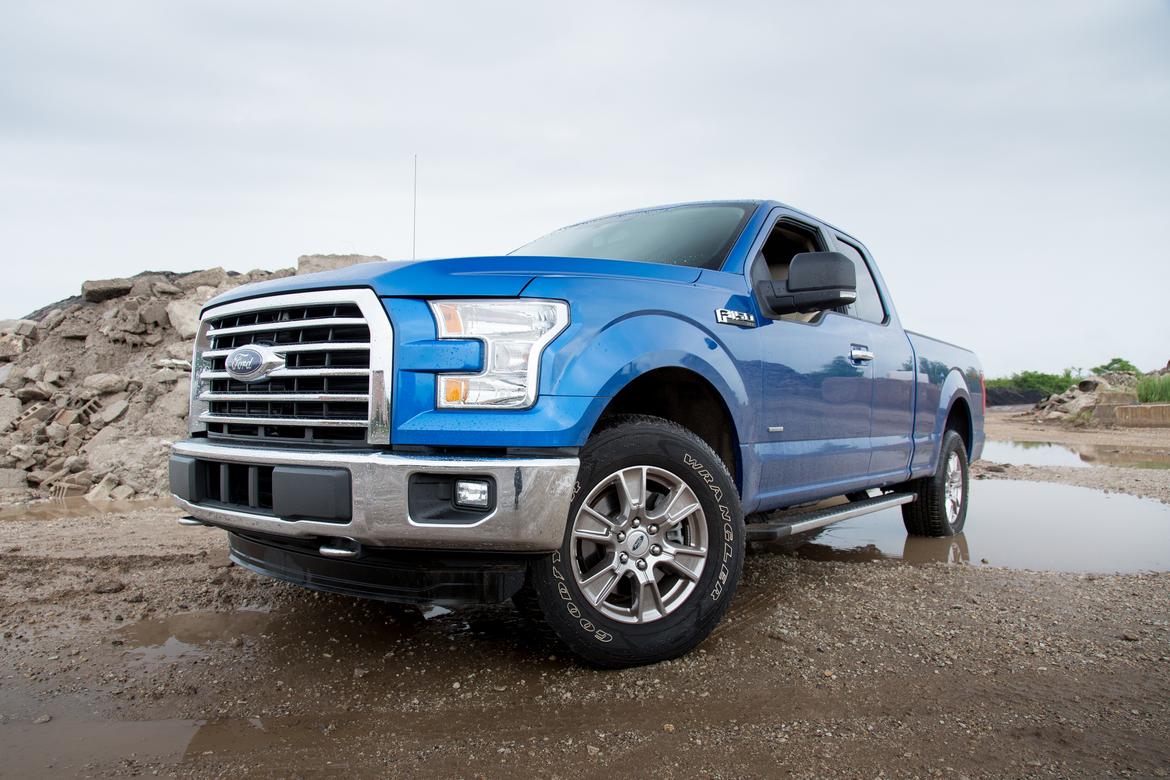 The summer of pickup trucks continued into August as the Ford F-Series reaffirmed its popularity. After a slow start to the year, Ford's best-selling truck had its second straight month of sales gains, with sales up 4.7 percent in August despite lower inventory and fewer cash incentives versus a year ago, according to Automotive News. It's the best August for the F-Series since 2006, Ford says.
Related: August's Fastest- and Slowest-Selling Cars
With low gas prices meeting this summer's newfound strength in home construction, just about every car that a builder or contractor might need tacked on sales in August. Pickup shoppers bought more of every full-size model except the Toyota Tundra, and GM's Chevrolet Silverado and GMC Sierra siblings combined for double-digit gains despite waning incentives and lower inventory for both. Commercial vans, awash in a wave of new compact models, gained 12.5 percent.
Sales gains in a strong month are one thing. Sales gains in a weak month are even more significant, and the boom in trucks and vans came as overall auto sales fell 1.1 percent with the top seven automakers reporting. That's a testament to consumer demand.
Don't call August a slump, though. Economic turbulence in the second half of the month may have stalled some auto sales, but analysts expected poor monthly results all along - and not necessarily from lack of demand. Blame the sales calendar, which usually lumps Labor Day weekend into August sales. With 2015's Labor Day coming late (Sept. 7), August is reportedly the first month in three years that didn't include the big sales weekend.
Here are August's top 10 best-selling cars: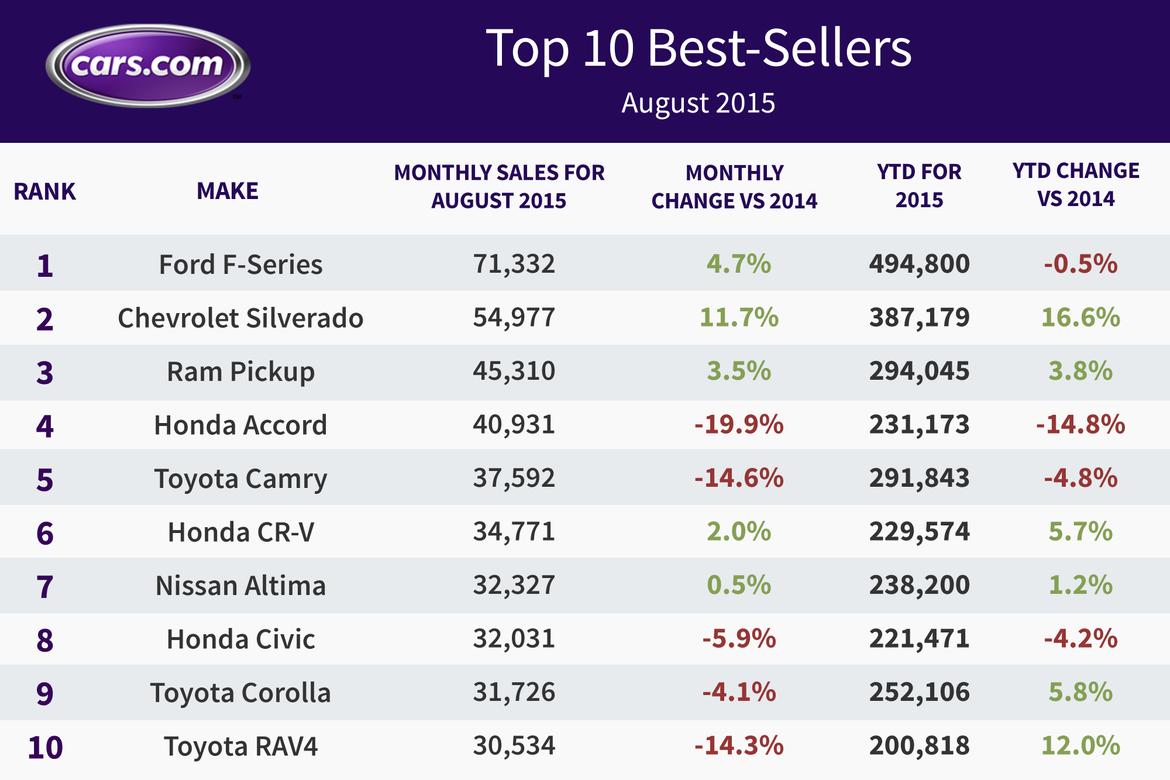 Even the Labor Day caveat can't explain shoppers' lukewarm interest for midsize sedans, which declined 8.4 percent in August. The segment had its weakest month all year as the Honda Accord, Toyota Camry, Subaru Legacy and Volkswagen Passat declined double-digit percentages, even as the Legacy and Camry were among August's fastest sellers.
The Accord's 19.9 percent loss still edged it past the Camry as the best-selling car (not truck) in August. If you're scratching your head at how that happened, look back at the comparison month: August 2014, when shoppers bought more Accords than any other car but the F-Series. Even down versus that, the Accord outsold its rivals a year later.
Indeed, August 2014 saw strong demand for family sedans. Fast-forward a year and declining gas prices across most of the country — notwithstanding parts of the Midwest — kept the flight to SUVs alive and well. Compact, midsize and large crossovers all saw small gains in August and subcompact SUV sales, many of them from new models, nearly doubled.
Interestingly, shoppers may have chosen them at the expense of their lower-riding siblings: subcompact cars, which fell 18.3 percent in August. Consider Honda, whose Fit hatchback tanked 52.1 percent, or 3,150 cars, despite a fresh redesign. Where did shoppers go? A good number of them may have instead chosen the HR-V, Honda's new Fit-based SUV. The pint-sized crossover found 4,567 buyers the same month.
Given cheap gas and a choice between the two, shoppers clearly want SUVs — even the tiny ones. Oh, and what goes down will come up. IHS Automotive notes that September sales will include the Labor Day weekend this year, which should bump up sales. We'll see about that in early October.